Archive: December, 2009
Sheil Kapadia, Philly.com
Sheil Kapadia, Philly.com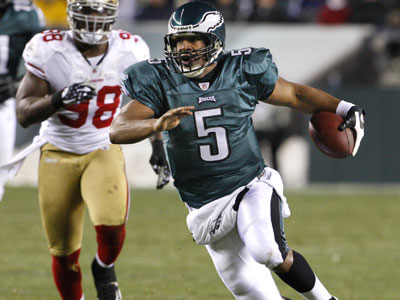 During our live chat on Tuesday, several of you threw different scenarios my way and asked what they would mean in terms of playoff seeding for the Birds.
So here is a Q&A on how things could shake out in the final two weeks. If you have a question or scenario that I didn't answer, feel free to e-mail me and I'll try to get to it before the early kickoffs on Sunday.
What do the Eagles have to gain or lose in the final two weeks?
Sheil Kapadia, Philly.com
Our weekly visit from Dave Staley of sportsbook.com:
Q: What's the line for Eagles-Broncos Sunday?
A: With another win and another cover comes even more respect for the Eagles from the bettors. Two weeks ago, our odds for the Eagles to win the NFC were 10-1. Last week, those odds dipped to 7-1. Today, the odds are 5-1.

The Eagles have now won five in a row and covered three straight. For the season, Philly is 9-5 against the spread (64.3%). Considering they have been favorites in 11 games, bettors have profited nicely from the Birds this season.

Denver, on the other hand, peaked earlier in the season. After winning and covering their first six games, the Broncos are 2-6 both straight up and against the spread.

We opened this game with Philly as seven-point favorites, and that number has not budged. However, you can now get the Eagles at -105 juice instead of the standard -110. If you are on Denver, the juice is -115.

This is interesting, considering that 76% of bettors are currently on the Eagles. This indicates that our handicappers consider -6.5 to be the truer number. Personally, I disagree and was surprised this number didn't open on the other side of seven.

Since their six-game winning streak, Denver's offense has been pretty brutal. In their last eight games, they scored 20-plus points only two times. And now they have to travel to the east coast to play in a hostile environment, against an extremely aggressive defense? I'm still scratching my head a bit with this spread…

Denver hasn't been kind to bettors in December recently as they are just 3-9 against the spread in their last 12 December games, whereas the Eagles are 8-4.
Sheil Kapadia, Philly.com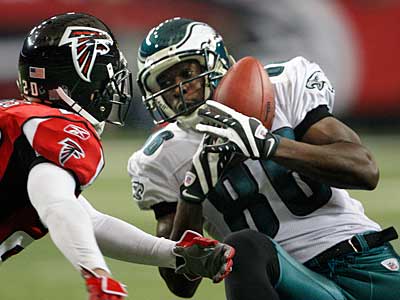 Eagles running back Brian Westbrook is listed as probable for Sunday's game against the Broncos.
Head coach Andy Reid said he'll have to stay in communication with Westbrook to see how involved he is in the offense.
"We'll just see how his numbers go and how he feels," Reid said. "I'll stay in communication with him during the game. He's always shot me straight so I will have trust in him if he continues to do that. He will have a chance to play, we just have to see how he does."
Sheil Kapadia, Philly.com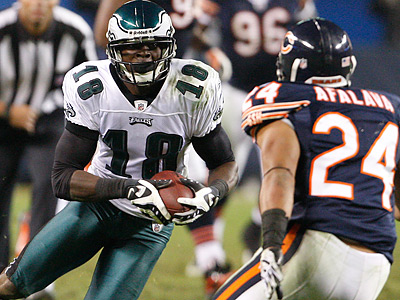 Before we get to the post, Merry Christmas and happy holidays to all the MTC readers out there.
Hope you're enjoying time with friends and family today.
However, if you need a break from friends and family, MTC has you covered (you can tell them you're checking on some e-mails for work).
Sheil Kapadia, Philly.com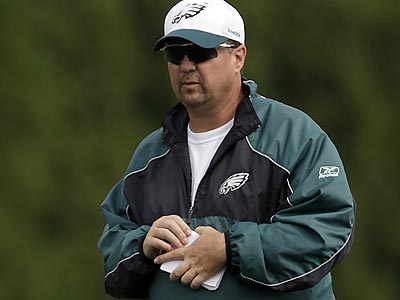 Time to get caught up on some links from around the Web:
To be filed in the "Looking way ahead" category: Could Eagles offensive coordinator Marty Mornhinweg be a candidate for the Cleveland Browns' head coaching job?
Yes, the Browns currently have a coach in Eric Mangini.
Sheil Kapadia, Philly.com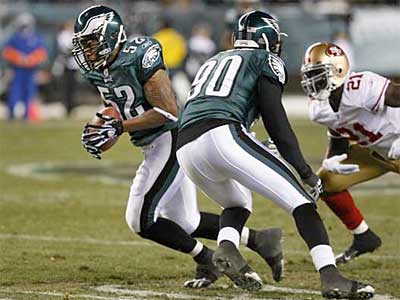 Like last week, I wanted to take a detailed look at how Sean McDermott shuffled his linebackers in and out of the game against the 49ers.
Against the Giants, five different Eagles linebackers saw playing time. Four of those players remained the same against the Niners. But instead of Chris Gocong manning the strong-side in the base package, it was Moise Fokou.
Here's the breakdown in terms of number of plays:
Sheil Kapadia, Philly.com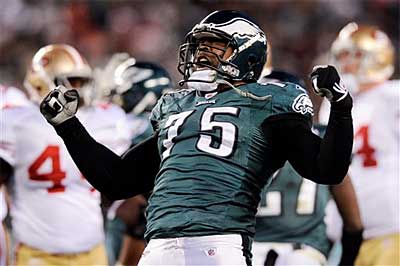 On Sunday, when I got home from the Eagles' game at around 11 p.m., I cued up the DVR to watch the offensive snaps for yesterday's Man Up.
On Monday, when I got home at around 8 p.m., I cued up the DVR once again. Only this time, there was no Eagles game in my list. Instead, 430 minutes of Divorce Court.
Now I fully admit to watching some trash TV, but I can say with the utmost certainty that I did not DVR Divorce Court. And what happened to my Eagles-49ers recording?
Sheil Kapadia, Philly.com
We chatted Eagles Tuesday at noon. Here's the Q&A:
Sheil Kapadia, Philly.com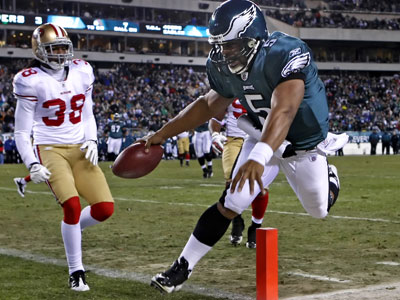 Hard to believe that this is our 15th Man Up of the year, huh?
I think we need a sponsor. C'mon, wouldn't you like your business to be a part of this?
Man Up, brought to you by [insert company name here]