Archive: November, 2011
Sheil Kapadia, Philly.com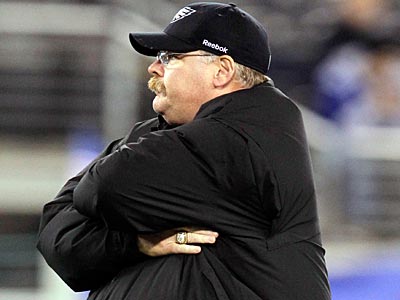 Fans in attendance at the Linc Sunday afternoon found a way to voice their frustration with head coach Andy Reid, chanting "Fire Andy" in the third quarter.
The Eagles had a 3rd-and-1 from the Patriots' 2 yard line, but LeSean McCoy got stuffed on a run to the right side. Down 31-13, the Eagles decided to go for it on fourth down. Vince Young faked a handoff and rolled to his right, before throwing incomplete to Brent Celek in the corner of the end zone.
That's when the chants broke out. They did not last long, as the Patriots' offense took over, but they were certainly audible, both at the Linc and on the CBS broadcast.
Sheil Kapadia, Philly.com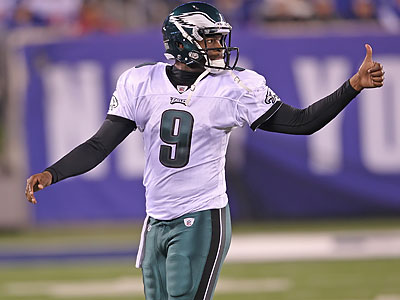 With Michael Vick reportedly out again, Vince Young gets his second consecutive start for the Eagles against the Patriots.
Below is a breakdown of how the Giants attacked Young in his first start, along with what to expect in today's matchup.
Let's start with pass distribution:
| | | | |
| --- | --- | --- | --- |
| | Targets | Catches | Yards |
| DeSean Jackson | 8 | 6 | 88 |
| Riley Cooper | 12 | 5 | 75 |
| Brent Celek | 6 | 6 | 60 |
| Steve Smith | 1 | 1 | 14 |
| Jason Avant | 2 | 1 | 13 |
| LeSean McCoy | 4 | 3 | 2 |
| Clay Harbor | 2 | 1 | 6 |
| Owen Schmitt | 1 | 0 | 0 |
| TOTALS | 36 | 23 | 258 |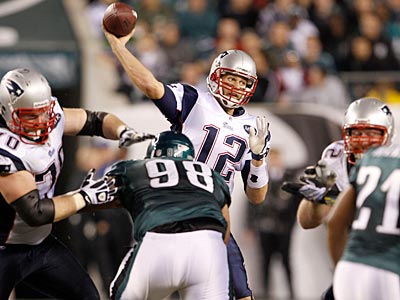 Join philly.com's Sheil Kapadia as he provides live updates and commentary as the Eagles host the Patriots at Lincoln Financial Field.
On a mobile device? Click here to join the chat.
---
You can follow me on Twitter or become a fan of Moving the Chains on Facebook.
Sheil Kapadia, Philly.com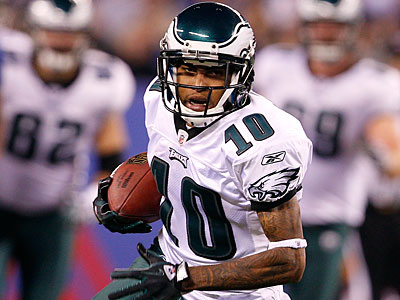 Here are 10 things to know about Sunday's Eagles-Patriots matchup:
1. We start with (who else?) Tom Brady. The supporting cast has changed, but Brady remains one of the best in the game. His 102.5 QB rating and 23 touchdowns were second to only Aaron Rodgers entering Week 12. Brady doesn't have a classic deep threat like Randy Moss, but don't be fooled, the Patriots' offense is capable of hitting on big plays in the passing game. Only Philip Rivers (43) has more passes of 20+ yards than Brady (42). And he's averaging 8.44 yards per attempt, which will be a career-best if it holds. Brady's been picked off 10 times (once every 38.7 attempts) and has four fumbles.
2. A couple things to zero in on with Brady. The first is YAC. No one's been better at giving his receivers a chance to pick up yards after the catch. According to STATS.com, 1,605 of Brady's passing yards have come after the catch; that was tops in the league entering Week 12. Wes Welker leads all wide receivers with 505 yards after the catch. And tight end Rob Gronkowski is not far behind with 408. On Gronkowski's second touchdown against the Chiefs last week, he was lined up at fullback, caught the ball 2 yards behind the line of scrimmage on a swing pass, broke a tackle and flipped into the end zone for a 19-yard score. Tackling by Eagles linebackers and defensive backs is going to have to be nearly flawless. Brady is completing more than 65 percent of his passes. He's going to find his receivers, but the Eagles need to limit the damage after the catch.
Sheil Kapadia, Philly.com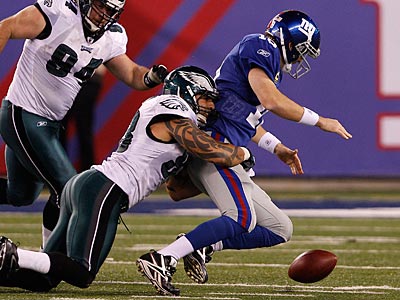 When the Eagles lost to the Giants in Week 3, the defensive line sacked Eli Manning three times, but had just two additional hurries. Manning carved the Birds up, completing 69.6 percent of his passes and averaging 11.0 yards per attempt for a QB rating of 145.7.
Last week, the defensive line sacked Manning three times, but the difference was this time, they piled up an additional 23 hurries, consistently getting in Manning's face and creating disruption.
The play of Jim Washburn's group was the key to limiting the Giants' offense to just 10 points.
Sheil Kapadia, Philly.com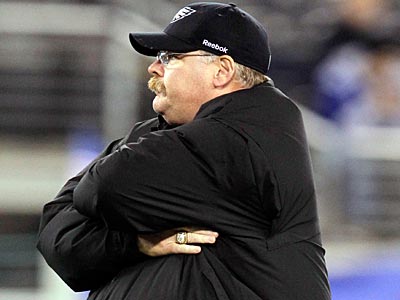 First of all, Happy Thanksgiving to all the MTC readers out there. Hope everyone is enjoying the day with friends, family, food, and of course, football.
While I know many of you are not allowing yourselves to think playoffs with this team, it's worth at least exploring what it would take for this team to get to the postseason.
Let's start with the division. Here's how things size up. The final column is strength of schedule, courtesy of Football Outsiders:
| | | | |
| --- | --- | --- | --- |
| | Record | Division Record | Schedule Strength |
| Cowboys | 6-4 | 2-1 | 15 |
| Giants | 6-4 | 1-2 | 2 |
| Eagles | 4-6 | 3-1 | 11 |
Sheil Kapadia, Philly.com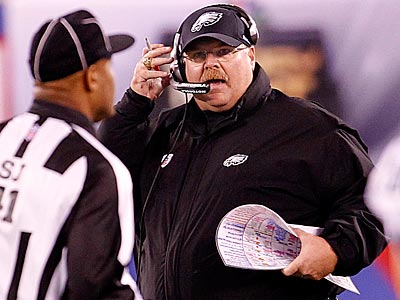 Here's a roundup of what the national media are saying about the Eagles.
And in case you missed it from this morning, I posted on Antrel Rolle's choice words for DeSean Jackson.
SI.com's Peter King named Vince Young one of his Offensive Players of the Week for his performance against the Giants:
Sheil Kapadia, Philly.com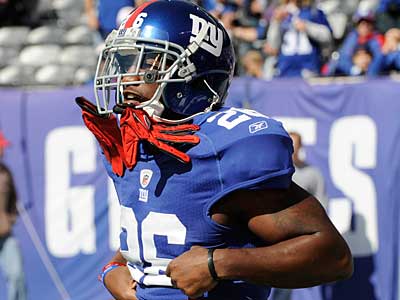 Antrel Rolle took to the airwaves Tuesday in a weekly spot with WFAN, offering insight into why the Giants dropped Sunday night's game to the Eagles.
The play that's drawn the most discussion nationally this week has been DeSean Jackson's 50-yard catch and ensuing taunting penalty where he flipped the ball at Giants defensive coordinator Perry Fewell.
"I like DeSean Jackson. DeSean Jackson is my boy," Rolle said, per Ralph Vacchiano of the New York Daily News. "But had I known he did what he did during that game, I would have did everything in my power to whack his ass out.