Archive: November, 2009
Sheil Kapadia, Philly.com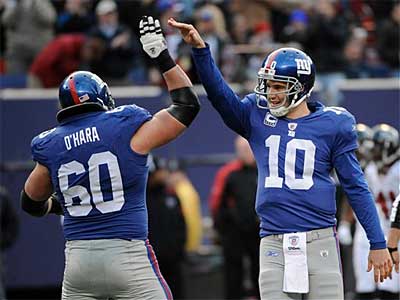 Here's our weekly look at the NFC East.
The Eagles will either gain ground or lose ground on Thanksgiving when the Cowboys host the Raiders and the Giants travel to Denver to take on the Broncos.
Dallas Cowboys (7-3)
Sheil Kapadia, Philly.com
The Eagles had eight penalties for 46 yards during their win over the Bears: five on offense, two on defense and one on special teams.
Jason Peters was called for two (a false start and tripping), making him the team leader now with six on the season.
Dimitri Patterson was also flagged twice.
Sheil Kapadia, Philly.com
Jon Runyan's career isn't over yet.
The veteran has signed with the San Diego Chargers, per Adam Schefter of ESPN.
On the same day that the Eagles announced a four-year extension for right tackle Winston Justice, Runyan found a place to resume his career.
Sheil Kapadia, Philly.com
We did the offense on Monday.
And here's the player-by-player look at the Eagles' defensive performance against the Bears Sunday night:
Juqua Parker - No sacks, but he did a decent job pressuring Jay Cutler. Parker also did a good job against the run, except for an 8-yard Kahlil Bell carry in the second where he got blocked.

Mike Patterson - He made some really nice plays against the run, disrupting a Matt Forte carry in the red zone in the second quarter. It's rare to see Patterson taken down like he was on an 8-yard Forte carry in the first.

Antonio Dixon - I should go back and count the snaps, but it certainly seemed like Sean McDermott rotated him and Trevor Laws in less than previous weeks. Dixon of course came up with the huge block of the Robbie Gould field-goal attempt in the fourth quarter.

Brodrick Bunkley - Overall, he created disruption in the middle, but there were a couple plays where the Bears figured out ways to block him. The 72-yard Bell run went right at Bunkley as the Bears initially double-teamed him to create a hole. They also blocked him on a 5-yard Forte run in the first.

Trent Cole - Good, consistent pressure from the edge throughout the game. Cole forced some rushed Cutler throws and drew a holding penalty in the second. He picked up a sack, lining up in the middle like a linebacker and storming Cutler unblocked. He was blocked on the 72-yard Bell run, but other than that, played well against the run. Classic relentlessness from Cole in the fourth quarter when players are usually gassed. On a screen to Forte, he rushed Cutler, fell down, got up and ran downfield to make the tackle from behind.
Sheil Kapadia, Philly.com
Here's the player-by-player breakdown of the Eagles' offensive performance against the Bears Sunday night:
Donovan McNabb - He played well, making good decisions and fitting the ball into some very tight spaces. McNabb completed 23 of 32 passes for 244 yards, two touchdowns and an interception. Very nice throw on a 21-yard completion to Brent Celek in the first. He looks more comfortable than he ever has throwing the slant. McNabb completed a couple to Jeremy Maclin. Of course, he was also picked off, trying to complete a slant to DeSean Jackson. McNabb made a great play in the second, stepping up to avoid pressure and finding Jackson for a 20-yard gain on 3rd-and-14. He later completed a 16-yarder to Maclin on 3rd-and-15. Beautiful throw to Jackson on the 48-yard touchdown. And a great read and throw to Jackson over the middle to pick up the first down late in the fourth quarter on 3rd-and-6.

Michael Vick - For the first time all season, we have something to say in this space for Vick. The 34-yard run was one of the most exciting plays of the game as Vick made Danieal Manning miss to pick up extra yardage. As I mentioned in the short yardage post, the threat of Vick helped LeSean McCoy pick up a 3rd-and-1 as he froze Adewale Ogunleye for a second. He looked hesitant on the pass to Celek, but I like the idea of him throwing it once or twice a game to show defenses the threat is there.

LeSean McCoy - I focused on him in my post-game blog. He ran tough. He showed he can pick up short yardage and break off long runs. And he picked up yardage after contact, which is something we haven't seen him do much this season. It wasn't one of his better performances as a blocker, but he wasn't awful. McCoy did do a good job helping Celek block Ogunleye on the touchdown to Jackson. Twenty carries for 99 yards and the game-winning score. Can't really kill him on the fumble. I've voiced my concerns with the way he carries the football all season, but he had two hands on it when Charles Tillman stripped him. Love that he bounced back and came up with the game-winning score.

Leonard Weaver - Great job as a blocker on Vick's 34-yard run. Not much of a factor with the ball, carrying three times for 9 yards and catching a couple for 12. He was whistled for a false start in the third.

Eldra Buckley - He got in the book with one carry for no gain.

Winston Justice - I don't know what got in to Justice, but he was an absolute beast in the run game. By far his best performance of the season in that area, and I don't even think it's close. Great block on Vick's 34-yard run and several others, including McCoy's 3rd-and-1 conversion in the third. Not just adequate. He was taking guys to the ground. In the pass game, he was solid as usual. Really one of the great stories on this team this season.

Nick Cole - Cole was OK. He got beat on a couple pass plays and was decent in the run game, although he didn't really stand out as much as some of the other guys.

Jamaal Jackson - He really had some outstanding plays in the run game. Like everyone else, he did a good job on Vick's 34-yard run. He showed some athleticism, getting to the next level on McCoy's 14-yard run in the first quarter. Jackson also got out in front on Avant's touchdown. In the pass game, he got turned around a couple times, once on a stunt where Tommie Harris sacked McNabb, and another on a delayed blitz by Lance Briggs, although McCoy probably had a hand in that one too.

Todd Herremans - He too did a solid job in the run game. Nice block on Avant's touchdown. He also was in there on McCoy's 17-yard run where he fumbled, and Herremans did just enough on McCoy's game-winning touchdown run. He got beat a couple times in the pass game.

Jason Peters - Tough to really give a one-liner on Peters' performance. If he was playing injured, the guy deserves credit for gutting it out. But if this were him at 100 percent, it'd be considered a disappointing performance. Peters did a nice job on McCoy's 14-yard run in the first, and also on Jackson's TD. However, he was called for a pair of penalties - a false start and tripping. He got beat on back-to-back plays in the second, one which led to a sack.

Brent Celek - One of his best performances as a blocker all season. Celek blocked Ogunleye during Vick's 34-yard run. He also was lined up against Ogunleye (with help from McCoy) on Jackson's TD pass. To be honest, he made too many blocks in the run game to mention them all here. Really an impressive effort. As a receiver, Celek caught four balls for 35 yards. He had a big 21-yard grab in the first quarter.

DeSean Jackson - What more is there to say about the guy? Unbelievable stat from Al Michaels that the 48-yard touchdown was his shortest of the season. I really like the little things Jackson does that show his high football IQ. Like in the third when he took an end around 10 yards and made sure to tiptoe in bounds and pick up the first down. He had a huge 10-yard catch over the middle to convert a third down on the game-winning touchdown drive. I think we can all get over the fumble, right? Jackson has 16 catches in the last two games. He had 14 in the previous five. Great to see them getting him the ball more.

Jason Avant - Four catches for 26 yards and a touchdown. You have to give the coaching staff credit for the first score. Well-designed play and flawless execution. Avant started on the right side, went in motion, got a chip on the DE, made the catch and then followed his blockers to the end zone. Also love his effort as a blocker. Good job on a screen to Jackson during the game-winning drive. The guy gives full effort on every down.
Jeremy Maclin - A solid performance from Maclin: six catches for 64 yards. Looks in sync with McNabb on the slants, and the Bears' DBs were giving him quite a cushion. Nice 16-yard grab on 3rd-and-15 in the second.

Reggie Brown - No catches, but thought we'd include him since he was on the field. Alex Smith was also not in the box score, but did play.
Sheil Kapadia, Philly.com
The Eagles came up big in short-yardage situations against the Bears, using a variety of plays to pick up first downs and keep drives alive.
Here's a look at how they were able to be so successful after struggling the previous two weeks.
And later today, we'll post Man Up on the offense.
Sheil Kapadia, Philly.com
One of the most interesting parts of training camp in August was watching rookie LeSean McCoy.
With Brian Westbrook hobbled, he got the first-team reps. After every snap, there was someone in his ear. A coach. A teammate. Always someone.
He knew he had to improve as a blocker. He knew he would be counted on right away. He knew others before him had tried and failed to learn the offense.
Sheil Kapadia, Philly.com
When the Eagles kick off against the Bears tonight, they'll need a win to avoid falling into third place in the NFC East.
The Cowboys were shut out for 57-plus minutes today against the Redskins before Tony Romo hit Patrick Crayton for a 10-yard touchdown with 2:41 remaining, giving Dallas the 7-6 victory.
The Cowboys are 7-3 and remain in first place in the division. They get the Raiders on Thanksgiving before beginning a difficult five-game stretch. The Eagles, of course, travel to Dallas in Week 17 for the regular-season finale.