Archive: January, 2010
Sheil Kapadia, Philly.com
The Saints knocked off the Vikings in overtime to earn a spot in the Super Bowl against the Colts.
Earlier, we posted our 10 observations from Indy's win over the Jets.
1. With just about 1:06 left, things were looking good for the Vikings. They had just driven 46 yards and were creeping into field-goal range with the game tied at 28. But what followed was as disastrous a stretch as you'll find at the end of a football game. It started with back-to-back runs, which I didn't understand. Even if they picked up a few yards, the Vikings were looking at a 45-to-50-yard field goal. Don't you have to be a little more aggressive there? Isn't that why you brought in Brett Favre in the first place? Naturally, neither rushing attempt picked up any yardage. After a timeout, Minnesota was flagged for 12 men in the huddle. Unbelievable. I just kept thinking about the insults that would be hurled at Andy Reid if that happened here. Favre, of course, finished off the nightmarish stretch with a terrible interception, sending the game into OT.
Sheil Kapadia, Philly.com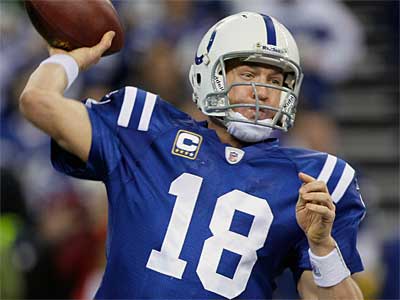 The Colts overcame a 17-6 deficit with 24 unanswered points to beat the Jets, 30-17, in the AFC championship and advance to the Super Bowl.
Here are my 10 observations from the game:
1. The game swung on the Colts' final drive of the first half and their first drive of the second half. During those two drives, Peyton Manning completed nine of 12 passes for 137 yards and two touchdowns, the second of which gave Indy a 20-17 lead. Manning was 11-for-18 for 218 yards (third-highest total in AFC championship history) and a touchdown in the first half. And it felt like the Jets' defense was playing pretty well, too.
Sheil Kapadia, Philly.com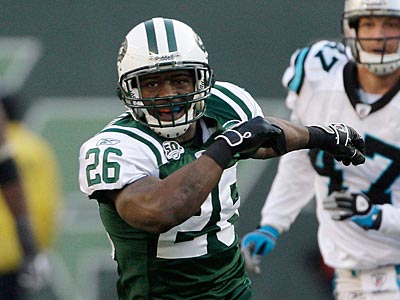 This is the last day of real football until Week 1 of the 2010 regular season.
Don't get me wrong. We love the offseason - free agency, the draft, mini-camps, training camp, etc. There will be no shortage of things to write about.
But we're not big on the Super Bowl. Too much non-football stuff. No Super Bowl parties for us. We just like watching the game.
Sheil Kapadia, Philly.com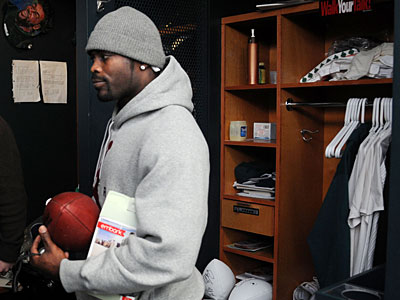 Dealer David Jacobs told the Dallas Morning-News in 2008 that he supplied Michael Vick with steroids when he played for the Atlanta Falcons.
The obvious question is: Why are we hearing about this now, two years later?
Per today's report, the News did not publish Jacobs' comments initially because authorities would not confirm that Vick was part of the Jacobs investigation.
Sheil Kapadia, Philly.com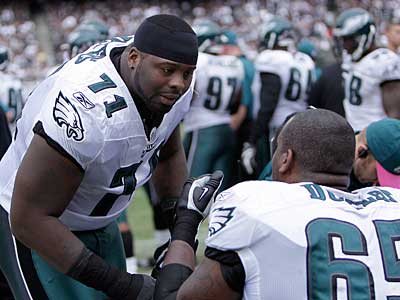 Throughout the season, we kept track of the Eagles' penalty count, broken down player-by-player.
We didn't get to this the last few weeks of the season so I wanted to present the final numbers.
Below you can find that list, but first some notes:
Sheil Kapadia, Philly.com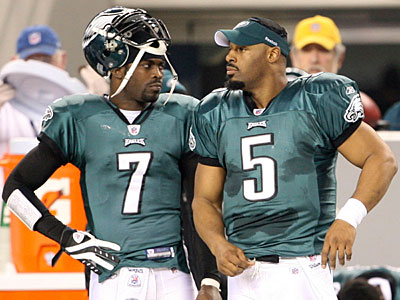 I had the opportunity to spend Wednesday morning with the fine folks at Freire Charter School as part of their Career Day.
My goal when speaking to each of the four groups was to avoid having more than three students fall asleep on me. So I started with an informal poll:
Raise your hand if you want Donovan McNabb gone.
Sheil Kapadia, Philly.com
Since the Eagles put Shawn Andrews on injured reserve in the preseason, we haven't heard much from him, aside from his very active Twitter account.
But he opened up last week in a radio interview on the Sports Bash with Mike Gill on 97.3 ESPN.
Andrews said he's about four-and-a-half-weeks removed from back surgery. The next step is to get cleared for rehab. Once that happens, it will be (ideally) a six-month process, but he said he hopes to be ready for training camp.
Sheil Kapadia, Philly.com
Very interesting interview with Phil Simms on WIP this afternoon.
I suggest listening to the whole thing, but there are some excerpts I wanted to share here.
Everyone has an opinion on Donovan McNabb and the Eagles' future at quarterback. Simms is no different.