Archive: March, 2010
Sheil Kapadia, Philly.com
The Eagles have worked out Southern Illinois running back Deji Karim and will bring him in for a visit next week, according to Chris Steuber of Scout.com.
Karim (5-9, 210) was not invited to the combine, but reportedly turned some heads at his Pro Day, running a 4.37 40-yard dash. Last year, he ran for 1,694 yards and 18 touchdowns.
Scout.com has him ranked as its 15th-best running back prospect, and Wes Bunting of the National Football Post has him at No. 11.
Sheil Kapadia, Philly.com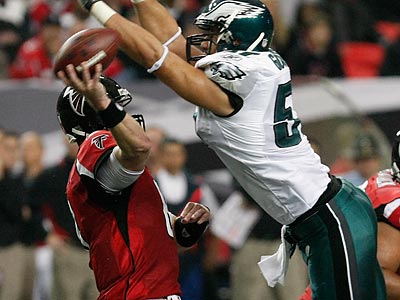 Yesterday, Chris Gocong signed his restricted free-agent tender.
But that doesn't mean he'll be with the Eagles next season.
An NFL source tells Aaron Wilson of the National Football Post that the Browns have had "preliminary discussions" with the Eagles about acquiring the outside linebacker.
Sheil Kapadia, Philly.com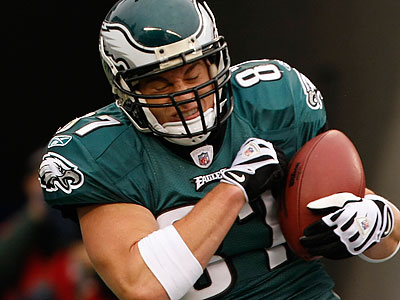 Update:
Add DeSean Jackson to the list of Eagles who are answering questions about the team's quarterback situation without picking sides.
Comcast SportsNet caught up with Jackson in the crowd at tonight's Sixers-Thunder game at the Wachovia Center.
Sheil Kapadia, Philly.com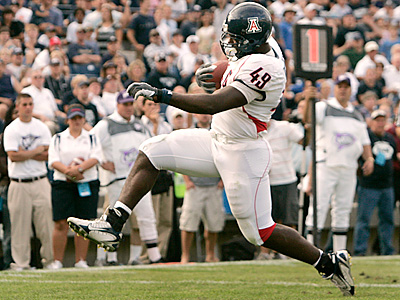 Arizona defensive tackle Earl Mitchell has a workout scheduled with the Eagles, a league source tells Joe Fortenbaugh of the National Football Post.
Mitchell (6-3, 295) started his college career as a tight end before switching to the defensive line for the 2008 and 2009 seasons. He had six sacks last year. Wes Bunting of the National Football Post has Mitchell ranked as the 24th-best defensive tackle prospect.
Earlier this month, Tony Pauline of SI.com put Mitchell in his "Risers" category for his combine workout:
Sheil Kapadia, Philly.com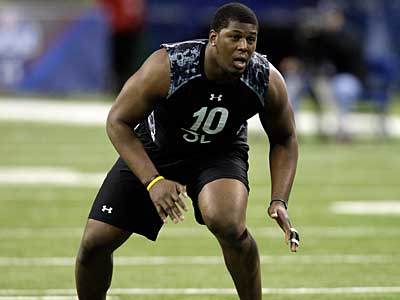 The Eagles will conduct a private workout with West Virginia offensive tackle Selvish Capers in Morgantown this week, a source tells Chris Steuber of scout.com.
Capers (6-4, 308) began his college career as a tight end so it's not surprising that he performed well in the athletic testing at the combine. He ran a 5.14 40-yard dash (sixth among OL) and also tested well in the vertical jump and the broad jump.
He was a three-year starter at West Virginia, but the draft pundits seem to be split on where he'll play in the NFL. Steuber says Capers has the size and athleticism to play left tackle. NFL.com says he probably projects as a right tackle. And Wes Bunting of the National Football Post has him ranked as the 16th-best guard.
Sheil Kapadia, Philly.com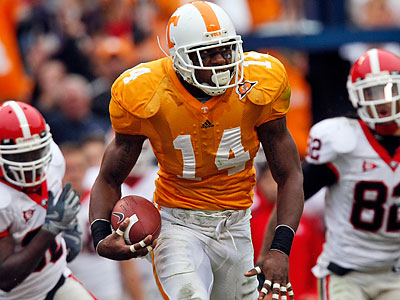 Updated 4/17:
Back by popular demand (OK, it was one person) is our list of reported draft visits and workouts.
We'll update this whenever there's a new report. If you see a report or link I've missed, feel free to e-mail me.
Sheil Kapadia, Philly.com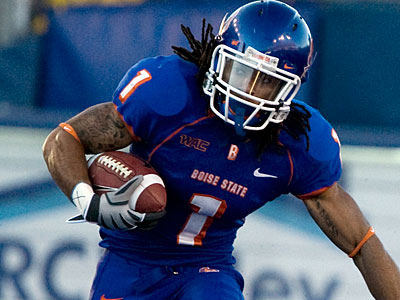 A short break from Donovan McNabb mania to bring you some draft visit/draft workout updates.
The Eagles were one of six teams to send a defensive backs coach to Boise State's Pro Day to check out cornerback Kyle Wilson, according to NFL.com's Gil Brandt.
All 32 teams had representatives at the Pro Day. As I've mentioned in all of these draft-related posts, teams check out pretty much everyone this time of year. It's just how the process works.
Sheil Kapadia, Philly.com
A couple links that caught my eye this afternoon.
Len Pasquarelli of ESPN.com reports that the Raiders are willing to send cornerback Nnamdi Asomugha to the Eagles as part of a deal for McNabb, but that the Birds are reluctant.
Per Schefter, the problem with Asomugha is that he has one more year on his contract for $16M.