Archive: January, 2011
Sheil Kapadia, Philly.com
Adam Caplan of FoxSports.com is reporting that the Eagles have requested permission to interview Bears defensive backs coach Jon Hoke for their defensive coordinator opening.
Hoke has spent two seasons in Chicago. Last season, the Bears limited opposing QBs to a rating of 74.4, third-best in the NFL behind the Packers and the Steelers - the two teams in the Super Bowl.
The Bears allowed 14 touchdown passes, the second-fewest in the league behind the Saints. And Chicago had 21 interceptions, fifth-best.
Sheil Kapadia, Philly.com
At the age of 24, DeSean Jackson has put himself into elite company among Eagles all-time wide receivers.

He's one of four to put together back-to-back seasons of 1,000 yards or more, joining Mike Quick, Irving Fryar and Tommy McDonald.

And Jackson's 22.5 yards per reception in 2010 was a franchise-best among receivers who had at least 30 catches in a season.

As he continues to lobby for a new deal (Jackson is scheduled to make $565,000 in 2011), I wanted to take a look at how his 2010 performance compared to his 2009 performance. And since there are several aspects of Jackson's play to dissect, I'll break this up into two parts.

Let's start with the raw numbers:


| | | | | | | |
| --- | --- | --- | --- | --- | --- | --- |
| | Targets | Rec. | Yds. | YPC | YAC | TDs |
| 2009 | 117 | 62 | 1,156 | 18.6 | 6.5 | 9 |
| 2010 | 96 | 47 | 1,056 | 22.5 | 7.5 | 6 |

Overall, receptions, yards and touchdowns were all down. However, in 2010, Jackson was up in a pair of categories: yards per catch and average yards after the catch. In fact, he led the NFL in both categories.

Here's how those first three categories average out on a per/game basis. In 2009, Jackson played in 15 games. In 2010, 14 games.


Sheil Kapadia, Philly.com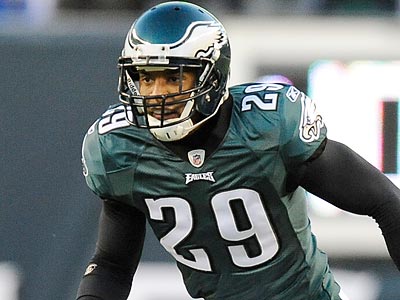 Before we get to the roundup of what the national media are saying about the Eagles, make sure you check out Ashley Fox's story on David Akers. Great insight into what was on his mind during that playoff game against the Packers.
Now on to the links:
ESPN.com's Mel Kiper re-grades every team's draft from 2010. Initially, he gave the Birds a B-plus, but after the season, he upgraded that to an A-minus:
Sheil Kapadia, Philly.com
Earlier this week, Eagles fans momentarily gave thought to Jeff Fisher become the team's new defensive coordinator.
We know that's not going to happen, but one of Fisher's former players wouldn't mind joining Andy Reid's staff.
Former Eagle great, Seth Joyner, said this week he's looking to get into coaching and thinks he can help the Birds' linebackers.
Sheil Kapadia, Philly.com
I originally meant to write this post when the Eagles played the Titans last season, but never got to it.

With the news that Jeff Fisher is done in Tennessee, now's a good time to revisit the topic.

It's a simple comparison between Fisher and Andy Reid. Fisher spent 16-plus seasons as the head coach of the Titans, and Reid just finished his 12th season with the Eagles. Neither guy has won a Super Bowl, yet both are widely respected around the league. Fisher will have another head-coaching opportunity in 2012. And if/when Reid's time is over here, he'll have the same opportunity.

In Philadelphia, think of Fisher fondly. He's the guy that could have been running the show instead of Rich Kotite back in 1991.

But the truth is, had Fisher produced the same results in Philadelphia that he produced in Tennessee, he'd be getting killed. That's not to say he's a bad coach, but in a city that is starving for its first Super Bowl, Fisher would have been in the same boat that Reid's in right now. Actually, it would probably be worse.

Let's break down the numbers:



Fisher




Reid




Regular season winning pct.



.542

.618


Seasons w/ a winning record

(above .500)



6

9


Division titles



4

7


Playoff record



5-6

10-9


Playoff berths



6

9


Super Bowl berths



1

1

Sheil Kapadia, Philly.com
Jeff Fisher's long reign as the head coach of the Tennessee Titans is over.
Fisher and the Titans are going their separate ways. It's not clear at this point whether this will be a firing, a resignation or a mutual separation.
SI.com's Don Banks broke the story Wednesday evening.
Sheil Kapadia, Philly.com
Another day, another mock draft.
This one is courtesy of Don Banks at SI.com. Banks has the Eagles taking Florida offensive lineman Mike Pouncey with the 23rd pick:
University of Miami cornerback Brandon Harris would address a need, but the offensive line also requires some attention. This pick would make Pennsylvania a two-Pouncey state, with 2010 rookie Maurkice Pouncey going 18th overall to the Steelers last April. If the Eagles don't want to spend at this level for the interior of the offensive line, Mississippi State offensive tackle Derek Sherrod is a prospect to keep in mind.
Sheil Kapadia, Philly.com
Just around this time last year, the Eagles brought in Bobby April to revamp their special teams.

The unit struggled early on, but improved later in the season. DeSean Jackson won a game on special teams against the Giants. And David Akers played a role in the Birds losing the playoff game against the Packers.

When the Birds make decisions on next year's roster (whenever that might be), special teams will play a role, as it always does.

Aaron Schatz of Football Outsiders posted an article yesterday about the league's top special-teams tacklers on punt and kickoff returns. One Eagle was on his list: Moise Fokou.

The Eagles' starting strong-side linebacker had 15 special-teams tackles, tied for 17th in the NFL. Schatz also used a metric called Return Stops, which are defined as tackles that stopped the ballcarrier short of the average return. Fokou had nine of those.

Football Outsiders keeps a variety of special-teams stats. Overall, they had the Eagles' unit ranked 13th. Here's how the Eagles ranked in variety of categories:


| | |
| --- | --- |
| Category | Rank |
| FG/XP | 10th |
| Kickoffs | 7th |
| Kickoff returns | 30th |
| Punts | 6th |
| Punt returns | 15th |

As you can see, the Eagles were good in a few different areas. I'll do a year-in-review on Akers in the coming weeks, but the Eagles were 12th in the league in field-goal percentage (84.2 percent). They were third in field goals made (32), and Akers converted all 47 of his extra-point attempts.

The kickoff and punt coverage units ranked 7th and 6th, respectively. The Eagles keep their own stats for special-teams tackles. Here's a chart of who led them in that category:


Sheil Kapadia, Philly.com
The Eagles worked out offensive lineman Kyle Calloway this week, according to Adam Caplan of FoxSports.com.
Calloway (6-7, 315) was a seventh-round pick with the Bills in the 2010 draft.
He started 37 games at Iowa - 26 at right tackle and 11 at left tackle. Calloway earned second-team All-Big Ten honors in both his junior and senior seasons.
Sheil Kapadia, Philly.com
Did Trent Cole wear down at the end of last season?

It's a question that's been asked often since the Eagles' season ended a few weeks ago at the Linc against the eventual NFC champion Green Bay Packers.

Sean McDermott liked to rotate his defensive linemen in and out of games. But Cole was an exception. By my unofficial count, he played about 88 percent of the defensive snaps during the regular season (not counting Week 17 against Dallas). Only one other lineman (Mike Patterson) played more than 50 percent.

Cole finished with 10 sacks and 34 hurries. The "hurries" stat is kept by the team, not the league. Cole was first on the Eagles in both categories. Juqua Parker was second with six sacks. And Brandon Graham was second with 13 hurries.

But in the two games that doomed the Eagles' season, Cole was quiet. Against the Vikings in Week 15 and against Green Bay in the playoffs, he totaled one sack and zero hurries.

I broke Cole's numbers down into four quarters: Games 1-4, 5-8, 9-12 and 13-16. Cole didn't play in the season finale against the Cowboys so I used the Packers' playoff game instead. Here's what the numbers look like:


| | | |
| --- | --- | --- |
| | Sacks | Hurries |
| Games 1-4 | 3 | 11 |
| Games 5-8 | 4 | 10 |
| Games 9-12 | 2 | 8 |
| Games 13-16 | 1 | 5 |

What the numbers bear out is that Cole was in fact less productive towards the end of the season. He had three sacks in the second half the season after picking up seven in the first eight games. Cole had 13 hurries in the second half, compared to 21 in the first half.

But has this always been the case? I took a look at Cole's performance in the past four seasons. Here's how those numbers look: