Archive: August, 2012
Bonnie Cook
Act II Playhouse in Ambler is proud is launching a series of one-night-only events with 'My Fair Eileen' on Tuesday, Sept. 18, at 7 p.m.
The evening is created and performed by Eileen Cella, the acclaimed actress and singer who played Eliza Doolittle in Act II's Barrymore-nominated production of 'My Fair Lady' last season.
Bonnie Cook
Police in Lower Providence Township have charged a 29-year-old Eagleville woman with attempted murder in the unprovoked stabbing of her mother.
Police Chief Francis L. Carroll said officers responding to the report of a disturbance in the 100 block of Eaglestream Drive, Eagleville, at 5:54 p.m. Tuesday, found a 5-year-old girl sitting on the steps of an apartment building.
Bonnie Cook
State and local police, plus PennDOT, are taking part in a national initiative through Labor Day to target motorists driving under the influence of drugs or alcohol.
"As we remind motorists to drive sober for the Labor Day holiday, we also want to raise awareness of the growing safety threat that drugged drivers present," PennDOT Secretary Barry J. Schoch said. "While overall DUI crashes are trending downward, we're seeing a troubling increase in drug-related crashes each year."
Bonnie Cook
Towamencin Township Police in Montgomery County are investigating the case of a firearm reported stolen on Aug. 17, police Chief Tim Dickinson said today.
The weapon, a black .38-caliber Taurus revolver, was taken sometime between 3 and 6 a.m. from a black Chrysler 300 sedan while it was parked in the lot of the Wawa Store at 200 Forty Foot Rd., Dickinson said.
Bonnie Cook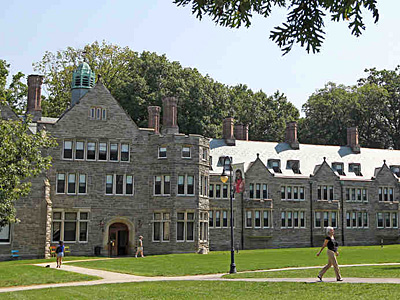 Bryn Mawr College and Swarthmore College ranked first and second in a study of the top 100 liberal arts colleges, Washington Monthly said on its website today.
"We rate schools based on their contribution to the public good in three broad categories:
1. Social Mobility (recruiting and graduating low-income students),
2. Research (producing cutting-edge scholarship and PhDs), and
3. Service (encouraging students to give something back to their country)."
Bonnie Cook
The Dramateurs at the Barn Playhouse in West Norriton performed "A Little Night Music" Sunday afternoon, and we were there. It was marvelous, and well worth the $15-$17 a ticket. We cannot sufficiently stress that community theater in the suburbs offers affordable family entertainment, and it doesn't require a trip into the city, or big bucks for parking.
Based on Ingmar Bergman's "Smiles Of A Summer Night," the play is a summer idyll about mismatched couples and the importance of seizing and appreciating life's rare wonderful moments, because they are fleeting.