Archive: January, 2012
This just in from PennDOT:
King of Prussia – Eastbound Interstate 76 will be reduced from two lanes to one about one mile east of the Conshohocken Interchange (Exit 331) in Lower Merion Township, Montgomery County on Monday through Thursday (Jan. 23-26) from 9:30 a.m. to 3 p.m. for the removal of rocks from the highway's embankment, PennDOT said today.
It's baaa-ack.
Foodapalooza, a First Friday Main Line event, returns Friday, Feb. 3 at Haverford Estates, 731 Old Buck Lane in Haverford, just behind the Main Line Art Center.
Hours are 6 p.m. to 8:30 p.m.
A dozen of local restaurants compete in a chef's contest; the event offers all the fun of a food competition like those featured on the Food Network and Bravo TV, only in Haverford.
See which restaurant and chef can produce the winning amuse-bouche.. (What is that, please?) There will be surprise guest judges, and the public gets to sample the creations.
The event is a fundraiser for First Friday Main Line, a nonprofit. The fee is $30 per person; children under 5 are admitted free. Tickets purchased in advance via the website are $25.
That's at: http://www.firstfridaymainline.com.
There will be a complimentary wine tasting for those old enough to participate, offered by Majestic Wine and Spirits.
And right next door, the Main Line Art Center is holding its Unframed & Uncorked Art Sale Feb. 3 from 6 to 9 p.m. Tickets go on sale Monday, Jan. 16th.
For information, e-mail: info@FirstFridayMainLine.com or Ppfcrafts@verizon.net.

The Upper Merion Martin Luther King, Jr. National Holiday Committee presented its Martin Luther King, Jr. Humanitarian Award to Barry Morrison, executive director of the Philadelphia Chapter of the Anti-Defamation League.
Morrison was honored for his work against bigotry and hate crimes, and for his advocacy of understanding and peaceful resolution of conflicts.
His work for the league has promoted positive race and ethnic relations in the region for many years. He also served on Upper Merion Area School District's committee on diversity issues.
Karl Helicher, Upper Merion Township head librarian, received the Community Service Award for his dedication to telling the history of the civil rights struggle through the public library resources.
The awards were presented January 11 at Upper Merion Middle School.
Newly-elected Montgomery County commissioners Leslie Richards and Josh Shapiro attended, as well as State Rep. Tim Briggs and State Sen. Daylin Leach.
The Upper Merion MLK, Jr. Committee also sponsors service projects on Jan. 16.

State Sen. John Rafferty, who represents the 44th State Senate District comprising Berks, Chester and Montgomery counties, said today hree is ending his quest for election to the post of Pennsylvania attorney general.
Rafferty told the Associated Press in Harrisburg that he ended the campaign he started two months ago, at the bidding of Gov. Tom Corbett.
Rafferty said that Corbett told him he would be backing Cumberland County District Attorney David Freed for the Republican nomination for attorney general, the AP reported.
Rafferty said he would step aside out of respect for Corbett's position as the titular head of the state Republican Party.
The GOP state committee is scheduled to consider endorsements for statewide offices at its meeting in Hershey later this month, the AP reported.
Locally, Rafferty has offices on Germantown Pike, Collegeville, as well as Pottstown Pike in Pottstown, Chester County.

The staff at Pennypacker Mills in Schwenksville is hosting a Valentine-making session for children from 1 to 3 p.m. on Saturday, Feb. 4th.
The children, who must be five years and older, will create old-fashioned Valentines using ribbon, red paper, lacy doilies, and Victorian "scrap," a kind of old-style clip art. The finished cards will be suitable for giving to sweethearts, family and friends, though probably not pets.
Instructors will guide children step-by-step through the process of making each Valentine. All materials are provided.
Midway through the workshop, cookies and hot chocolate will be served. The session will take place in the newly-renovated classroom building which has a rest room.
The workshop fee is $5 per person and is by preregistration and prepayment only. For information, contact Pennypacker staff at 610-287-9349.
Pennypacker Mills, home of a former Pennsylvania governor and his family, is owned and operated by Montgomery County. It is located at 5 Haldeman Road, Schwenksville, Pa. 19473.
Jeff Harbison, of Wyndmoor, announced today that he is running for election to the 154th state legislative seat that will be vacated when Lawrence Curry retires at the end of his term.
All State House seats are up for reelection this year.
The 54th district covers Cheltenham, Springfield, Jenkintown, and a small slice of the City of Philadelphia.
Harbison has served for six years on the Springfield Township Board of Commissioners, four as board president.
"I have greatly enjoyed my six years as a township commissioner and hope to bring my zeal for constituent service to the State House," says Harbison. "Our communities deserve a representative with the energy to stand up for them in Harrisburg."
Harbison, 53, said his knowledge of local issues and his commitment to constituent services are fueling his run for public office at the state level. Harbison was elected to the board of commissioners in 2005 as a Democrat representing Wyndmoor. He became board president in 2007, and served four years.
He is a Democratic committeeman, treasurer of the 154th District Democratic Committee, and treasurer of U.S. Rep. Allyson Schwartz's 'We the People' PAC. Harbison is also longtime president of the Wyndmoor Civic Association.
He has raised over $60,000 for the campaign so far. The primary election on April 24 will determine the Democratic nominee. There are likely to be challengers, he said.
Harbison ran a manufacturing business and a software company and sold both of them.
He holds a bachelor's degree in biology from Harvard University, an M.B.A in finance from the Wharton School of the University of Pennsylvania, and a law degree from the University of Michigan.
Harbison is an avid runner and outdoorsman and has an extensive record of service to non-profits. A Montgomery County native, he lives in Wyndmoor with his wife and three children.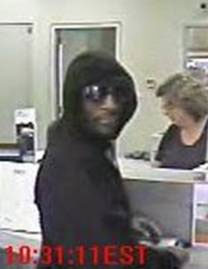 The FBI and Cheltenham police are seeking the public's help in finding a skinny black man in his late 20s or early 30s who held up a bank in Glenside at mid-morning Friday, Jan. 6.

Officers were called at 10:30 a.m. to the Conestoga Bank at 12 W. Glenside Ave. for a robbery in progress.

The man entered the bank and handed the teller a demand note that said: "50, 100 or I will start shooting."

This just in from the organization that runs the Pet Expo:
OAKS, Pa. ─ The Greater Philadelphia Pet Expo will be held at the Greater Philadelphia Expo Center in Oaks, January 13-15, 2012. The Greater Philadelphia Pet Expo is designed to educate and entertain the public about pets.