After Monday's snow and Wednesday's ice storm, many residents across Montgomery County awoke to find their cars, homes, sheds, fences and other property smashed by fallen trees or zapped by downed power lines.
And public officials were no exception.
Republican County Commissioner Bruce Castor said a tree fell on his roof. Democratic Commissioner Josh Shapiro had a tree bust out the back windshield of his car. There it is, proof that storms are equal opportunity destroyers.
As if potholes and downed trees and wires aren't obstacles enough, add water line work to the list for those of you who travel on Lancaster Avenue at Greenfield Avenue in Lower Merion Township.
The Pennsylvania Department of Transportation announced.Friday that Aqua Pennsylvania that traffic at that intersection will be restricted beginning Monday and going through Valentine's Day on Friday, from 9 a.m. to 3 p.m. so Aqua Pennsylvania can replace a water main.
Inquirer.com Access Code: F49E
Full coverage of the ice storm's impact on Montco:

Thursday dawned in Montgomery County with 126,000 households -- about 41 percent of all Peco customers -- still lacking power. Peco says most should be back online by Friday evening, but some might have to suffer through Sunday.
Areas still deeply affected include Abington, Hatboro-Horsham, L. Gwynedd, Springfield, U. Dublin, U. Moreland, and Whitpain.
Service on SEPTA's Paoli-Thorndale line is still suspended. Many other lines are running 30 minutes late.
If you know of other sites, email me and I'll add them to the list: jparks@philly.com. The county's Code Blue shelters (those that have power) are full as of 6:30 p.m.
Lower Merion:
Kaiserman JCC (45 Haverford Road, Wynnewood) is open to the community to get warm, take a shower, charge phones and grab a meal/snack in their café. Their gym is also available for basketball and their family room has a kinder gym set up the keep the kids busy.
All fire stations
Narberth Township Building
Upper Merion
Township building open until 9 p.m.
King of Prussia Mall
[Updated, 6:30 p.m.: Peco has restored power to about 9,000 households since this afternoon -- but that still leaves 178,000 out. As of 5 p.m. outages were still above 90 percent in Upper Dublin, Whitpain, Worcester, Hatfield, and Marlborough -- and 100 percent in Bryn Athyn, Lower Frederick and Upper Frederick.]
Montgomery County declared a state of emergency around 3 p.m. Wednesday, due to mounting power outages and damage from an ice storm.
Commissioner Josh Shapiro said 187,000 Peco customers -- about two-thirds of the county -- are without power. Many county buildings, including the Willow Grove Annex, the Youth Center's shelter school and some of the county's designated warming stations, are in the dark.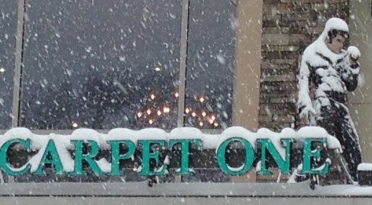 It's a bit daunting to think that Tuesday's lull before the next storm features snow piles taller than either of your faithful Montgomery County reporters. Two more storms are expected to add to the totals on Wednesday and over the weekend. Before they hit, though, here are some numbers from county Director of Communications Frank Custer on the first of this tempestuous trifecta.
As of 5 p.m. Monday, the 911 call center had handled about 2,600 calls, which was about 1,000 calls above normal.There were 270 reports of car accidents and 466 disabled vehicle reports. In all, emergency personnel were dispatched on 2,054 incidents, Custer said.
After 5 p.m., he said, "the Watch Desk was shut down, and the 911 Center went back to normal operations. The PECO representative had departed, roads were reported to be in good shape and call volume had dropped below normal due to so few cars on the road."