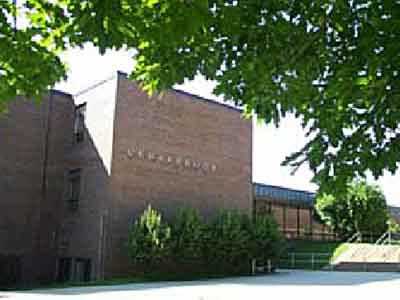 Cheltenham School District sent an update Thursday warning parents not to be spooked about mold at Cedarbrook Middle School.
The district has been conducting weekly air-quality tests ever since mold was detected, remediated, and resurrected at the middle school this summer and fall. The most recent test, on Oct. 25, found "acceptable air quality" in Rooms 107, 5C and the Nursing Office. The Main Office and Room 204 had "a slightly elevated mold spore count, marginally above what is considered acceptable," according to a district email.
The district will conduct visual tests of those two areas on Friday, along with new air-quality tests on five additional areas.
Got bills? Got confidential, private documents? Got any papers that you wouldn't want prying -- or criminal -- eyes to peruse?
County commissioners, the Waste System Authority of Eastern Montgomery County, and Shred One Security Corp., will hold a paper shredding event Saturday, from 9 a.m. to noon, at Lower Merion High School. The school is at 315 E. Montgomery Avenue in Ardmore.
It's free, but here are a couple of rules from the county: "No businesses are permitted. Residents are urged to make sure that the materials they present for shredding do not include plastic, cardboard, or metal. However, there is no need to remove staples, paper clips, hanging folders, etc."
Former Montgomery County Commissioner James R. Matthews could have his criminal record expunged tomorrow in county court after fulfilling his sentence on a charge of making false statements to the grand jury. The expungement was set for last Wednesday, but was delayed for a week as defense attorneys and the Montgomery County District Attorney's Office worked out details of the expungement.
The charge against Matthews — along with a scorching critique of how business was badly done by the county commission that preceeded the current one — flowed from an "eighteen month grand jury investigation into the County Commissioners that culminated in a report, presentment and the arrest of Montgomery County Commissioner, James R. Matthews for Perjury and False Swearing," according to a district attorney press release written at the time the report was released in 2011. The perjury charge later was dropped.
The 2011 grand jury report can be read here. The presentment is available here.
Today's Montgomery County Commissioners meeting began with a few moments of levity. In the audience was Register of Wills D. Bruce Hanes, he of same-sex-marriage-license-issuance fame.Lately, he also has gotten attention for being one of 10 finalists nationwide in the running to be crowned the Robert Goulet Memorial Mustached American of the Year, a contest run by the American Mustache Institute.
Before the meeting began, commissioners couldn't resist ribbing Hanes. Commission Chairman Josh Shapiro began, noting the presence of a man with such mustachioed macho (my words, not Shapiro's).
Republican Commissioner Bruce L. Castor Jr., whose face is as smooth as, well, is smooth, told Democrat Hanes, "I voted for you twice. ... I'm only the vice-chairman of the elections board."
Six Mexican immigrants have been arrested on charges of trafficking methamphetamine and cocaine from Berks to Montgomery counties.
The investigation — dubbed "Operation Breaking Bad" — began in December 2012 with Jose Dejesus Montilla, a suspected drug trafficker.
According to the Montgomery County District Attorney's Office, Montilla sold $1,800 of crystal meth to an undercover detective at a farmers' market in Gilbertsville.