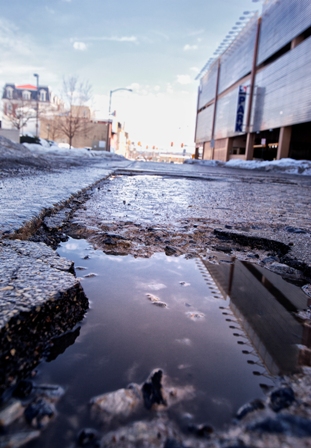 The roads are vicious these days. They are under siege from ruinous ruts and dastardly divots.
Our commutes, not to mention our cars, are being plundered and pounded by POTHOLES! They are everywhere, it seems, in Montgomery County.
And everywhere outside of the county. The country. The world. Does not even the moon have craters? But not as many as we all seem to be driving in and around on our patch of Planet Earth.
I am trying a Web site, Zeemaps, to build an interactive map of pothole locations in the county. I entered one site along Montgomery Avenue that's chockablock with them. If you know of one, help others avoid it by getting a precise intersection or address and adding it on this map. This is an experiment, so let's see how it works.
<iframe frameborder=0 style='width:100%;height:300px' src='//www.zeemaps.com/pub?group=855054&legend=1&geosearch=1&locate=1&simpleadd=1'> </iframe>
The Montgomery County commissioners announced this evening that they are extending last week's disaster declaration to cover today's storm.
Commissioners Chairman (and official #MontcoPA weather spokesman) Josh Shapiro said the declaration doesn't indicate any change in expected severity of today's storm, but was "more an accounting and bookkeeping process with PEMA."
Between digging out of last week's storm and preparing for today's, Shapiro said, some municipalities may not have had time to catalogue the damage.
Inquirer.com Access Code: V55G
Thursday storm coverage
Wednesday storm-preparation coverage

Montgomery County is faring well so far, with calls to 911 no higher than usual.
Commissioner Josh Shapiro on Thursday afternoon said residents should "Stay off the roads to allow the crews to do their work. ... Roads are starting to improve, but this is due largely to the rain."
Crews are now cleaning their vehicles, restock on salt and checking equipment in preparation for another round of snowing -- and plowing -- to come.
Maryann Brazil trudged 30 minutes through the snow this morning, in snow up to her ankles, uphill both ways. Well maybe not that last part.
But sharing the road with thick snow and drivers having little room to move to the side, she said, made the walk pretty treacherous. "You know there's ice under there, you just don't know where," she said. "So you walk slow, and pray to God."
Brazil chatted up the regular customers behind the register at the Wawa in Jenkintown. The store was busier during last week's storm. Today, she said, "it's mostly the workers" coming for their afternoon coffee, hoagies and snacks.