The answer: They both dream.

This year, Elmwood Park Zoo wanted to honor Martin Luther King Day by offering free admission and an educational program.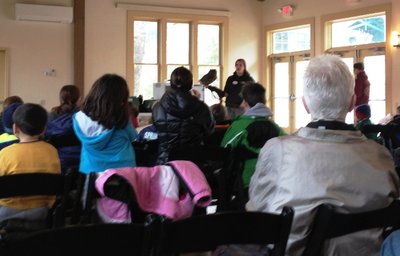 Education Manager Sam Navarino brought out some furry and feathered friends to illustrate the human-to-animal dreaming connection.
Until animals develop the ability to talk, we'll never know if they have "dreams" as we understand them -- metaphorical scenarios that in some way replicate life. But Navarino said studies have shown that animals do experience brain activity similar to ours when they sleep, and that interfering with those "dream" periods will throw off the animal's survival instincts.
In one experiment, rats were let loose in an open field. A normal rat would immediately run to find cover or get up against the fence. "Rats need to have something touching them in order to feel comfortable," Navarino said. But rats that had been kept from dreaming before the experiment just sat in the open field.