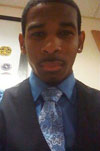 Lansdale Police said Wednesday that they are looking for a teenager who has been missing since July 3, according to family members.
Zykee Smith, 16, left his home on the 300 block of East Second Street in Lansdale in the afternoon of July 3. He is described as 5-foot-6 and weighing 155 pounds, with black hair and brown eyes.
Lansdale Police ask that anyone with information about Zykee call them at 215-368-1801.