Signs, signs everywhere a speed sign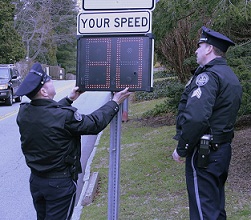 Lower Merion Township soon will begin using portable "speed awareness displays" to show drivers just how fast they're driving.
Signs, signs everywhere a speed sign

The Lower Merion Police Department said this week it would begin using portable speed displays that would show approaching motorists how fast they are driving.
The device, the township said, easily can be mounted on any existing pole or speed limit sign and has a "prolonged battery life."
The announcement from Lower Merion did NOT include the specifics of where and when the devices will be mounted. It did say that anyone with questions or concerns about them should call the Traffic Safety Unit at 610-645-6260.