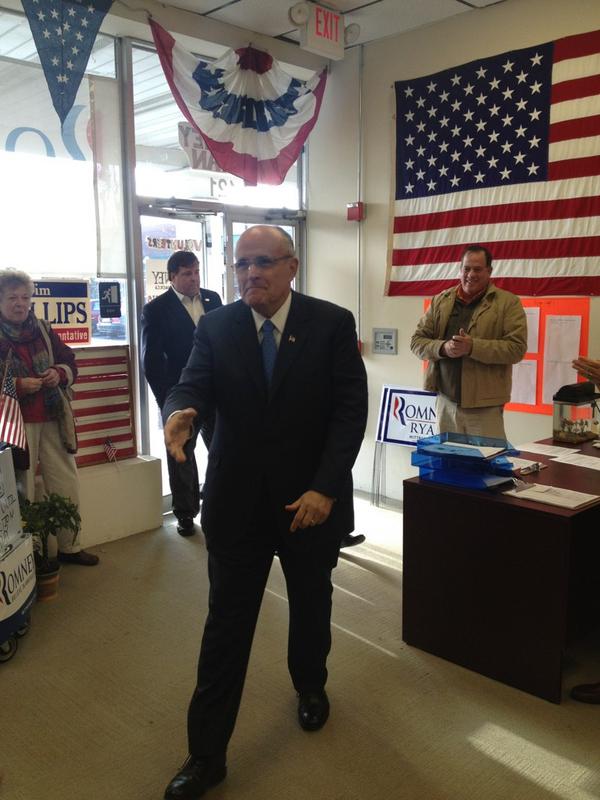 Entering to cheers from volunteers who had been working the phones all afternoon, Rudy Giuliani told a crowd at Mitt Romney's Conshohocken campaign office that President Barack Obama's 2008 election had been a mistake, calling the president "an incompetent" and slamming his handling of Hurricane Sandy disaster relief and the attacks on the U.S. consulate in Libya.
"We're at a critical time for the country," Giuliani said. "Now there are no excuses -- we can repair the damage that's been done to Pennsylvania."
Republicans are hoping that Pennsylvania, which has swung Democratic in every presidential election since 1988, will turn red for Romney this year. At the campaign office on Monday, located in a shopping center on Ridge Pike, volunteers said they were excited for Election Day and confident they have a shot at winning the state.
"From our perspective, Pennsylvania has been in play for Gov. Romney for a long time," said Billy Pitman, the Republican National Committee's communications director for Pennsylvania. "We've knocked on over 1 million doors and made 5 million voter contacts just in Pennsylvania. It's not about 270 [electoral votes] anymore. It's about getting to 300.
"At his brief appearance at the campaign office, Giuliani was joined by former Minnesota Sen. Norm Coleman -- who lost his seat to current Sen. Al Franken in 2008 by a hair -- former Maryland Gov. Bob Erlich, former Eagles tight end Chad Lewis and actor Jon Voight, who recited lines from the musical "Camelot" before reading from a handwritten speech.
"We have a president who has failed us in many ways -- the morale of this great country has never been at such a low level," he said.
Giuliani and his fellow speakers spoke for about 45 minutes before leaving for another campaign stop in Bethlehem. They'd already stopped in Scranton and Wilkes-Barre before arriving here. Attendees clustered excitedly after the men as they left, with Voight stopping to sign a few autographs outside and Coleman lingering behind to speak with volunteers.
Attendees said they felt energized by the visit.
"I'm really excited about the election -- I took off work for two days," said Matthew Stern, a University of Pennsylvania graduate student and former College Republican. He said he liked what Giuliani had to say, but wished speakers would have touched more on unemployment among young people.
"I wish people on campus were more informed about that," he said. "The unemployment rate might be at 8 percent nationwide, but it's hitting 20 percent for young people."