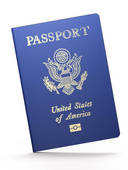 With spring and summer vacations inching closer, the wandering mind turns to, well, wandering. Organized wandering. Vacation planning. Texas tea — oh, wait, that's from the old Beverly Hillbillies TV show theme song.
Back to vacation planning, Montgomery County Prothonotary Mark Levy is going to help you with your vacation arrangements — if they require a passport. Though it normally is closed on the weekends, Levy will open his office from 10 a.m. to 3 p.m. this Saturday, March 9, for those who need to apply for (not renew) U.S. passports. Levy is calling it "Passport Fair 2013."

Besides passports, the prothonotary's office also takes applications for passport cards, which, according to the office, "allows travel by land between the US, Canada and Mexico...as well as Bermuda and sea ports-of-call in the Caribbean." The passport card is less expensive than a passport, and "a very convenient and inexpensive option for a Caribbean cruise," Levy said.