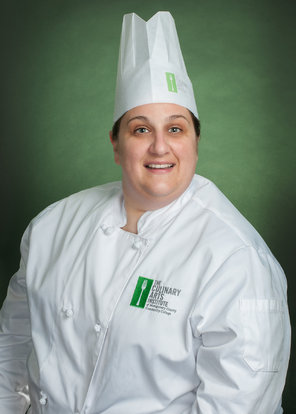 Montgomery County Community College has selected a director to lead its new Culinary Arts Institute, which opens in late August in Towamencin Town Squre.
The $4 million, 15,000-square-foot cooking school will replace MC3's previous program, in which students were taught theory in Pottstown and practice in Plymouth Meeting. It will feature four state-of-the-art kitchens, classrooms and a cafe that will be open to the public.
Francine Marz, a certified executive chef, comes to Montco after serving as director of culinary academics at the Art Institute of Phoenix, "where she realigned curriculum with industry standards and introduced a new Hospitality, Food and Beverage degree program," according to an MC3 press release. She also taught lab and lecture courses and coached student teams in cooking competitions.
Marz says she does "a little bit of everything," from culinary to pastry arts, and has traveled to and/or cooked in every region of the United States. "Foods are very regional, and the best way to see the country is to cook your way through it," she said.
Also a huge asset in any college class -- Marz practiced stand-up comedy while she was going through culinary school. She holds an M.B.A. in Finance and International Business, a B.S. in Food Service Management and dual A.A.S. degrees in Culinary Arts and Baking & Pastry Arts, according to the college.
The college is expanding to offer both A.A.S. degrees and certificates in culinary arts and baking and pastry arts. Some of the courses sound really fun -- World Cuisines, Artisan Breads, Baking Skill Development. Others sound more like, well, eating your broccoli -- Food Service Sanitation, Quantitative Foods, Menu Planning.
The institute will also offer professional development courses for chefs to hone their skills, and non-degree courses for more casual cooks.
Some of us might be hoping they start with a half-day knife-skills workshop. For people who aren't great at chopping, and need to preserve their fingers for non-kitchen-related work. Work like ... typing. And holding a tape recorder. And jotting down quotes on slim note pads.