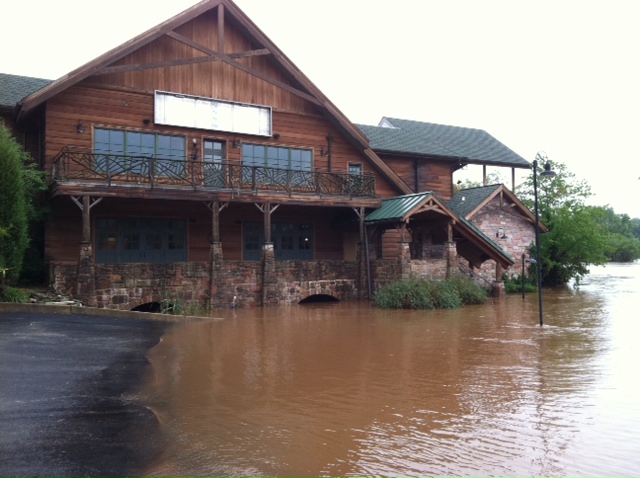 The back porch of Nick Salamone's house in Collegeville offered a 14,000-square-foot view Wednesday of a memory he'd rather forget.
Less than 10 days after Hurricane Irene sent three feet of water gurgling into his kitchen, bathroom and living room and forced him and his 16-month-old daughter out of their home, the surging waters of the Perkiomen Creek appeared poised to flood it all over again.
"If it rains anymore, I'm screwed," he said, warily eying the creeping brown water – just feet from his doorstep along First Avenue.
Dozens of those still cleaning up from last week's flooding faced a similar dilemma across Montgomery County as heavy rains engorged area's creeks and tributaries and left water lurking outside flood-prone homes once more.
In Whitemarsh, police blocked off washed out roadways where only a week earlier National Guard troops had evacuated residents from the path of the advancing Wissahickon Creek.
Although officers were not called out to perform any water rescues Wednesday, they towed several cars from the Spring Mill SEPTA station that stood threatened by rising creek levels. The effort left many commuters unaware until they returned home for the day what had happened to their vehicles, Whitemarsh Police Chief Mike Beaty said.
An engorged Schuylkill loomed menacingly below parts of West Norriton and Conshohocken that had been underwater last week.
And the signs of Irene's push through Collegeville still lingered along the Perkiomen – which crested nearly three feet above flood stage early Wednesday morning.
Stubs of police tape -- used to keep passersby away from the hurricane-flooded Collegeville Inn parking lot along Ridge Pike-- were tied over anew with fresh yellow warning ribbons. This time, the waters crested over the former restaurant's back stairs.
The Perkiomen Valley School District delayed the start of classes by two hours Wednesday hoping the waters would recede.
For Salamone, a 45-year-old building contractor, the latest surge threatened to break his resolve to rebuild.
"It's just too much," he said from the camper parked in his driveway that has served as home for he and his daughter since Irene left their house uninhabitable.
He remains unsure when he will have the time or the money to repair the $10,000 in damage left by Irene. The continued bad weather hasn't made it any easier to make a living.
Currently involved in a storm-related renovation project at an Indian Hills home, he said that work had to be put on hold in light of the renewed flooding threat.
But Lisa Shimko – a former neighbor who moved her husband and three children out of their apartment after Irene – wasn't waiting around this time for the weather to calm down.
"That's twice we flooded in one year. That's a little much," she said from her new apartment in Trappe. "I have no desire to go back there."