What sound do turkeys make?
"Gobble gobble!" one girl answers enthusiastically. She's right, of course, but they also make another sound -- a yelping noise that Montgomery County naturalist Ruth King replicated by grating two squeaky pieces of wood against each other.
That's how the mother turkeys call their babies (12 to 16 per litter!), and also how a male turkey will respond if you make loud noises at him.
King was teaching a group of youngsters about the odd-sounding fowl at Norristown Farm Park. The county Parks and Heritage Department holds such events almost weekly, giving residents of all ages a chance to learn about local flora and fauna.
King let the children hold different kinds of turkey feathers and explained how they serve different purposes. "See how these ones are all fluffy?" she said, turning around a large stuffed turkey to show the downy bottom feathers. "That's to keep the bird warm."
The kids were not at all fazed by the taxydermied creature.
"I tell them it's real, but not alive," she said, adding that she doesn't name the models because she doesn't want the children thinking of wild animals as pets.
The kids listened attentively but probably didn't catch all of the anatomy -- carunkles and snoods and waddles.
They perked up a little more when King revealed that turkeys have better eyesight than humans, and they can run faster too. Apparently they can also swim.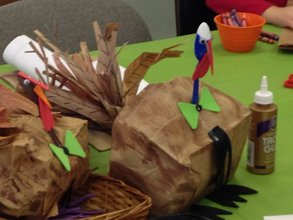 After their wildlife lesson, the kids took to the craft table to color and glue their own paper-bag turkeys.
Tom Stralkowski, 65 of East Norriton, was helpful but hands-off as his grandkids worked on their turkeys. He babysits them now that he's retired, and said he often brings them to the park's educational events.
"We've been to quite a few of these," he said, calling it a fun activity for 4-year-old cousins Chase and Joslyn.
Other guardians got more hands-on. "Crunch it, crunch it, crunch it!" one mother joked as her daughter crumpled a piece of paper to use as stuffing.
There aren't many wild turkeys in Norristown Farm Park nowadays, King said. Deer, geese, coyotes and squirrels aplenty, but the turkeys have mostly relocated.
Around the turn of the century, the wild turkey (as opposed to the white-feathered Butterball variety) had been hunted nearly to extinction, King said. Conservation efforts have brought them back, and now there are six subspecies of wild turkey ranging across the United States -- including many places they didn't use to live.
King said one of her favorite bits of trivia is that Benjamin Franklin wanted the turkey, not the eagle, to be the national bird. "Typical we would pick a macho bird," she said, laughing. "But the male turkeys really are pretty fierce too."