I'm pasting this information directly from the website of a synagogue, Congregation Adath Israel of Newtown, whose rabbi presided at the funeral of 6-year-old Noah Pozner. Noah was one of the 20 children killed in the shooting spree last week at Sandy Hook Elementary School in Newtown, Conn. I felt a need to find out how I might be able to help survivors there; I thought many of you might feel moved to do the same.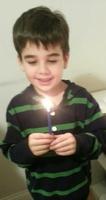 Congregation Adath Israel of Newtown, Connecticut
If you would like to donate to all the victims' families of the tragedy that took place on 12-14-12 at Sandy Hook School, we currently recommend two charities: newtown.uwwesternct.org or http://www.everribbon.com
If you would like to donate directly to the family of 6 year old victim Noah Pozner, you can donate directly on the web site http://www.NoahsArkofHopeFund.eventbrite.com. All checks we receive earmarked to support Noah Pozner's family will continue to be sent directly to them as well.
In memory of Noah Pozner, we have set up a fund in his name which will be directed to support our outreach to the Jewish community of the Greater Newtown Area. All donations would be greatly appreciated to help us meet our goal. Checks can be made out to Congregation Adath Israel and sent to P.O. Box 623, Newtown, CT 06470. You can also donate on our website using the link to the right and be sure to designate "Noah Pozner Memorial Fund" on the memo line.
THANK YOU.
Rabbi Shaul Praver
Andrew Paley, President, Congregation Adath Israel of Newtown