The ex-housecleaner who took a $3 million bust of Benjamin Franklin from a client pleaded guilty this morning in Montgomery County to one count of burglary and one count of conspiracy to commit burglary, both first-degree felonies. First Assistant District Attorney Kevin Steele said he'll seek the full penalty against Andrea Lawton, 47, of Philadelphia, when sentencing i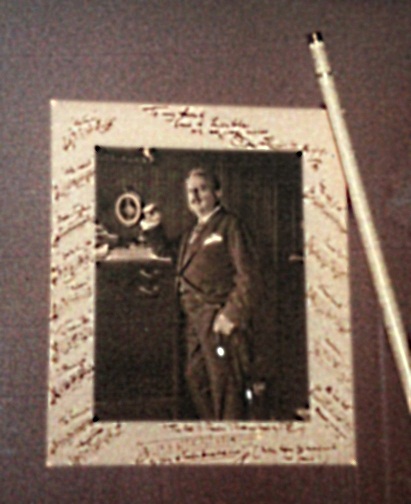 s done, maybe next month, after sentencing on her federal conviction of taking the bust across state lines to try to sell.
The Ben bust cracked during the incident, was recovered when authorities caught Lawton getting off abus in Maryland. It now is in New York City getting repaired. The other item stolen from the home of Bryn Mawr lawyer George A. D'Angelo was a shadow box with a photo of composer Victor Herbert, complete with his signature and hand-written notes on the border, plus one of his conductor's batons. That item, valued at about $80,000, still is missing and Lawton claims it was taken by another person, whom she has not named.
The photo of the Franklin bust, sculpted in 1778 by Jean-Antoine Houdon when Franklin was still alive, has been published before (and is below). But here is a photo of the shadowbox, released for the first time. After Lawton pleaded guilty, Steele allowed journalists to photograph the picture of the shadowbox in the hopes that someone will recognize it and return it to authorities and D'Angelo.