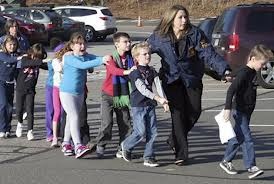 State Rep. Mary Jo Daley (D., Montgomery) announced today that she has been appointed to the House Select Committee on School Safety, which will look at security issues at public and private schools in Pennsylvania.
The committee will study school safety and security procedures and will have the authority to call witnesses and get documents. It has a September 30 deadline for submitting a report that includes recommendations.
Some of the items committee members will examine are security policies and procedures in primary, soecondary and higher education schools; state laws and regulations; early detection possibilities.

"As the daily news reports too often remind us, schools are no longer immune from the violence that plagues other parts of society," Daley said. "Students can only learn effectively in a safe and secure environment and if there is any way we can reduce school violence, we need to find and implement that idea/" (Photo by the AP showing students at Sandy Hook Elementary School in Newtown Conn., being led to safety during a shooting spree that left 20 students and six adults dead.)