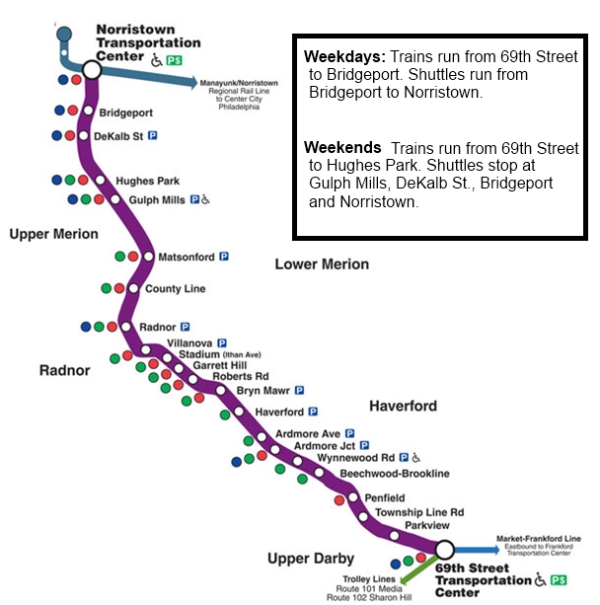 Starting July 8, SEPTA's Bridgeport Viaduct will be closed for repairs. For four months, passengers on the Norristown High Speed Rail Line will have to be shuttled over the Schuylkill River between Bridgeport Station and the Norristown Transportation Center.
Crews will replace tracks and timber and make "minor structural repairs," to the viaduct, according to SEPTA. It will reopen in November.
"The bridge was built in 1911 and is showing signs of deterioration like cracks, spalling concrete and corrosion," said Jeff Knueppel, SEPTA's Deputy General Manager. "More importantly, the bridge ties that sit directly upon the steel structure and hold the rail in place are rotting and failing."
The viaduct has been getting temporary patches for the last few years as SEPTA struggled with a lack of capital funds. SEPTA says the tracks were inspected daily and trains were restricted to 15 mph due to the bridge's state of disrepair.
In addition to replacing all of the bridge timbers (which were installed in 1985), the $7.5-million renovation will add a track-level walkway and safety rails.
On weekdays, shuttles will take NHSL passengers from Bridgeport Station to Norristown Transportation Center.
On weekends, the shuttle buses will run from Gulph Mills to Norristown, and train service will cease at Hughes Park. (In other words, if you're going to Hughes Park on a weekend, stay on the train; But if you're going to Norristown, DeKalb, or Bridgeport, get off the train at Gulph Mills and switch to a shuttle. Shuttles will not stop at Hughes Park station.)