T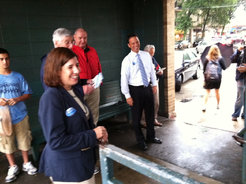 oday is the Tuesday after Labor Day in a county election year, so you know what that means: it's time for the local candidates to kick their campaigns into high gear.
Democratic commissioner candidates State Rep. Josh Shapiro and Whitemarsh Township Supervisor Leslie Richards hit the trail hard with a brutal schedule that had them greeting rush hour commuters in Jenkintown and Ardmore.
Those events bookended a full day of glad-handing, block-walking and door knocking in today's less than ideal weather in Abington, North Wales, Ambler and Conshohocken. And right about now, they should be settling in for a campaign-themed Quizzo night at John Henry's Pub in Ardmore.
Despite the rain and the long day, both still had their sense of humor.