T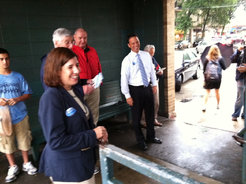 oday is the Tuesday after Labor Day in a county election year, so you know what that means: it's time for the local candidates to kick their campaigns into high gear.
Democratic commissioner candidates State Rep. Josh Shapiro and Whitemarsh Township Supervisor Leslie Richards hit the trail hard with a brutal schedule that had them greeting rush hour commuters in Jenkintown and Ardmore.
Those events bookended a full day of glad-handing, block-walking and door knocking in today's less than ideal weather in Abington, North Wales, Ambler and Conshohocken. And right about now, they should be settling in for a campaign-themed Quizzo night at John Henry's Pub in Ardmore.
Despite the rain and the long day, both still had their sense of humor.
"Now, I feel like a real politician," Richards quipped as tired and wet commuters brushed by her efforts to introduce herself at the Ardmore train station toward the end of the day. Other passersby though stopped to talk, grill the candidates and seem willing to engage in a bit of politically minded conversation.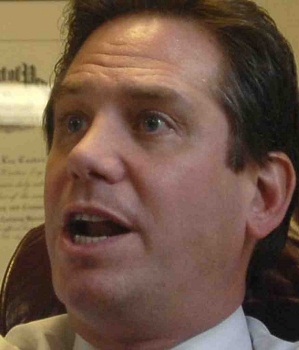 On the Republican side, incumbent Commissioner Bruce L. Castor Jr. and his running mate Lower Merion Commissioner Jenny Brown did their campaigning indoors.
The duo released a scathing report on the county's finances Tuesday, blaming the bipartisan coalition of Commissioners James R. Matthews and Joseph M. Hoeffel III for dipping too deeply into county reserves and raising the debt obligation. Simply put, said Castor, the county is on the verge of financial disaster. (Hoeffel issued his own assessment of finances, but look for a deeper analysis of this issue tomorrow.)
In an interview Tuesday, Castor predicted that the economy and the county's fiscal future will be the primary issue this campaign season, reflecting national and state trends. That bodes well for fiscal conservatives like himself and Brown, he said.
But not to be outdone the Shapiro-Richards ticket is taking a page from the GOP playbook. Both emphasized in talks with voters Tuesday that they would not raise county property taxes should they win election.
With less than nine weeks until Election Day, we'll be hearing quite a bit more from these four.