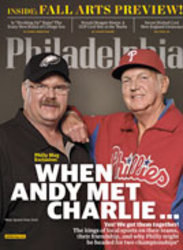 It has been making the rounds since last week, but if you haven't yet read Jason Fagone's gripping account of the deterioration of the once-dominant Montgomery County Republican machine in this months' Philadelphia Magazine, you owe it to yourself to check it out.
There is some great writing and a lot of surprising detail including this exchange from the night of the 2007 election victory that propelled strange bedfellows James R. Matthews and Bruce L. Castor Jr. into a short-lived Republican majority on the board of commissioners. Chatting just before making their victory speeches, Castor told Matthews he'd spent Election Day playing golf instead of campaigning. Days later, an infuriated Matthews cut his now-infamous deal with Democrat Joseph M. Hoeffel III that edged out complete Republican control.
"It just sat in my craw," Matthews recalls. "Like: You dog. You dog. All of these people worked really hard, and they lost. And you played golf."

Today, Castor says that Matthews should have been thanking him: Matthews only won "because I was on every television set in the entire jurisdiction saying that voters should vote for him." Also, "I campaigned the whole day, but instead of eating lunch, I played nine holes of golf with my son." According to Castor, he was just having a little fun at Matthews's expense: "I knew that Jim was wound up so tight, and he was in danger of losing, so I thought it would be great to pull his chain and say I spent the day playing golf."
Well, we all know how that worked out…