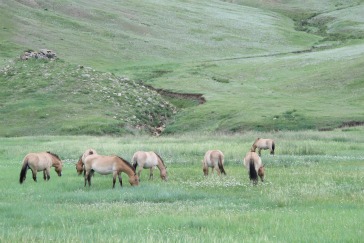 After six weeks and thousands of miles of driving through Mongolia's vast territory, I am struck by both the timeless qualities of the country and the changes it has gone through since my first visit in 1994.
The shifts in climate and weather patterns that the herders have been reporting throughout my trip are beyond their control, but the problems of overgrazing that we have seen are a direct result of the altered political and economic climate in Ulaan Baatar. Since the collapse of the Soviet-dominated socialist government in 1990, the herd sizes of sheep, goats, horses, yak, and cattle have grown exponentially throughout Mongolia. Though reduced by periodic "zuds" (deadly winter die-offs), the livestock numbers here are still well above where they were in Socialist times and, in many parts of the country, well above healthy and sustainable levels.
The difference between overgrazed and healthy steppe grassland is immediately apparent when one enters the Hustain Nuruu Steppe Reserve 100 kilometers southwest of the capital. I have purposely saved this visit for the end of my trip because what has happened here represents one of Mongolia's great conservation success stories.
The reserve, now a national park, is best known as the place that supports the largest herd of wild Przewalski's horses in the world. By protecting the area from overuse and hunting to make a safe environment for these rare horses, park officials have also preserved a habitat that sustains healthy populations of marmot, Asiatic Red Deer, Mongolian Steppe Gazelle, a small wild cat called a manul, wolf, lynx, and a large variety of birds. With livestock excluded from the park, the grasses are tall and lush in late July, and the wildflowers are spectacular.
Established in 1992, the park was chosen as the ideal place to introduce the "takhi," the once abundant wild horse of Europe and Central Asia that became extinct in the wild in the 1960s. Named for the Polish-born explorer Nikolai Przewalski (1839-1888) who discovered remnants of the ancient species living in Mongolia at the end of the nineteenth century, the Przewalksi's Horse, known locally as the "takhi," is the only truly wild horse in the world. It is not a mustang or feral domestic horse as found in the United States and Australia, but a distinct species that differs from the domestic horse in appearance and even in its DNA. (It has two extra chromosomes.)
Because of hunting and habitat loss, wild populations of the horse declined rapidly in the early 20th century. Fortunately, some live animals were collected and kept in zoos and private menageries in Europe, but by the end of World War II, even this captive population was down to 11 animals worldwide. Miraculously, the species was kept from extinction through a careful breeding program in Poland and the Netherlands. Over time, other countries, including the United States, helped in the effort to create a viable captive population.
The people who tabulate the demographics of Philadelphia's sport fans may have missed the monks of the Danzandarjaa Khiid monastery in Moron, Mongolia.
I met three of them in a small café just a few yards from the monastery's central temple during my final day in Hovsgol Aimag. "Where are you from, and where are you going?" asked one with a characteristic greeting when I entered the room.
On hearing Philadelphia, he and his friends all grinned excitedly. They could hardly believe their good fortune at meeting someone from the land of their favorite basketball team. They cried out "76ers" in unison, and then began to recite the names of their favorite players. It seems the NBA games are broadcast here by satellite TV and these guys love to watch our hometown team.
A fourth monk entered and after ordering some tea, spent the next few minutes trying to promote the Celtics. But the 76ers fans had him outnumbered, and being a good Buddhist, the lone Celtics booster decided to return to morning prayers.
American basketball has entered the consciousness of every Mongolian with access to television. You can see the effects throughout the countryside, for near almost every ger that has a solar panel and a satellite dish, is a home-made basketball backboard mounted on a tall larch pole.
The hoops, fashioned from pieces of salvaged metal, vary widely in size and height. I have seen some as low as six feet and others as high as fifteen feet from the ground - it's hard to judge from a television screen just how high a hoop should be.
On a trip like this there are many things one misses – running water, cold drinks, familiar food. But there are other absences that contribute to the positive aspects of being here.
One is the absence of artificial light. Although most gers now have solar panels that generate electricity to fuel a single, high efficiency light bulb, these are used sparingly and are always inside the windowless gers. Thus, even where there is a human presence on the steppe, itself a rarity, there is still no light to compete with the dazzling display of stars that wash the sky with an intensity impossible to experience in a more urbanized place.
Sounds too are far more intense without the competition of automobiles, airplanes, and mechanical gadgetry. And they travel long distances: the drumming of the hooves of a hundred sheep and goats; the whinny of a horse; the metallic rattle of a water can being wheeled to fill at the bend of a meandering stream.
Last night a thunder storm rolled across the valley in which we were staying. We could hear it for hours coming, then receding beyond the farthest ridge. The sound of the rain drops made mesmerizing music on the absorbing surfaces of grass, soil, and the felt of our sheltering ger.
I like the absence of a schedule, save that provided by the sun and punctuated by the twice-daily milking of our hosting families' cows. Many of the herders we have visited own clocks, but the time they show often bears no relation to the abstract system the rest of the world has constructed to track the hours. There must be calendars too, but I have not seen them. Given the uncertainty of the weather and seasons here, the herders are better served by observing their surroundings and responding accordingly.
Since grazing can differ widely from one valley to the next, from one month to another, and from year to year, the seasonal shifts in a nomadic family's location are often quite different. In this case, the absence of a schedule is key to survival. "We do not lead our animals," one experienced herder explained to me when I asked about moving. "They lead us."
After almost a month of visiting herding families and eating whatever I have been offered in cups, bowls, and plates of doubtful sanitation, it was inevitable that the risks of local eating would finally catch up with me.
We were staying with a very generous herding family a few hours south of Renchinlhumbe. One morning they killed one of their three hundred goats to cook a "horhog" for us (as promised during our road encounter of several days ago).
The goat was butchered, river stones were heated in a fire and then combined with the animal's body parts, blood and a little water, in a large aluminum milk can and put on a fire to cook from inside and out. Normally, this form of pressure cooking is remarkably efficient, but our can had a hard time sealing, and so the cooking time may not have been sufficient – or the temperature not high enough to do what it was supposed to do.
In any case, after a while the horhog was declared finished and we were served the juice from the can. It was strong in flavor, but undeniably tasty. The internal organs and other miscellaneous parts were also good, though somewhat tougher than usual, suggesting they may not have been fully cooked.
As the day wore on, I began to regret eating with such gusto. In one delirious moment, my imagination saw the goat's glazed eye winking at me, as if to say that after having such an unpleasant morning, it was enjoying the last laugh.
Since the rest of the family and my fellow travelers all ate the horhog and remained healthy, it is quite possible that the revolution in my bowls has nothing to do with the winking goat. It could just as easily have been the home made yogurt, butter, or cheese I ate for breakfast, or even a dirty plate, cup, or knife.
No one knows for sure when Naadam began. Some historians claim it dates from the time of the Hunnu or Hun Empire (3rd century B.C.). Some say it served as a sort of training program for the troops of Ghengis Kahn as they prepared to conquer the world.
In any case, the once spontaneous gatherings in which nomads come together to eat, drink, and pursue the "three manly sports" of horse racing, wrestling, and archery, was formally declared Mongolia's national holiday in 1922. The July 11 date, though not always adhered to, was chosen by the government to commemorate the anniversary of the liberation of the capital from occupying Chinese troops in 1921.
The biggest Naadam celebration is held in Ulaan Bataar, because it is the most accessible to the largest number of people. That Naadam is organized on a vast scale and attracts visitors from around the world. This year's celebration in the capitol involved more than a thousand wrestlers and as many horses, all competing for national glory and millions of tugrugs (tens of thousands of dollars) in prize money.
I have purposely come to celebrate Naadam in Renchinlhumbe in north-central Mongolia, far away from the spectacle in Ulaan Bataar, both because I think the smaller, rural gatherings are more personal and interesting, and because it is through Naadam that I hope to reconnect with the herders I met here in 1994.
Renchlinlhumbe has grown since I was last here. Several bad winters (in 2002 and 2009 especially) caused many local herders to lose their livestock and move into town. Despite its growth, the town still has the rough, frontier feeling that I remember. There are no paved roads and the buildings are all either hand -made wooden structures or wood and felt gers, surrounded by an assortment of wooden fences.
During Naadam, when the population here mushrooms from hundreds to well over 1,000, the endless toing and froing of people, horses, motorcycles, and cars, quickly creates a dusty haze that pervades the entire town and concentrates in the rough wooden fenced area that is set aside for Naadam competition.
Mongolia is an enormous country – about the size of Western Europe – but in some ways it has all of the best characteristics of a small town. On our way from Hatgal to Ulaan Uul, a hard but spectacularly beautiful nine-hour, 145-kilometer drive over a winding grass and dirt track, we passed a total of four vehicles : three motorcycles and a Russian van.
It turned out we knew the riders in or on half of them.
As is fairly common in this part of the country, where driving conditions can be challenging and subject to changes in the weather, we stopped to consult with each of the travellers, and they with us, to ask about the road and seek intelligence on which rivers were flooded and whether or not bridges were possible to cross.
In the case of the Russian van, our interpreter, Tuya, the person who has arranged most of the logistics for the trip, knew one of the occupants. This was a good thing, for our chance passing occurred just as we were bogging down in a section of track that was more wetland than road.
Tuya's friends happily piled out of their van and helped push us out of our troubles. This is not to say that they wouldn't have helped us anyway, friends or no, but it helped that after a mucky, mud-spattering push, we could all visit and exchange more than road news.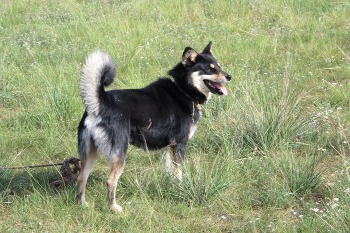 In Mongolia there is a traditional greeting which literally translates to "have you tied up your dog?"
The expression has real meaning in the countryside where every herding family has at least one such animal, often as many as six. They provide protection and early warning of approaching strangers. Dogs are not pets here. They are never allowed inside the gers. They are all working animals that have amazing abilities to spot anything out of the ordinary and set off an alarm.
They are mostly big, shaggy creatures that are impossible to categorize by breed. The more friendly ones are given free reign and wander, untethered, near the living area. The more aggressive ones are chained to short posts by day and released to patrol the area after their owners have gone to bed.
Often when we are sleeping near a herding family I hear the dogs' alarm barks during the night and wonder what has triggered them. It might easily be wolves.
During our interviews over the past two and a half weeks, many herders have spoken about the losses they have had due to wolf predation.
Today we saw proof of it – or at least proof of the presence of wolves. While documenting the taking down, moving, and erecting a herder's ger as the family moved from the grazing area in one valley to the next – a distance of about five miles – they proudly showed us a wolf skin taken from an animal that their dogs had detected stalking their sheep.