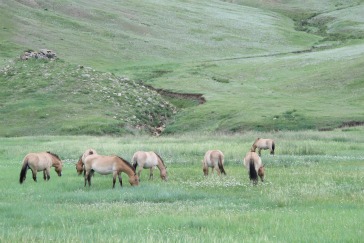 After six weeks and thousands of miles of driving through Mongolia's vast territory, I am struck by both the timeless qualities of the country and the changes it has gone through since my first visit in 1994.
The shifts in climate and weather patterns that the herders have been reporting throughout my trip are beyond their control, but the problems of overgrazing that we have seen are a direct result of the altered political and economic climate in Ulaan Baatar. Since the collapse of the Soviet-dominated socialist government in 1990, the herd sizes of sheep, goats, horses, yak, and cattle have grown exponentially throughout Mongolia. Though reduced by periodic "zuds" (deadly winter die-offs), the livestock numbers here are still well above where they were in Socialist times and, in many parts of the country, well above healthy and sustainable levels.
The difference between overgrazed and healthy steppe grassland is immediately apparent when one enters the Hustain Nuruu Steppe Reserve 100 kilometers southwest of the capital. I have purposely saved this visit for the end of my trip because what has happened here represents one of Mongolia's great conservation success stories.
The people who tabulate the demographics of Philadelphia's sport fans may have missed the monks of the Danzandarjaa Khiid monastery in Moron, Mongolia.
I met three of them in a small café just a few yards from the monastery's central temple during my final day in Hovsgol Aimag. "Where are you from, and where are you going?" asked one with a characteristic greeting when I entered the room.
On hearing Philadelphia, he and his friends all grinned excitedly. They could hardly believe their good fortune at meeting someone from the land of their favorite basketball team. They cried out "76ers" in unison, and then began to recite the names of their favorite players. It seems the NBA games are broadcast here by satellite TV and these guys love to watch our hometown team.
On a trip like this there are many things one misses – running water, cold drinks, familiar food. But there are other absences that contribute to the positive aspects of being here.
One is the absence of artificial light. Although most gers now have solar panels that generate electricity to fuel a single, high efficiency light bulb, these are used sparingly and are always inside the windowless gers. Thus, even where there is a human presence on the steppe, itself a rarity, there is still no light to compete with the dazzling display of stars that wash the sky with an intensity impossible to experience in a more urbanized place.
Sounds too are far more intense without the competition of automobiles, airplanes, and mechanical gadgetry. And they travel long distances: the drumming of the hooves of a hundred sheep and goats; the whinny of a horse; the metallic rattle of a water can being wheeled to fill at the bend of a meandering stream.
After almost a month of visiting herding families and eating whatever I have been offered in cups, bowls, and plates of doubtful sanitation, it was inevitable that the risks of local eating would finally catch up with me.
We were staying with a very generous herding family a few hours south of Renchinlhumbe. One morning they killed one of their three hundred goats to cook a "horhog" for us (as promised during our road encounter of several days ago).
The goat was butchered, river stones were heated in a fire and then combined with the animal's body parts, blood and a little water, in a large aluminum milk can and put on a fire to cook from inside and out. Normally, this form of pressure cooking is remarkably efficient, but our can had a hard time sealing, and so the cooking time may not have been sufficient – or the temperature not high enough to do what it was supposed to do.
No one knows for sure when Naadam began. Some historians claim it dates from the time of the Hunnu or Hun Empire (3rd century B.C.). Some say it served as a sort of training program for the troops of Ghengis Kahn as they prepared to conquer the world.
In any case, the once spontaneous gatherings in which nomads come together to eat, drink, and pursue the "three manly sports" of horse racing, wrestling, and archery, was formally declared Mongolia's national holiday in 1922. The July 11 date, though not always adhered to, was chosen by the government to commemorate the anniversary of the liberation of the capital from occupying Chinese troops in 1921.
The biggest Naadam celebration is held in Ulaan Bataar, because it is the most accessible to the largest number of people. That Naadam is organized on a vast scale and attracts visitors from around the world. This year's celebration in the capitol involved more than a thousand wrestlers and as many horses, all competing for national glory and millions of tugrugs (tens of thousands of dollars) in prize money.