Archive: September, 2008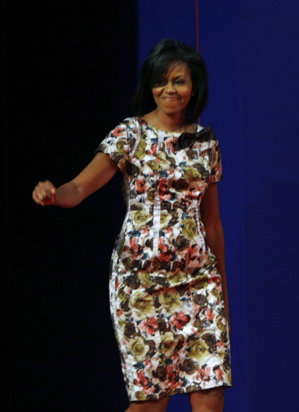 Who you think won Friday night's Presidential Debate depends who you think gave the best answer about the banking crisis. But I digress. We like Michelle, but in the words of Citizen Mom, we guess it was time for a fashion misstep. We like the silhouette of this sheath. But the print, not so much. What do you all think?
Amanda Ross, stylist for NBC's Lipstick Jungle, visited the Lord & Taylor in King of Prussia Mall Thursday evening to introduce Lauren by Ralph Lauren's. She sent these style tips to help us update this fall's classic - I like to call them sexy secretary- silhouettes!

1. Remember, the little black dress is always a classic. There are so many in stores this fall. Stock up on one, maybe two, now.
2. Black pumps, of course. Round-toed preferred. Platform or classic will do.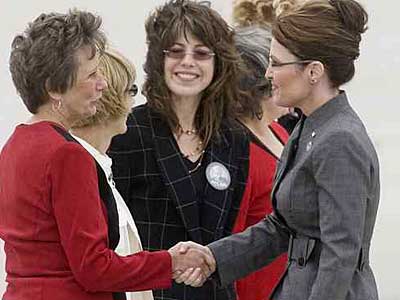 Sarah Palin arrived at Philadelphia International Airport yesterday wearing a smart belted grey jacket and tailored black trousers with spicy black pumps. Classically appropriate! The bespectaled vice-presidential candidate won't make any campaign appearances, her spokesman Paul Lindsay said, until the economic crisis is solved. (At this rate, that may be never.) It appears that Palin will also prepare for her vice-presidential debate with Joe Biden here, as well. (That might be a good idea after Palin's interview this week with Katie Couric.) The debate is scheduled for next Thursday. The Inquirer reported today that according to several Republican sources, Palin was scheduled to attend a debate watching party with McCain campaign volunteers at the Irish Pub on Walnut near 20th Street. Think Palin will let her hair down at the pub?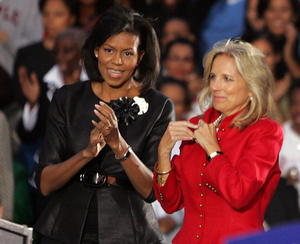 How amazing and proud, residents of Southwest Philly must have felt Wednesday night when wife of Presidential Candidate, Michelle Obama asked them to register and vote for her husband, Barack Obama! Dressed in a belted, black skirt suit, Obama, along with Jill Biden, rallied residents to register to vote. Her husband, she said, understands their life struggles. After all, Barack Obama, was raised by a single mother, who sometimes had to rely on the government for assistance. He knows struggle. "Don't you want a president who brings that perspective?" Michelle Obama asked. "This is personal and I know these issues are personal for so many of you because you are feeling it every day."

It seems like we can't say it enough: the possibility of Barack Obama as President will mean so much to African Americans, who have often felt less than second class citizens. Michelle Obama well-dressed and well-spoken, complete with black and white flowers on the lapel of her Sunday go to meeting suit, reminds us of our mothers and grandmothers. It's a style that we can take comfort in. One that validates that despite our struggles, we should be respected. One that has the power to motivate Southwest Phildelphians to Get up, Stand up and Get dressed up! Only then will change come.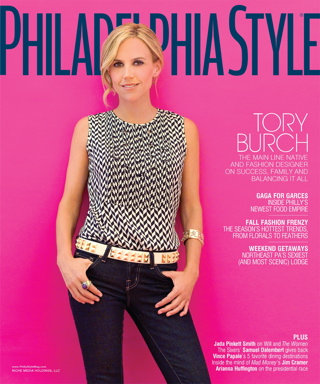 Fifth Avenue's princess of ballerina flats, Tory Burch, was in Gladwyne yesterday afternoon for a luncheon to celebrate her cover of the September isue of

Philadelphia Style

magazine. Niche Media Holdings sponsored the lunch along with JoAnn Wurzak of Gladwyne. Style Editor and Chief, Sarah Schaffer was particularly stunning in a floral sheath. (Shoot, I should of asked her who made it. Next time, JoAnn!) It was an afternoon of well-dressed socialites in clothing marked with the TRB cros. Ever since Philadelphia style has been taken over by my Niche Media Holdings LLC, the magazine has taken a totally hip turn. Last month, Philadelphia Style style hosted a much talked about evening with singer/actor Terrence Howard and next month the city of Brotherly Love's own John Legend will grace the cover. We like the big glossy. What do y'all think of the new Philadelphia Style?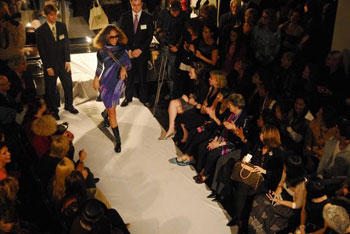 Magically, store owner Joan Shepp, turned her Walnut Street boutique into a New York Fashion Week-style runway, Wednesday night. Camera's flashed. Fashionistas gasped. Models skulked. The front rows were filled with Rittenhouse Square's Who's Who at this amazing presentation that featured the boutique's hottest European designer lines including designers Dries Van Noten, Marni andYohji Yamamoto. High fashion has parked itself in Center City this week. What do you think about all the fashion events in town? Is Philly becoming a fashion destination in its own right?
This year, Phasion Phest organizer, Sharon Phillips Waxman, cleverly incorporated Superheroes in her 15th annual style extravaganza, thanks to the students at The Art Institute, who drew the comic book style backgrounds! Yay for them! The event was held this year at Market Street's Loews Hotel. And Philadelphians got a chance to see the latest and most wearable fall fashions. Some of the featured boutiques included: South Moon Under and Les Richards in Center City as well as Bloomingdale's in King of Prussia Mall. The show was a nice cross section of the styles available right here in Philly. The most eyecatching presentation, however, was Zinman Furs. We thought the models were hot! And the idea of wrapping up in a soft fur is irresistable on the soon to be cold Philadelphia winters. Are you ready for the cold weather? I'm not.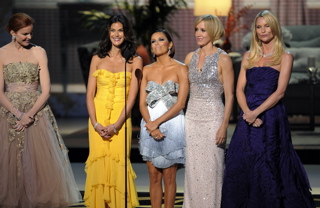 Last night the red carpet swirled with canary yellows, beaded nudes, deep reds and eggplant purples at the 60th Annual Emmy Awards. Our favorite television stars kept it glamorously simple; shabby chic is so over. Oprah's fitted wine gown was stunning. Who designed that? We also liked Vanessa L. Williams' one-shoulder Kevan Hall and Julie Louis-Dreyfus' salmon Narcisco Rodriguez was demure. Chandra Wilson's black Tadashi Shoji was oh so figure flattering.

However, we were most impressed with the look of the Desperate Housewives. Together they were a picture of classic looks with a contemporary spin. Eva Longoria Parker's bowed, crystal white, tiered Marchesa frock said shimmy with me! Felicity Huffman surprised us with a new severe bob and looked wonderful in a nude sleeveless gown by Reem Acra that clung well to her toned body. Great fit! And even better jeweled! Nicollette Sheridan and Teri Hatcher went strapless. But Sheridan's Angel Sanchez was classic, while Hatcher's tiered, yellow ruffled number was all sunshine, baby. And of course, Marcia Cross' blush Eli Saab with appliqued flowers was classic princess and absolutely Bree-like.

What was your favorite outfit last night?