Archive: August, 2011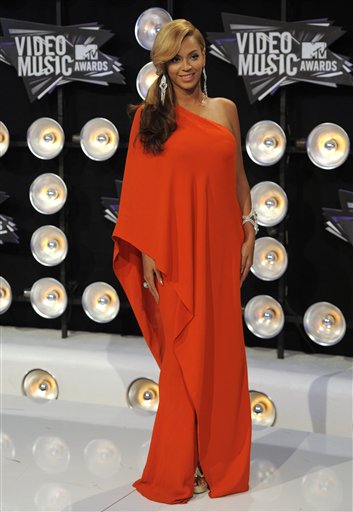 Yes, we know the big news from tonight's MTV's Video Music Awards is that Beyonce is preggers. Congrats to her and Mr. Jay-Z. I, however, am just glad she's pregnant in style. And yes, that means not wearing a maternity dress from that dreadful House of Dereon. Kudos to Bey Bey for choosing this beautiful, flowing fire engine red/orange one-shoulder gown by Lanvin. Loved it!
P.S. Bey's performance outfits were cute, too. Women in glittering Temptation/New Edition outfits. We likey.
P.P.S. - Somebody tell me why Jay Z was dressed in a fitted white T-shirt in jeans? This from the man who said it's time for men to dress up and killed the jersey trend? I hope he's no regressing. Fellas, please don't follow this latest underwear as outerwear advice.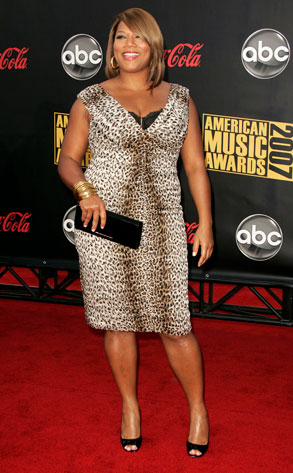 Just took a look at Queen Latifah's collection of women's wear available on HSN on Good Morning America.
Hmmm.... How do I say this?
The Queen Collection is nice. As a matter of fact, it's quite wearable. There are trendy jumpsuits, capes, sleek, black wrap dresses in jersey knits, sparkly T-shirts in easy to match nudes. The collection comes in sizes 2 to 24. I'd wear all of them.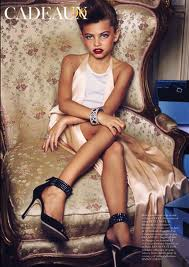 Ten-year-old model French model, Thylane Lena-Rose Blondeau is gaining world wide attention.
It's just that this attention is so not appropriate for a 10-year-old. Would you agree?
Nonetheless, the little girl with decked out in what could be too much glitter, glam and gold lame for a 25-year old is on the cover of the September issue of French Vogue.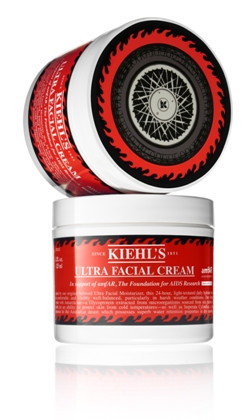 Kiehl's will kick off its second annual LifeRide to raise money for amfAR, Foundation of AIDS research this morning. Kiehl's Since 1861 president, Chris Salgardo will lead a group of celebrity motorcycle riders through Rittenhouse Square before the 25-person riding team starts a 1,000-mile, five city, seven day motorcycle trek starting here and ending in New York City. To read my Q&A on Salgardo that ran in today's paper, click here.
At this morning's event, which starts at 11 a.m. and ends at 1 p.m, the celebrities will be in full effect including model, Tyson Beckford and actors Jason Lee, Tricia Helfer, Justin Chatwin, Katee Sackhoff and Teddy Sears. Philadelphia native, Chef Jennifer Carroll of Bravo TV's Top chef will give out culinary samplings as well. Yum. Yum.
In honor of LifeRide, every customer that walks in the store Kiehl's will donate $5 to amfAR for up to $30,000 total. And Kiehl's will be selling a limited edition Ultra Facial Cream (pictured here) that which 100 percent of the profits will be donated toward amfAR.