Archive: February, 2012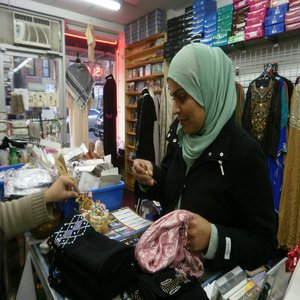 According to this article written by master's candidate at the Columbia University Graduate School of Journalism, Zoe Read, more Muslim women are opening boutiques that help Islamic women follow fashion chastely.
Read writes:
In the United States, Muslim women have struggled to find clothes that satisfy both religion and fashion in American stores. It is often difficult to buy outfits that cover the legs, arms and chest, or tops that are long enough to cover the buttocks.

Today I wrote a story about The Renfrew Center Foundation For Eating Disorders Barefaced & Beautiful Without & Within campaign. The folks at the Renfrew Center want us to go makeup free today as in cleanse, moisturize and go. But if you really want to bring attention to the cause, go makeup free the entire week in honor of National Eating Disorders Awareness Week.
When makeup becomes a crutch for women - putting on a full face to go the gym - it can be a sign her self-esteem is in the toilet.
And low self-esteem can lead to poor body image and that can lead to eating disorders like anorexia and bulimia.
As usual the celebs brought the fashion fire at the 84th Annual Academy Awards. I watched the red carpet at The Ritz Carlton's Oscar party alongside some of the city's most fashionable including colleague, Jenice Armstrong, fashion/blogger Jimmy Contreras, publicist Matthew Vlahos, boutique owner Joan Shepp, jeweler John Wind, fashion professor Emil DeJohn and president of the Accessory's Council, Philadelphia's own Karen Giberson. There was lots of shrieking and fashion talking. But we loved, loved, loved the glam looks.
Here are my choices for the best and worst of the night.
Best Dress
And speaking of natural hair we found this pic of Oscar-nominated actress, Viola Davis, au naturel in New York Magazine. We love it. We hope it's a permanent bye-bye to the wigs. We can't wait to see what she'll be wearing on the red carpet.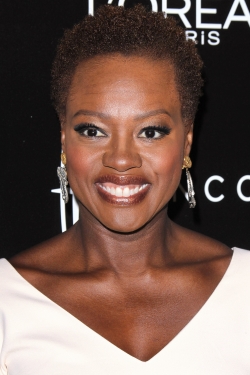 Check out my colleague, Annette John Hall's commentary on Viola Davis as an Oscar nominee.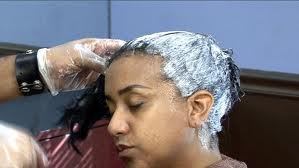 Here is some scary news:
According to an article in Black Like Moi, a new study in the American Journal of Epidemiology this week linked hair relaxers to uterine fibroids, as well as early puberty in young girls.
According to the study, scientists followed more than 23,000 pre-menopausal Black American women from 1997 to 2009 and found that the two- to three-times higher rate of fibroids among black women may be linked to chemical exposure through scalp lesions and burns resulting from relaxers.
The study also reported: women who got their first menstrual period before the age of 10 were also more likely to have uterine fibroids, and early menstruation may result from hair products black girls are using, according to a separate study published in the Annals of Epidemiology last summer.
I always wondered when someone/anyone would do a study that would link the lye relaxers black women use to strengthen their hair to something very bad. I mean how can anything that burns the scalp so badly not have some kind of negative effect. Black women on average get relaxers every six weeks to straighten their hair.
In all the Grammy, post- New York Fashion Week hoopla, we are just getting a chance to tell you Philadelphia's own, Anthony Henderson, styled diva songstress, Kelly Price, for the 54th annual Grammy Awards. It was at Price's pre-Grammy party where the late Whitney Houston performed fpr the last time. Price, if you don't know, is best known for her duet with R. Kelly in the famed Mr. Big saga. Here we have Price in a sparkling vino-colored, capsleeved gown by designer, Oliver Tolentino. What do you all think?
And the week is not complete without the glitz and glam of Diane Von Furstenberg. I love her. I love her aesthetic. I love her fit and I love her young boyfriend.
But I digress. Her collection was called The Rendezvous. Graphic images of puzzle-pieces on her run- of-show-hinted her grouping was about bold hued separates that could be paired with any of her prints. But von Furstenberg's collection was softer than Reese with longer hemlines and blouses that flowed.
Some outfits were clearly Mondrian inspired, but instead of primary shades, von Furstenberg used pigment- heavy yellows tops and watermelon pinks bottoms separating them with a thick, black banded belt. And I loved, loved, loved the key-hole jumpsuit.
The Fall 2012 trends are starting to come together as this year New York Fashion Week designers are in two camps: bold, color blocking or edgy black.
LaCoste and Max Azria were true to their successful fashion formulas focusing on slim, sporty silhouettes that featured bold striping. The fabrics looked so comfortable, I imagined myself wrapped up in hot hued long slacks and dresses.
Monique Lhuillier's collection erred on the side of Vampire Diaries hot. Lhuillier went bad girl chic with a bevy of capped sleeved dresses, knee-length skirts and velvet tuxedo leggings. All of the pieces looked like they were strategically splattered with red paint. It was all very sexy - and surprisingly wearable - in a True Blood kind of way.