Archive: December, 2010
Ten-year-old Willow Smith recently did a photo shoot for London Times Style Magazine. Here are some of the pics via Black Voices. Some people think the photographs aren't age appropriate. I think she looks cute in her shiny gold legging and the Gagaesque bow. Not too sure about the long braid, though. What do you think?

Local on-line shoppers! You've likely heard of Rue La La – a leading private online sale boutique, where members are offered serious exclusive savings on designer brands.
Today the Rue is launching Rue Philadelphia, a local-market-specific extension that grants its Members exclusive access to the very best offers from carefully selected local brands.
Here's the deal: All Rue La La Members in the greater Philadelphia area will now receive a daily email offer featuring Rue Philadelphia pick. Each pick will showcase a single Philadelphia brand and one-of-a-kind offers from the city's most coveted restaurants, bars, salons, spas, and exclusive events at up to 70% off retail prices. Rue Philadelphia Picks will only be available for 24 hours, though the experiences purchased may be redeemed for an extended period of time.
The first Rue Philadelphia offering is Sampan, featuring celebrity Chef Michael Schulson's restaurant and Graffiti Bar

.

(I've been there, it's yummy!) Other offerings to look forward to include Knit Wit, First Impressions, and Adolf Biecker Spa/Salon.
Rue Philadelphia is available through membership only. Once a Member, Philadelphians are able to personally invite friends through a system that easily links their address book contacts directly to the site. Members can see accepted invitations and earn a $10 Credit every time one of their referrals makes their first purchase. For its launch, exclusive access to Rue Philadelphia is available for a limited time through www.ruelala.com/RuePhiladelphia
Rue Philadelphia is Rue La La's third city-specific expansion of Rue Local; Rue Boston and Rue Seattle launched earlier in 2010—yes we even beat New York City to the punch!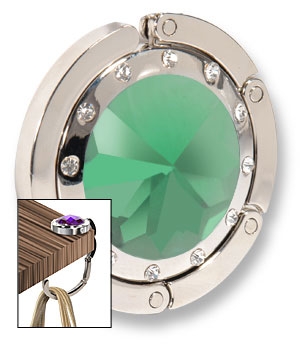 The bar fly that I am, I'm always hanging my purse over the back of my chair or placing it by my feet on the floor. (My grandmother is probably shaking her ringed fingers in heaven right now, because according to her, that's a recipe for B-A-D luck.) So these jeweled purse hangers aren't just fashionable, they are totally practical. This purse hanger is available in four colors including aqua, pink, brown and black at Manayunk's Octavio Miles Boutique. At just $15, you can't beat the price. And as long as you remember to slip it back in your bag - or that you are actually carrying it - your purse will always be close at hand.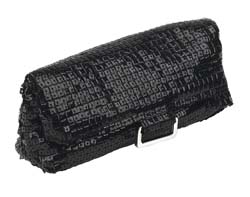 All girls love a little sparkle. And as a four-eyed girl who is always looking for a place to put her glasses, this is sparkle I can use. This Corinne McCormack clutch is soo cute. It's a fold over that you can not only just toss in your purse, but slip under your arm. The soft, yet sturdy clutch is always a winner. You can find it for $28 at Lord & Taylor.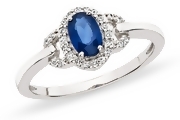 I found this stocking stuffer most interesting. Yes, it's a little bit over my $100 limit, but the sheer novelty of this bling is worth it.
On-line jewelry retailer Ice.Com is offering a sapphire and diamond- like sterling silver ring - just like the engagment ring of the future Princess Kate Middleton for $110. I kid you not. You don't have to be royal-obsessed to think this ring is pretty. Not to mention, who could blame Ice.com for jumping on the Middleton item bandwagon? Remember that blue jersey silk dress Middleton wore by Brazilian designer, Issa? Fashionistas may not be able to find the real thing, but may be glad to know it has spawned a $25 imitation.
But I digress. The Royal engagment ring isn't the only of -the-moment knock-off Ice.Com is hawking this holiday season. Harry Potter fans can can enjoy a black diamond sterling silver bracelet for $800. And women who want the Real Housewives look can enjoy a pink, yellow, black and white sterling silver bracelet for just $325. Tacky? Or Timely? What do you think?
If there is one thing sports fans can appreciate it's a warm head. Especially in the midst of the winter sports. Go Flyers!!! Brrr... Go Eagles!!! Brrr again. That's why we think these cuffed hats from Mitchell & Ness for just $24 will be just what your favorite sports fans needs for braving the icy cold. Philadelphia -and several other city's sports fans -can - chose from the Eagles, Sixers and the Flyers. Right now, however, the Eagles are sold out. And Phillies fans won't be able to find a hat because the nostalgic company doesn't have a license for Phillies headgear :( Mitchell & Ness is located at 1201 Chestnut Street . Call them at 215-399-0315. Do you like these hat?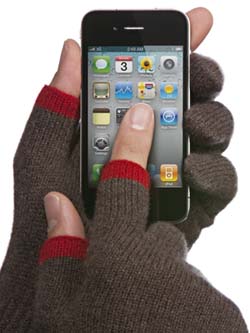 Needless to say it is no fun texting in the cold - or updating your Facebook or Tweeting or snapping pics or just whatever. There are lots of stylish fingerless glove options out there, but why should all 10 of your fingers freeze when you just need the thumb and index finger for the tapping task. Enter Etre Touchy gloves. This Britain-based company designed nine styles of index and pointer fingerless gloves - some with a funky leather trim. The gloves are available on the Etre Touchy web site where you can order them for 20 pounds - equal to about $31.70. We love it it when trends meet warmth. What do you think?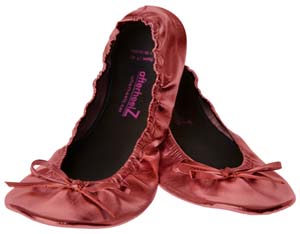 Ouch! You know that painful pinch that comes from standing in strappy sandals and high heeled pumps all ... night... long. There is not a cocktail in the world that can stop that sting once it starts; I know I've tried. So when the sturdy little ballet slippers called Afterheelz recently showed up at my desk, I rejoiced. The shoes come in a tote that can easily fit into clutch - or Christmas stocking. And that bag can then transform into a full sized tote to put your heels in after your feet are plum, tuckered out. Afterheelz were invented by four Las Vegas-based business men who worked on the night club scene and took pity on women as they left lounges barefoot shoes in hand wincing as they gingerly walked to the their cars. The flats come in silver, gold, purple, black, pink, red and white and are available in four sizes: small, 5-6; medium, 7-8; large, 9-10 and x-large 11-12. They are available online at the Afterheelz web site and at just $20 they make the perfect holiday stocking stuffer. So cute. A great holiday present, no?