Archive: November, 2012
After a soft Black Friday opening, C. Wonder celebrated its arrival at King of Prussia Mall Friday morning.
The clothing is classy and fun. Not only does the brand offer a bevy of trendy classics - think adorable shrunken blazers with contrasting elbow patches, silken printed blouses, skinny jeans and monogrammed belts, it sells fun trinkets making C.Wonder worthy of cute, emerging lifestyle brand status. There are wine stoppers, china, toys for the pets and sunglasses, too. It's all so very lovely.
... and familiar.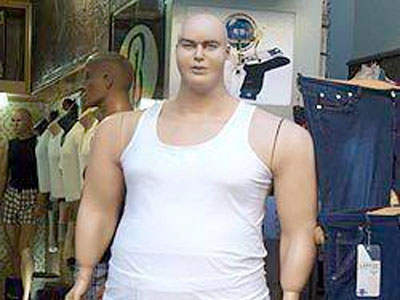 I saw this on The Today Show Thursday morning. And now this pic of the plus-sized male mannequin - with the frighteningly small head and a hint of man boob - is floating around cyberspace.
So I ask my Philly readers: what do you think about this dummy's big body (pun intended.) Are you grossed out - as many folks were? Do you think the largely over sized public should see themselves in clothing how they are, rather than how they want to be?
Share.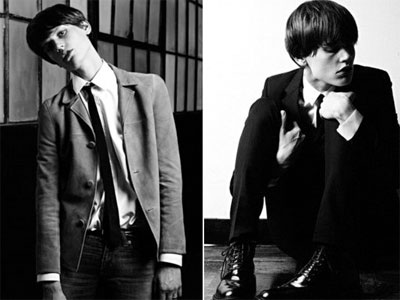 Yves Saint Laurent's use of a slim, Mick Jaggerish looking girl model, Saskia de Brauw, as the face of its new menswear line, makes me pause.
For the record, YSL's creative director, Hedi Slimane is known for his is-it-a-boy? or is-it-a-girl? approach to fashion.
Knowing how macho-obsessed men are, how in the world advertisers think using a tiny womn to market men's suits would work? We know the slim cut suit is in, but men had a hard time adjusting to the more fitted silhoutte these last 10 years because, they said, the body hugging cuts just weren't manly enough for them.
I've spent the last four years ooh-ing and ah-ing over first lady Michelle Obama, that I've all-but-ignored our city's own first lady, Lisa Nutter, and her sense of style.
And for that I should be ashamed - especially since her looks are the closest thing to perfect I've ever seen. Sorry Mrs. Nutter.
In my defense, Philly's first lady prefers to fly under the fashion radar. But when she does get dressed out for a night on the town, she's usually in a colorful, form-fitting Nicole Miller dress.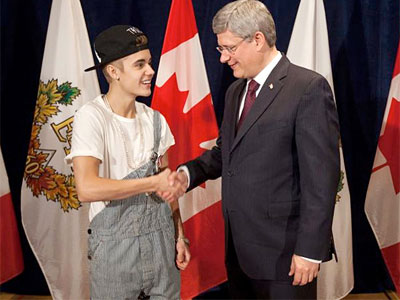 So Justin Bieber caused a major ruckus last week when he met Canadian Prime Minister Stephen Harper wearing striped overalls, a white T and a baseball cap to the back.
Bieber was in Canada to accept the Diamond Jubiliee medal his native land. Harper wore a shirt and tie, but then again, that's usually what prime minister's do wear.
Okay, I have to admit it, I'm obsessed with Jill Kelley's closet
And the sad thing is there is a chance I'll never learn the designers behind Jill Kelley's phenomenal dresses because fashion designers don't want to be connected to this scandal at all.
"They will never admit it," said my friend Sean General, a New York fashion insider who has branded designer labels including Shamask, David Rodriguez and Nima. "They just don't want their names connected with this kind of scandal.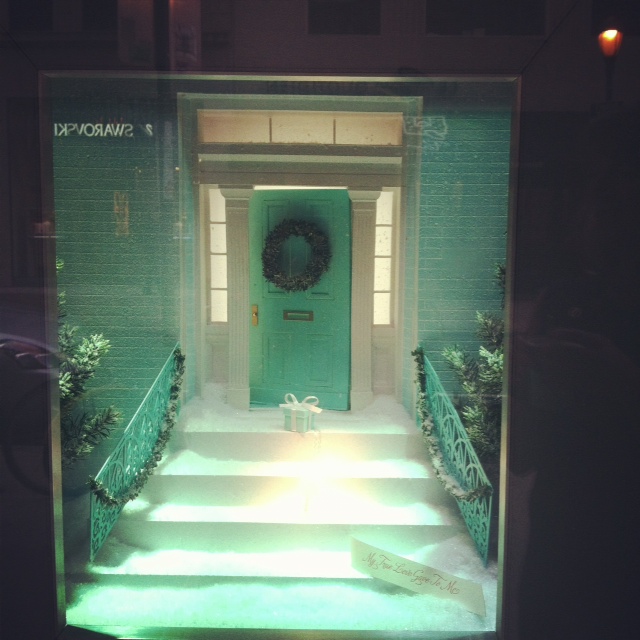 And speaking of holiday windows, I wanted to leave you with these images before we part for Thanksgiving break. What a winter wonderland Tiffany's put together. The theme is home for the holidays. My girlfriend said this window is enough to drive women crazy. I can't help but agree. These windows sure make me want to swoon for the blue Tiffany's box.
If you see any great winter retail windows, let us know and we'll feature it in Mirror Mirror this holiday season.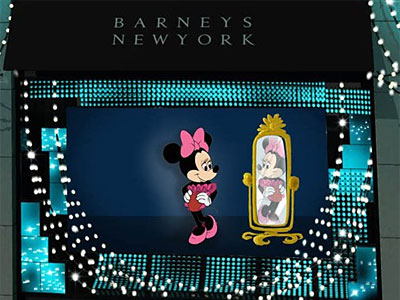 Despite the controversy, Barneys New York store windows featuring slightly controversial Disney's Electric Holiday film starring Minnie Mouse is too cute.
Here is the plot in a nutshell: Minnie Mouse goes to Paris and is perusing store windows when she spots a to-die for Lanvin dress. The ruffled, strapless frock sends Minnie into a daydreaming frenzy starring not just her animated buddies, Mickey, Daisy Duck, Goofy, Princess Tiana and Snow White, but also some of the fashion industry's heavy hitters in cartoon form. Minnie is photographed by Steven Misel, her makeup is touched up by Pat McGrath and celebs Sarah Jessica Parker, Lady Gaga and Naomi Campbell sit in the front row of the Disney characters' runway show along with fashion journalist Suzy Menkes of the International Herald Tribune and Franca Sozzani of Italian Vogue.
Tinkerbell sprinkles some fairy dust Minnie, Daisy and Mickey Goofy and turning them into tall, thin fashion models and the emerge down the runway form a stage fashioned into mouse ears - love it. Daisy Duck rocks Dulce & Gabana while Princess Tiana opts for Proenza Schouler and Mickey Mouse struts in Balenciaga.