Archive: October, 2010
Sometimes chemotherapy makes patients' skin turn green. Other times yellow. There are times when it looks grey too.
Local celebrity makeup artist - and three-time cancer survivor - Carolyn Diamond has made it her mission to help women going through chemotherapy look their best. so they can feel their best and recover quickly. Diamond applies makeup for women receiving chemotherapy treatments for free and she sells them the makeup - at cost - so they can try it at home.
"I try to keep it simple for them," Diamond said in between giving makeup applications. "It's all about understanding the undertones."
Every bride wants a fairytale wedding.
But a Disney quality fairytale, that equals fantastic.
Philadelphia-based bridal manufacturer Alfred Angelo is the latest company to partner with Disney for a collection of bridal gowns inspired by the Disney princesses. The Disney Fairy Tale Weddings by Alfred Angelo collection will be available in sizes 0 to 30W, at all Alfred Angelo Signature stores and select Alfred Angelo wholesale Partner Bridal Boutiques in 2011. All gowns will be priced $599 to $1,199.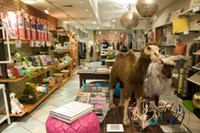 Mirror Image usually doesn't write about sales, but we thought this one was one to mention. Mainly because we are sooooo sad that Petulia's Folly, a fave Rittenhouse Square boutique will be phasing out clothing to focus on home furnishings.
That means the nine-year-old store - owned by the ultra quiet stylista Sandy Kim - will be having a blow out sale through November 1. Top runway brands including 3.1 Phillip Lim (whom I love.) Rachel Comey, Hanii Y, Catherine Malandrino and Alexander Wang will be marked down 25 percent to 90 percent. This is better than a sample sale.
Store manager Becky Dator says the store will expand its home furnishings collection to include throw pillows, vases, picture frames. Eclectic brands include John Derian - his decoupage line - and Chilewich. (A quick glance at the web site is telling me I like this modern brand.) Petulia's Folly is located at 1710-1712 Sansom Street.
The fashion in Willow Smith's eagerly awaited "Whip My Hair' is the 9-year-old's sure to be must have tween sensation's details: the 3-D built out fingernails, the rainbow-curled eyelashes and the I-don't-think her lip is really pierced-lips. (I hope the folks at Claire's and Forever 21 are taking notes) The littlest Smith succeeds in letting her hair douse color on a bland school cafeteria. And she pays homage to old school with beatbox. The video, which was released on Monday has already had nearly 2 million hits on You Tube. Yes, really. The song is like a millennium Cyndi Lauper's Girls Just Want To Have Fun Smart video. Lots of fun. Totally manageable young kiddie fashion. We just hope little Willow stays young for as long as she can.
This just in: If anyone loves that hooded, aeronautical one-piece Willow is wearing, it's a OneZ from new Callifornia Brand CCR (California Christiania Republic). The video marks the debut of CCR's OneZ. We'll be watching them.
As part of my personal campaign to make Phillies' red the city's official hue because of its ties to fashion - think former Vogue editor Diana Vreeland, Louboutins, and Chanel lipstick, I've decided that today I will celebrate Jester red UGGS, that Philadelphia Phillies Phans and Phasionistas lovingly refer to as Phillies UGG boots or PHUGGS.
Today, my colleague, Amy Rosenberg wrote a front page story about the growing number of women Philly fans, in it she talked to 46-year-old Dawn Donahue who "sported red ugg-type boots (PHUGGS)" Who cares if these boots were probably knock-offs? What matters is these rubber-soled ruby treasures were that beautiful, uncompromising shade of Phillies red.
However, Donahue's fashion statement did get me to thinking about the real deal, so I called UGG Australia's New York office this morning and learned that the company has offered a red boot off and on since 2004 when the company created one especially for Sarah Jessica Parker in Sex And The City. This year, however, UGG Australia added the clearest beautiful shade of fire engine red they cleverly refer to as Jester red. (Maybe they had a crystal ball about the Phillies dynamite season, who knows?) UGG red comes in several different styles including the classic style Bailey Button for $150, the Dakota slipper for $100 (this puppy has a rubber sole, is fully lined in sheepskin and can be worn outdoors.) The knee-length Delaine for $160 and the UGG shearling earmuff. I'm a little more than mildly interested in $90 Evera sneaker. Think Chuck Taylors. I want a pair.
Anyway, the Sesame Street video was such a big hit that You-Tubers have already co-opted it and adding Willow Smith's catchy fashion tune "I Whip My Hair" as the backdrop . (FYI Willow is actors' Will Smith and Jada Pinkett Smith's fashion forward daughter.)
While I'm torn about 9-year-old Willow's a little too grown up performance, this You-Tube called Willow Smith vs. Sesame Street dance video is priceless. It's so cute. Sesame Street dance puppets always crack me up, but the little brown puppet bopping back and forth with mock braids, dreads and an Afro is just... adorable. Here's an idea: Maybe Willow should make an appearance on the show. (She should just make sure she checks with singer Katy Perry about what not to wear.
Anyway, check out the Willow version here. Philly, tell us what you think of both.
Last week my Facebook and Twitter friends were all abuzz about Sesame Street's latest puppet performance, "I Love My Hair." featuring an African American puppet singing about wearing a puffy Afro, braids, dreads and pigtails. After I finally got around to seeing it, I - like many of my friends - wished the Street had been rocking this segment since the 1970s. Can you imagine the impact this video may have had on the weavealicious generation? At the very least, maybe one more little girl - possibly me - would have refrained from putting a towel on their head and pretending the terry cloth was their long, luxurious hair. Check it out and tell us what you think.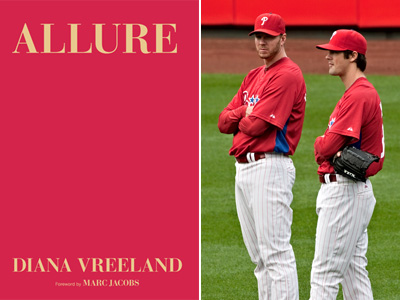 Eccentricity does not eclipse good taste. In fact, that is what is truly alluring. That is the heart of the message of Allure (Chronicle Books, $35) by the late former Vogue editor, Diana Vreeland. Vreeland is a key fashion icon - and one of my favorites -because she made red - Think Phillies' red as in Go Phillies! - a very "it" color. Vreeland was known for the red rooms in her home. She's probably the reason behind the red-bottomed Louboutins (But I digress) Anyway, Chronicle Books reprinted Vreeland's 1980 book in hardcover with a rich, nicely-written forward by Marc Jacobs. In two pages, Jacobs captured the essence of Vreeland when he writes:
"I could be totally wrong about this - but I don't believe she was a very linear thinker. I think she was probably turned on by and inspired by many different things. And since I'm also a nonlinear thinker, I can understand that. I understand why one picture is next to the other and I understand why they're all included and why they're all valid in one book from this woman. I think she trusted herself. To have that kind of trust was not just a whim, but a true impulse born of her sensibility. It's so unapologetic. There's nothing that requires an explanation. The reason these images are all alluring is because she believed them to be."

That said it's kind of cool looking through the book seeing Vreeland's idea of luxury, pop culture and high fashion. Vreeland, who was born in 1904 and died in 1989 has a sensibility that predates our millennium paparazzi so the photographs she picked were probably only seen in this book. There seem to be a lot of pics of the Baron de Meyer in tailored flapper styles of the 1920s and black and white stills by revered fashion photographer Richard Avedon. But there are pics of Fred Astaire and Mic Jagger and Marilyn Monroe.