Archive: January, 2011
Of course she does. The Disney star, known for playing Russo on The Wizzards of Waverly Place recently said in an article for the Belfast Telegraph that she couldn't live without the stretchy denim. I love jeggings – they're so comfortable," she told Top of the Pops magazine. Can you blame her? Jeggings are sexy, easy to wear and look just as great with flats as they do with heels. Great date wear, if I do say so myself. What's your verdict? Also, do you think Gomez has fashion icon potential?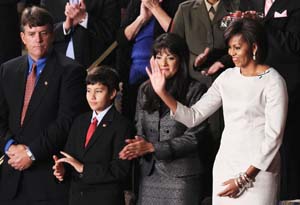 So glad First Lady Michelle Obama axed last week's flippy hair in favor of her shoulder length classic bob at last night's State of the Union Address. That flip - albeit a fluffier version - reminded me too much of Condoleezza Rice's hair. I can't stand that look. Okay, I"m over it now.
But I write this blog to tell you that that beautiful silver, silk shift, Mrs. Obama wore was last night was courtesy of New York Fashion Week designer, Rachel Roy. Do we have any readers who are Roy fans? But what even impressed me more were Mrs. Obama's stacked silver bangles. Nice touch, Mrs. O! We've must have said this a million times, but it's so nice to have a woman in the White House that's not afraid of fashion.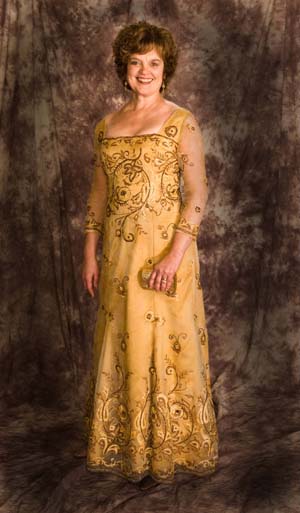 A First Lady's gown is usually a big deal - except not in the state of Pennsylvania, we guess. We reported a story about Susan Corbett's inaugural gown by Camp Hill designer Richard Andries two weeks ago. We saw sketches, but we haven't seen a photograph of the dress until now. What's that about?
I saw Mrs. Corbett at the Inauguration where her gown was definitely a head turner, but no one - not even AP took any pictures of her. Bummer. We know this isn't high stakes fashion, but where is the respect? What does Mirror Image really think? We like the silhouette and the fresh sheer sleeves (Sleeves are coming back in evening wear, it appears. Just ask Golden Globe Fashionistas Angelina Jolie and Anne Hathaway) But the mustard yellow embroidered fabric is just not our cup of tea. It's just too busy and not sleek. We would have preferred something - at least a little - sparkly. Sheen is key. What do you all think of the gown?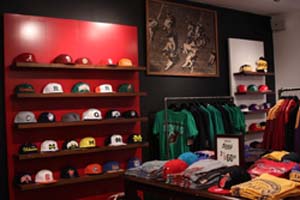 Fashion sportswear company Mitchell & Ness is working hard to keep their sports brand FRESH. First the 107-year-old apparel company opened new digs at 12th and Chestnut Street. And now they are down with the shop-in-shop concept setting up digs in urban apparel company, Ubiq.
Mitchell & Ness took over Ubiq's 400-square-foot second floor to offer fashion-forward vintage sports apparel and head wear featuring MLB, NBA, NFL, NHL and NCAA teams. The new shop-in-shop offers a rainbow of street wear - fitted tees, vintage-style track and old-school inspired satin jackets, and an extensive collection of hats, including the fiercely popular snap back hats. Mitchell & Ness and UBIQ plan to add collaborative apparel items to the mix in the near future.
The Mitchell & Ness Shop-in-shop is located in UBIQ's Center City store: 1509 Walnut Street, Philadelphia, PA 19103, 215.988.0194, www.ubiqlife.com.
Actress Jennifer Aniston said in an article for the February Allure magazine that her famous "Rachel" haircut (pictured above) was her least favorite look, ever.
She was quoted as saying: "I think it was the ugliest haircut I've ever seen. What I really want to know is, how did that thing have legs? Let's just say I'm not a fan of short, layered cuts on my personally, so I don't love revisiting that particular era."
Come on, seriously? This was probably the hottest haircut of late 90s and early millennium. This look made soccer moms cool. It was a unifier: black women, white women, Asian women. All women wore this cut. I had my locs cut into layers to recreate this look. And that haircut - probably more than her bland, yet amusing acting - made her a star. (Yeah, I said it.)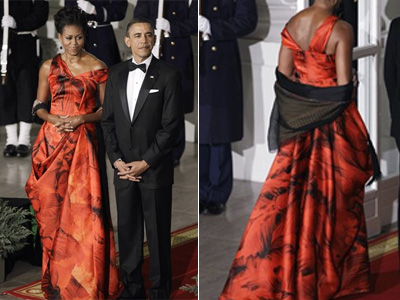 Michelle Obama is a hit or miss fashionista. When she hits it, she's dead on. When she misses it, oh well, blog fodder. Yesterday during her state dinner with Chinese President Hu Jintau, she hit it. Hard. Whoop there it is! A Fashion slam dunk. Can we say out the ballpark? You get my drift.
This red, silk organza dress designed by Sarah Burton for the London House of Alexander McQueen is right on time. The silhouette is phenomenal. The color, a bold red, was probably chosen because red is the country's color. The New York Times reported today the gown came with long sleeves, but that Mrs. Obama had it altered to the asymmetrical capped ones to suit her taste.(In this case that was excellent.) The dress was a part of the McQueen House's Resort 2011 collection.
Do you all like too?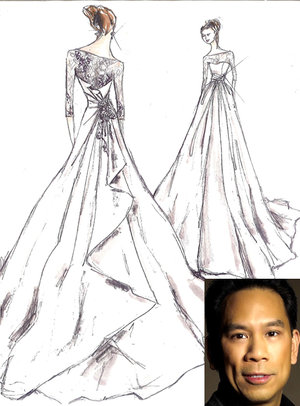 So much Golden Globe fodder yesterday, I forgot to blog the latest update about Kate Middleton's dress. Rumor has it, she was seen this weekend at British designer, Bruce Oldfield's studio. Mirror, Mirror told you Oldfield was an option a few weeks ago. We still wish it was Stella McCartney designing the dress, but oh well. Any new thoughts on the royal couple, or are you tired of it all before it's even begun? Which glossy will Kate Middleton grace the cover of first? Inquiring minds want to know.
... Helena Bonham Carter. Yikes. I love Vivienne Westwood - the fantastic designer who made Carrie's dream dress in Sex and the City The Movie I - and she should really kick Helena in the teeth. Her hair: a birdsnest. Her shoes: mismatched. Yuck. And unfortunately, even though I like her, Tina Fey comes in second... Don't know what she's wearing and not sure I really care. Am I wrong, here?