Archive: September, 2010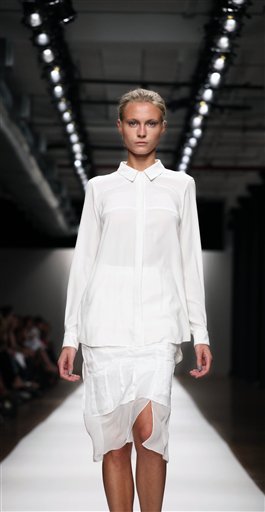 White is proving to be central to next spring's minimalist movement. Of course Lacoste featured lots of white - as we would expect. But several designers like Vivienne Tam, Derek Lam and Philadelphia favorite Nicole Miller worked more than a handful of graceful stark white pieces in their collection. Miller gave her long white ensembles a tuxedo twist while Parabal Guring worked in solid white gowns as did Adam Lippes who also mixed in white shirt dresses - that btw, boasted a perfect just at the calf length. Next summer white will be clean, sexy and totally flirty with a chicness often reserved for black. The era of the nudes is over. It's all white, baby.
Derek Lam received a standing ovation at his Sunday morning show. And it was so well-deserved. The designer presented an amazingly chic collection that beautifully captured the theme of this year's spring shows - minimalism! This sage suit is absolutely smashing. But what's even better news is that maxi dresses will continue into next spring (Silent yey here...) But in addition to matte jersey, look for them in sheer floral fabrics. Oh My. How can it be 365 plus days to next summer? Sigh.
Layering sheer fabrics will continue to be a big trend for fall. On Saturday both Charlotte Ronson and Vivienne Tam used see-through floral prints as central part of flowing, minimalist collections. This morning boutique favorite Lela Rose proved she wasn't afraid of "miraflores" and lots of movment - and sequins for that matter. Perfect for spring, no?
So what New York designers featured on whites, pale nudes for Spring 2011. Diane von Furstenberg clearly didn't get that memo. And that's Okay. My favorite designer - the creator of the wrap dress - presented her Goddess collection to a tent full of glitzy fashion insiders Sunday afternoon. The who's who included Sarah Jessica Parker, Anderson Cooper, Vogue's Anna Wintour and Grace Coddington, Desiree Rogers, Barry Diller. But let's get back to the clothes. One might say this collection was among the season's most potent stars. Von Furstenberg's goddesses are super bold. Her signature one of a kind prints included scrolls and suns. The color palette included mustard yellows, turquoises and purples. Von Furstenberg's Goddeses didn't drip with classic column-like drapes, they wore rompers and gold lame gowns - with hoods. But there was at least some white, a glorious crepe, silk dress ankle length halter gown I know the love goddess Aphrodite take Queen Hera down for. Wouldn't you?
Not sure where my love affair with tulle is stemming from. But this firey red amazingness by Project Runway alum, Christian Siriano (Isn't he the most talented of the bunch?) is like holy cow. I mean it's stupendous! Fantastical even. Yeah, yeah... it's a lot... but it's like fairytale gorgeous. Also look to the left and you'll see Philadelphia native Sessilee Lopez - one of the runway's hottest models. Wonder if I can catch up with her for a q&a? Hmmm. Enjoy. What do you guys think? Is this just too much, or simply full princess effect?
This morning I wasn't quite sure, but Guli is the colorful women's wear line by Gulnara Karimova. Ethnic-inspred fashions appear to be a huge trend so far for Spring 2011 and Karimova has done it best so far. (I'm off to see Ports 1961 as well as Nicole Miller after I finish this blog and those collections often take their inspiration from all over the world.) What I loved about this collection was the vibrance. Karimova intertwined ethnic subtelties with a modern twist. Pantaloons, sweaters and dresses were swirled with color. These were happy clothes. Take a look from the vantage of my front row seat. (Wink. Wink.) Enjoy. More on Karimova to come in Tuesday's wrap-up especially if I can track her down. Who knows, she might even get picked up by a Philly boutique soon. Do you like the trendy ethnic colorful clothing?
... his gowns were to kill for. I can't wait to see these on the red carpet for the Oscars. Some were one-shouldered, some sparkled, others were covered in ruched tulle. This was my fave dress in the presentation. What celebrity can you picture in this frock?
I'm a huge fan of BCBG/Max Azria. I mean. How could I not be? The clothes are soft and the dresses fit real women. Azria's Spring 2011 collection is especially easy breezy and according to his liner notes, it's inspiration is in timeless, effortless clean and versatile silhouettes. This morning's show was minimalism at it's best. (Although it did remind me of Francisco Costa's work for Calvin Klein.) White melted in to grey. Grey melted in to hazlenut. And there were pops of orange, red and canary yellow. Early prediction: Yellow is looking like the color for next spring.
But with these clean collections always come one caveat: The clothes are beautifully frilless, but the models are always carbon copies of each other. Why does this look always require a barely there blonde? Don't soft whites, corals and yellows look good on barely there black girls? Asian girls? Latino girls? (The fact they have to be barely there is another column, so please withold comments on that. Okay?) What do you all think?