Archive: August, 2008
Just when you think you couldn't possibly need another T-shirt - I don't know about you, but I can barely close my T-shirt draw - up comes a new irresistible style. We like these T's by Festa T's that celebrate being a Philly girl. They are vintage style and boast three different logos celebrating the city "Keep it Philly - the burbs - "Main Line Girl" and the state - "Keep it in PA" You can find the T's for $25 on-line at Festa T-shirts where you will find a collection of T's that rep other cities and states. Locally, you can buy the shirts at Just Girls in Newtown Square, Mango in Chestnut Hill, What's New in Villanova, Down 2 Earth Kids in Lafayette Hill as well as Primadonna's Closet in New Hope.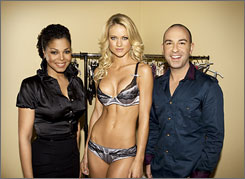 I could never get enough of Janet Jackson's Pleasure Principle. Now - 21 years later - when I'm old enough to understand what Ms. Jackson was REALLY singing about. Jackson is debuting a line of lingerie called Pleasure Principle. According to USA Today, the lingerie line will hit stores in November. It will debut in America and then go international to Australia, Japan and Europe. Jackson is working with Australian designer Bruno Schiavi to make lacy undies that will range in size from 32A to 44G. Would you wear underwear designed by Janet Jackson? Do you think it's about time the diva made a fashion contribution?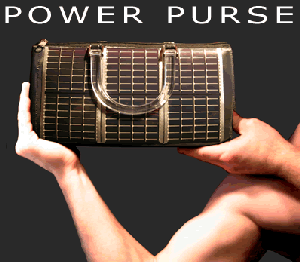 A PhD student from Iowa is working on a pocketbook that charges cell phones and I-pods, according to a story published this morning by Environment News Service. Can you imagine how hot that would be? No more loosing juice at the end of the day. No more texts from the Happy Hour to girlfriends warning, "Don't worry if you can't reach me. I'm here. My phone is dead!" No more waiting till you get home from the mall to tell your mother about your shoe find. That's what I'm talking about!

Inventor, Joe Hyneck is a mechanical engineering student at Iowa State University. He created the purse embedding thin films of photovoltaic cells in the fabric. So you would just drop the phone in and Voila! The purse is not yet on the market, as Hyneck is still working out a few kinks. He's also created solar handbags for women and ties that charge cell phones are on the horizon, he says.

We like the idea, however, we aren't too crazy about the style. That metallic nude look is too yesterday. Give us some bright berry colors. Think purple, magenta, cobalt blue that pop with a mix of hardware and patent. What do you think? Would this solar powered cellular phone come in handy in your life?
Elizabeth Wellington

, Fashion Columnist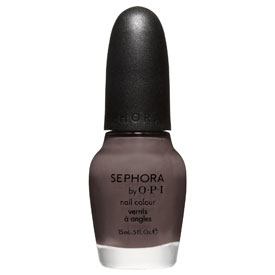 Sephora is introducing a new line of OPI, yes OPI nail polishes, exclusively for Sephora. Can we say, yippee? The polishes are $9 - yeah, we know that's steep for nail polish - but the shades are absolutely fantabulous from Nonfat soy cafe (Cafe Au Lait) to Mr. Right Now (A rich shade of wine) to Metrochic (sky scraper gray) Sky scraper gray polish. I think that could really work as a contrast with fall's rich berry and jewel-toned shades. I've never donned gray polish. I've never donned black, either. What do you think about the modern edge?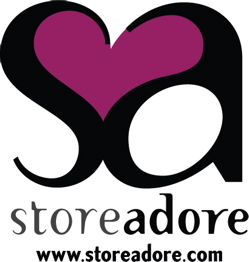 Was perusing Philebrity and came across Storeadore, a turbo search that locates boutiques of your liking in the city of your choice. I haven't used it yet, but didn't think I should wait until I was traveling to D.C. , Chicago, New York, Los Angeles or Washington, D.C. before sharing. I'm planning a trip to Boston a the end of the month for a wedding, maybe I'll use it to go boutique hunting there. Right on time for fall shopping. Check it out and let me know what you think. Where is your favorite place to shop in Philadelphia?

... Well at least that's what a mayor of an Australian outback mining town of Mount Isa suggested over the weekend. Apparently there are five men to every one woman in the town, so Mayor John Molony reasoned that ugly woman would have a better chance at finding a man because there are so many there. Dude actually said, "We should find out where there are beauty-disadvantaged women and ask them to proceed to Mount Isa." And he added that the women who already live there are happy. Ugly chicks often walk down the street, he said, with wide smiles on their faces. Is it because they have so many strapping men to chose from? So, let me get this straight. It's all about numbers. In Philadelphia, there are more women than men. That must explain why I see so many ugly men with good looking women. Do you agree?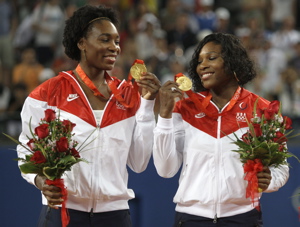 It's no surprise Venus and Serena Williams took home gold medals in women's doubles for the second time in a row. It's no surprise they looked fabulous in their red and white tennis outfit. It's no surprise they fit in a shopping trip. What was surprising was their hair. Venus' tendrils were beautifully natural. She wore one giant Afro puff during the competition and it was pulled back in a band when she accepted the gold. I believe Serena sported a bob weave, but I have to priase the more flamboyant Williams sister for no hair theatrics. That meant no waist-length micro braids or neon colors. I'm loving it. The Williams sisters playing and winning in all their natural glory. Now, there is a beautiful role model for little girls to follow. What do you think?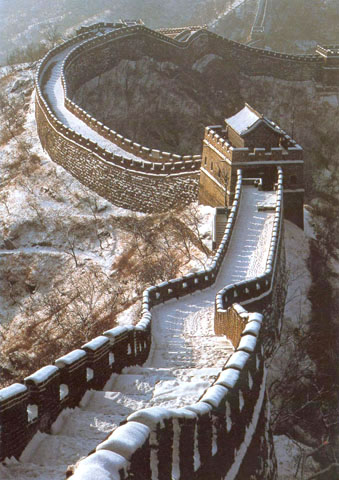 It's a sunny Sunday, a day for reading, reflecting and thinking. So if you've got some time, check out this blog by Mount Airy Lady and New York Fashion public relations guru, Deanna Williams. Deanna is spending three weeks in Asia. On her itinerary are Seoul, Beijing, Shanghai, Hong Kong, Hanoi, Saigon, Bali, and Osaka. She spent a few days in Beijing, during these historic record breaking Olympics where she saw the Dream Team squash Angola. How can we not be jealous of Deanna, who is soaking up the sites - including The Great Wall of China - and experimenting with Asian delicacies? Most importantly, Deanna is checking out the fashions. Her stories of vendors well-versed in the vocabulary of Prada and Gucci are hilarious. You might like her musings, I did.