Archive: March, 2011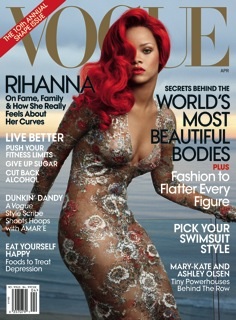 And she really looks hot, thanks to fashion photographer Annie Leibovitiz's super work. I must admit, I wasn't a big fan of her flaming red hair until now, but her blazing mane against that sheer Chanel dress is fiyah - read fire! Read an excerpt from the profile, by Jonathan Van Meter, on Vogue.com: What do you think of Rihanna's vixenesque look? Guess I'll be thumbing through my Vogue this month, seriously!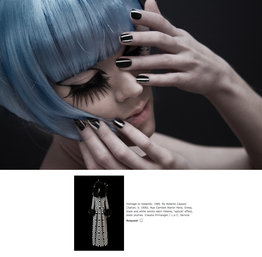 So you went to The Philadelphia Museum of Art's fascinating Roberto Capucci: Art Into Fashion exhibit and you want a little piece of the larger than life look for yourself? Well, Center City's Laurentius Salon has you - you, art lover, fashionista diva - in mind. On Wednesday Laurentius will introduce a Capucci-inspired manicure, the manicure special will run through June 6, to coincide with the exhibit. Beautiful?
What is a Capucci-inspired manicure?
Well, for one, it costs $35. And it's a shiny, black and white color-block look based on Capucci's hooded, Homage to Vasarely (1965). The process takes about one hour. After prepping the nails and cuticles, manicurist Robin Campbell applies a base coat and two coats of Chanel's dazzling Black Satin polish, followed by a layer of opaque white polish done in a free-hand color blocking design. The Capucci-esque architectural look is finished off with a sparkling clear top-coat.
Despite the sour news about Christian Dior's creative director, John Galliano, the $28 billion Paris Fashion house held its Fall 2011 show earlier today at the city's famed Rodin Art Museum.
For a complete review, check out this story on the L.A. Times blog.
In the meantime let's look at the fashions which were inspired by the "dandyism of English romantic poets," This look seems rather whimsical and Boho chic and on a normal fashion season it would seem questionable. But without Galliano's stage presence - he always walks the entire catwalk in a strange getup think Pirates of Penzance - this weirdness on the runway is just that ... WEIRD.

My friend and colleague, Constance White, is the new editor of Essence magazine. This is fantastic news. I've known White, former director of fashion at eBay and New York Times fashion reporter, for years as I've often had the pleasure of sitting next to her during the New York Fashion Week collections. I've even quoted her in several stories including the most recent Fashion Week wrap up, Frumpy Is The New Funky.
Not only is White a wealth of knowledge on fashion, she's open minded - she could see both sides of the argument when it came to hiring a white fashion editor at Essence - and understands all of the complexities that goes in to African American womanhood. Under White's helm, I'm sure that Essence will move black women beyond the stereotypes, but to our millennium reality when it comes to fashion, food and faith. I may even restart my subscription.
I like Jennifer Hudson. And I'm proud that she's made her health a priority. But there is something about the songstress at the Academy Awards Sunday night that makes me nervous. It's not that she didn't look fabulous in her luminescent, orange Versace gown. It just seemed to me - that the fire in her eyes was gone. Fit and toned is one thing, but Hudson has lost her glow. And that concerns me. There is no need to rehash the tragedy that happened to her and her family, but often times - after a tragedy - we try to remake ourselves to gain control of what happened. All together, Hudson has lost over 80 pounds. And that's commendable, but when look at her, I get a sense that she's making herself into something that she's not, rather than being who she is. And who she is adoreable. What do you think about Jennifer Hudson's weight loss? Is it too much?
There used to be a time when high fashion was synonymous with class. When I think Coco Chanel I think of an era of old Hollywood class. In other words, well behaved.
No more.
These days when I think high fashion I often think of loud, garish and cheap behavior. Maybe it's the empty headed Real Housewives of Wherever who jam their closets with the labels. Is it it me, or is it that a Gucci, a Versace and even a Dior just aren't that special anymore. (Nobody can kill a fashion cache like NeNe Leakes, but I digress.)