Archive: October, 2010
Sexy Halloween costumes aren't just for the skinny.
Curvy girls can now express themselves this Halloween with special costumes made to fit them. I took a look at the line and I think they are tasteful and a hoot. The school girl is cute. The dominatrix type is well, uh interesting. But my favorite is the leggy witch and the hottie angel. To check out the entire line, log on to HipsandCurves.com, a Santa Monica-based a plus-sized lingerie web site for full figured divas. Pretty cool, huh? Good Luck and Happy Halloween. -- I will note there is no Snooki Polizzi costume on this site. So, if you are trying to go as the cheap, Jersey Shore chica - which I hear is the number 1 costume this year - you are left to your own devices. Not that she's not plus-sized... She's just so, oh well, Yuck. Anwyay, what do you want to be for Halloween this year?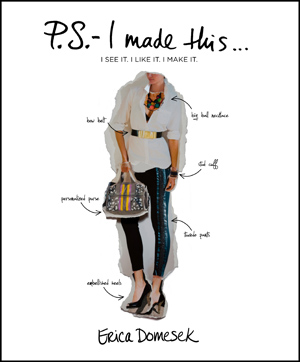 Radnor High School graduate, Eric Domesek will be signing copies of her book, P.S. I Made This (Abrams Image, $18.95) at the Tory Burch store in King of Prussia on Saturday from 6 p.m. to 8 p.m.
The book is a recyclable call to arms: Domesek defines her book and website as a movement to re-imagine , re-use, and re-invent. In other words, I see it. I like it. I make it.
Hmm.

Ssshh... Here's my latest fashion tip for you.
Mykonos
- a boutique in Glen Mills has a shop-in-shop store for
Pandora
jewelry! Yes, we kid you not. Nice, right? Apparently this jewelry is right up there with UGGS and SillyBandz when it comes to fashion trends. Did you know this?
Pandora - a Danish brand - is best known for these charm bracelets. Shoppers like them because they are able to personalize them with of charms and beads symbolic of good feelings: love, peace, friendship and happiness. And since an average bracelet costs about $60, the sterling silver pieces are reasonably priced. (Although depending on the charms, some have paid up to $600 for them.) Funny, low prices haven't stopped a major knock-off craze, but what do you expect from fashion? You know the real ones because each charm and bracelet are in scripted with ALE-925. (ALE for Pandora and 925 for sterling silver.)
Personally, I'm into the symbolic jewelry trend. It's nice to have something around your neck - or this case your wrist - that's more about positive life experiences than luxury. Last year, I bought my first
Me&Ro
necklace with the charms faith, charity and hope. I wear it every day.
Are you into the Pandora jewelry craze?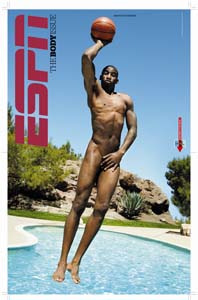 We at Mirror Image are excited about the ESPN The Magazine's "Body Issue" on new stands tomorrow.
It features the sleek physiques of 40 God-like athletes including cover athletes WNBA player Diana Taurasi, soccer player Tim Howard, wheelchair tennis Esther Vergeer and basketball player Amar'e Stoudemire and the entire U.S. Women's Polo Team. The issue is an exploration of the athletic form shown through artistic photos, insightful articles and in depth interviews. (Dang, and we just thought it was a celebration of eye candy.)
All jokes aside, the removal of clothing has been a major part of fashion advertising this past year. Less is always more, isn't it. Mirror, Mirror talked about it here.

Come on, now....
A grown man in Memphis shoots a teenager in the buttocks because the man - who is of no relation to the teenager - tells him to pull up his pants. The teen refuses. So the grown man shoots the teen in the tush? Could this happen in Philly, where sagging bottoms are such an unfortunate look? Come on, I want these teens to pull up their pants as much as the next man or WO-man. But isn't a shooting taking it a bit too far? Now, who is more thuggish? You read it and tell us?
Okay I admit it. After trying to ignore The Housewives of Atlanta for as many seasons as I could, I started watching in the middle of last season. I guess I didn't want to be Tardy For The Party. And now I'm embarrassed to say, I'm hooked. I watched the premiere on Bravo last night.
Ugh.
These women have to be the most unattractive train wreck out there. Nobody except the Housewives can take beautiful, high-end pieces and make them look so cheap, so regular. So... well... You get the point... This is fashion at its most classless and it's not fashion's fault. How tumultuous.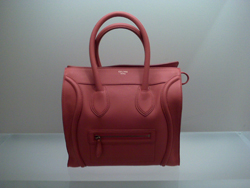 This in from Saks Fifth Avenue's couture guru Greg Seitter:
This Celine handbag is the hottest bag in Philly right now and it's blowing off the shelves at the Bala Cynwyd Saks Fifth Avenue. It's available in black, chocolate brown, navy, red and orange as well as different sizes and textures including black python... (That sounds hot.)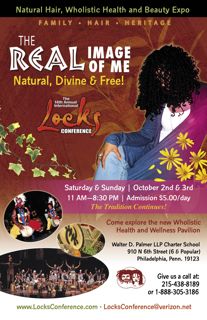 Oooh. I'm so excited. This Saturday is the 16th Annual International Lock Conference. This is the one time of year when I get to stock up on Carol's Daughter products courtesy of my fave Germantown hairstylists, Leroi and Cinzia Simmons, purchase special rollers for spiral curls and by hard-to-find hair jewelry. I also like to buy early Christmas presents; all-natural soaps make great stocking stuffers.
The two days are slated as a celebration of kinks, afros and twists - all natural black beauty. And it's not just about hair, there are vendors on hand selling makeup, perfumes and flowing dresses as well as books by local authors.
It all takes place Saturday and Sunday at North Philadelphia's Walter D. Palmer Charter School located at 910 North 6th Street (at 6th and Popular.) from 11 a.m. to 8 p.m. For more information call 215 438-8189 or 1 888 305 3186. There is a $5 donation at the door. Come out for a day of fun, family. oils, incense and vegetarian fare.