Archive: October, 2008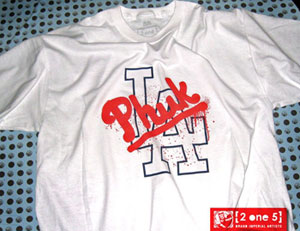 This T tickles me, even though I'm a New York Mets fan. (Yeah, I said it.) Local urban design company 2 one 5, is killing it with their latest screen print design. The limited edition T is available on-line for $25. Here is a product description:
After a brief hiatus from the T-shirt game, our brewing disdain for the Dodgers finally got our fingers clicking and the silk screener pumping out these "Phuk LA" shirts as our home team battles towards the World Series. With the Phils grabbing games one and two before dropping a heated game three, it's time we let the punches fly like only Philly can. Limited run of only 24 shirts (sizes L and XL).
Last night the home team cinched Game 4 with a 7-5 victory thanks to Matt Stairs magestic, two-run pinch hit home run. So you might want to purchase this shirt before Wednesday night's game. The only stylish thing left for me to say is, Go Phillies!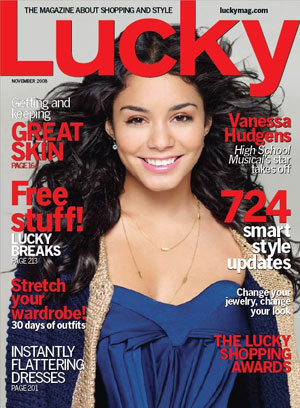 Lucky Magazine rated Philadelphia as one of the best places in the country to shop in its November annual Shopping Awards issue. Yes, you shopping elitists, it's true; so the next time you even think about taking the bus north for a shopping spree, think about perusing your own backyard first. But I digress. Our up-and-coming fashion city is in the same company as Atlanta, Boston, Chicago, Houston and of course, New York. The editors at Lucky picked Petulia's Folly, located at 1710-12 Sansom Street, as one of best boutiques in the country. Writer, Carrie Denny hailed the store's impressive collection of contemporary designers including : 3.1 Phillip Lim, Hanii Y and Nicholas K. Congratulations! Are there any Petulia's Folly fans out there?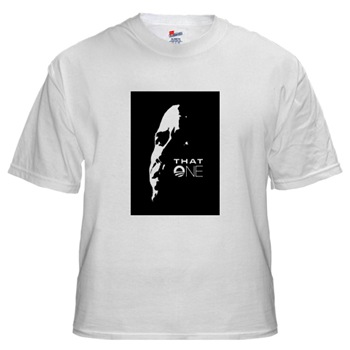 Interested in the latest political chit chat on apparel? Check out Cafe Press. I like the T's on this site because they represent the voice of the people. Looks like Barack Obama supporters are making John McCain's

that one

comment work for them. What do you think about the latest political flap? Is it appropriate for fashion?
I know how my musings on the fashion of politics drives some of you nuts. Why does the Philadelphia Inquirer allow its fashion reporter to comment on politics? Because fashion is a window into the individual. It's a clear glimpse about how people think about the world, and more importantly, what they think about themselves. Are they risk takers? Are they willing to make mistakes? Are they staid and boring? Are they monochromatic?
This week I watched Sarah Palin, Michelle Obama and Cindy McCain dress for various events and their personalities were definitely clear from style choices. Sarah Palin's white blazer - more than a month after Labor Day -was defiant. Of course Cindy McCain was classically, exquisite. The cobalt blue skirt suit she wore on Tuesday night's debate revealed, yet again, her wonderful taste in clothing, Cindy McCain is so not a risk taker. Michelle Obama does what she wants in the name of fashion. Sometimes she makes mistakes and sometimes she's right on point. She doesn't give a hoot about what we think. Last night's red dress was a perfect example. The industrial zipper is fashion forward, but I woke up to complaints from friends and family saying, "Ick! What was she thinking?" It may not have worked for us, but it worked for her. What do you think?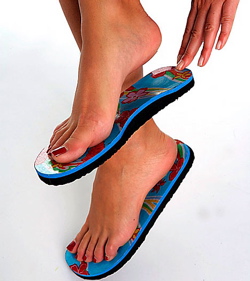 Sadly, the flip-flop is another fall casualty - It is 44 degrees this morning! (Double sigh...) But I'm torn. I mean the flip-flop is the shoe I slip into when I'm scurrying from 400 North Broad to an interview in the Rittenhouse Square area. And what would I do without the flip flop on pedicure day? I know. I know. The flip-flop is cheesy. It's classless. It's so inappropriate for the professional woman. But the truth is, the flip-flop is

comfortable

. It allows my foot to breath. It doesn't hurt! My sister, Jennifer, asked me the other day what my style opinion is on the flip-flop. Should we put them away through winter? Or, should we proudly sport them on our Saturday errands.? Twenty degree weather, be damned. What do you think?
Last Friday, the Spring 2009 runway season officially came to a close in Paris. I was curious. How many shows did West Philadelphia-born model, Sessilee Lopez, walk in? After all, she was one of the cover models on Italian Vogue's black model issue, so I wondered how high her fashion star had soared. One click on Style.com satisfied that curiosity. She is the featured model on the fashion week wrap up page skulking the catwalk in a floral, sky blue dress by Lanvin. And, a search of her name turned up 102 photos, half of which were from this very season. After talking with us in New York last month, the 5-foot, 10-inch beauty walked in London, Milan and Paris in top designer shows including Lanvin, Hermes, Wunderkind, Requiem, Karl Lagerfeld, Etro and Missoni. Check her out.
Elizabeth Wellington

, Fashion Columnist Sigh.

Fall is here. It's really here. It's going to stay cold. It's getting dark early. Fall is here. Old man winter is close on her chunky heels.

So what does this mean about our fall wardrobe?