Archive: January, 2011
Olivia Wilde in this beautiful strapless, chocolate brown sparkling Marchesa. What a fabulous dress. It's just dreamy? Am I alone in my choice?
Jennifer Lopez in this glittery, white Zuhair Murad. I wish she wasn't white - after all, it's not even winter white. But we like the cape effect on the glittery gown. What do you think?
Emerald Green was a big color at tonight's Golden Globes. And it was as much about the richness of the shade as it was the details. Angelina Jolie's long sleeved- sparkling dress in what appeared to be a matte jersey -to hide the tatoos maybe? - was scrumptuous. Catherine Zeta Jones was stunning in her Monique Lhullier and Elizabeth Moss was fearless in her Donna Karan - although Kevin Gatto says there was something bland about her hair. It was blah, there was no tone to her color and. Mila Kunis' dress, Gatto says was a hit. I agree. The detail on that frock was phenomenal. What a great color for winter - although it was 85 degrees in Los Angeles. But I digress. Do you all like it?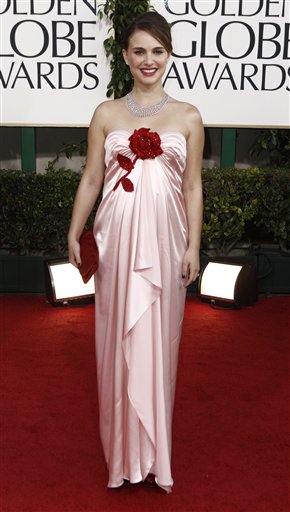 Or so says Kevin Gatto owner of echo-friendly Verde Salon in Collingswood, New Jersey. We are watching the the Golden Globes together on the phone, tweeting and updating on Facebook ... Nobody makes a dress like Tastykake, Gatto says. Ha. The dress - with the red rose - looks like a gunshot wound dripping down her front ... LOL, But don't worry, her hair and makeup is awesome, he added. At least she got something right. As far as baby bumps go, we think Jane Krakowski rocked it in her slate grey Badgley Mischka. "It's not about hiding the baby bump, it's about fit." We don't know what Natalie Portman was thinking. What do you think? ...
We love Eva Longoria in this sleek, black, capped sleeved Zac Posen. Definitely has an Oscar de le Renta vibe. Can almost be the best dress of the Golden Globes. What do you think?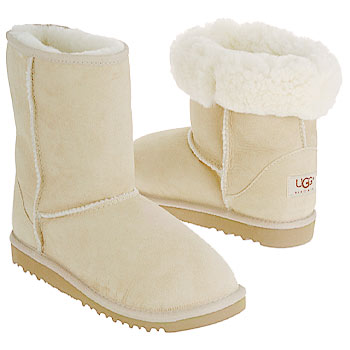 According to a story in the New York Daily News, UGG Australia - and other reasonable facsimiles - are bad for my feet. Say it isn't so. How can these warm, comfy flats be dangerous to the skin on my soles. Apparently the warm furry, shoes are a breeding ground for germs and since UGGS are made from thick sheepskin, the boots don't get a chance to breathe. That means the athlete's foot you may have contracted and gotten rid of last winter may still be living in them. Oh No! I haven't met a boot more comfortable then UGGs. And I need them now, especially in this post-snow freezing cold weather. I'm gonna try spraying the insides of my boots lightly with a bleach solution. Maybe this will kill harboring nasties. I just love my UGGs too much to give them up. Would this make you stop wearing UGGs?
Isabel Wilkinson wrote a fascinating article in the Daily Beast today about the latest trend of male models wearing womenswear on the runways. Yes, it seems that men are wearing women's clothes and are being used as the face of ad campaigns geared towards women. The trend -which is just in its infancy stage is being referred to as femiman. Wilkinson profiles Andrej Pejic, a lithe 19-year-old Serbian/Australian blond man/girl who debuted in Jean-Paul Gaultier's Paris show last year and has appeared in French Vogue, Italian Vogue and Turkish Vogue. Last week he was unveiled as the face of Marc Jacobs' Spring 2001 campaign.
The New York Times suggested that 2010 was the year of the Transexual and they seem to be right. Pop culture has been the center of gender bending flip flop thanks celebrities like Lady Gaga, Nicky Minaj and former American Idol, Adam Lambert, all of whom present an over sexualized, albeit androgynous front in their fashion choices. Amelia Rauser, a professor of art history at Franklin and Marshall College recently pointed out to me that we haven't seen this much gender flim-flam in American culture since the 1970s, and even then it rarely crossed over to mainstream fashion. "Up until now fashion was the domain of women, it was totally feminized," Rauser told me in an interview for a recent column I wrote on Lady Gaga. Now it seems men are becoming a part of the magic of fashion not just on the sidelines but on the runways. Even young boys are expressing themselves in female dress. In November, a mom defended her 5-year-old son, Boo for dressing up like Daphne from Scooby Doo on the blog Nerdy Applebottom. And last week I was watching the Today Show and was introduced to mom Cheryl Kilodavis, who wrote a picture about her 5-year-old son Dyson called My Princess Boy. Kilodavis self-published the book in early 2010 and Simon & Schuster picked it up in November. Bravo for self-expression.
And while I'm excited that people - especially little boys - are finding the freedom to express themselves without fear of being ostracized, I'm concerned about the trend of men wearing women's clothing on the runways. This is why: Women have had to endure major body image issues simply because the beauty standards of a 5-10 inch 110 pound blond woman are nearly possible to achieve for even the most carb-hating of us. What happens when a lithe male becomes the most coveted image in fashion? Marc Jacobs is one of the industry's most influential designers, after all. At this rate, it won't be too long before male models are cover girls on American fashion magazines. The average sized women, who is 5-4 and about 150 pounds will have to give up shopping. I know - probably better than most - that fashion is the domain of gay men. Many gay men have a fantastic sense of style, however, I still believe that is part of the reason why there is such a disconnect between what women want to wear every day and what is sold in stores. I think we are taking it a bit too far when a transvestite - who has no hips - is the idealized female image. What does that say about femininity?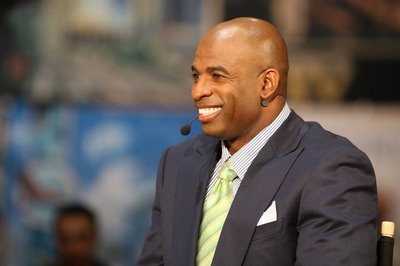 During a football game, a friend of mine asked me: "Are ties with fat knots in now?" I looked up and there was former coach of the Indianapolis Colts, Tony Dungy in a tie punctuated by an enormously fat knot. I hadn't really noticed this before. There had been some chitter chatter about ascots - especially as seen on CNN's Roland Martin. But ties with thick knots? I guess I wasn't paying attention. Then we did research by way of Google. Jay-Z? Yep. Diddy? Of Course? Chris Brown? He not only admistered fat knots, he wears them too. I checked with a girlfriend. She'd noticed the fat knots on nearly all of the ESPN sports anchors this weekend. I looked them up: Keyshawn Jackson, Chris Carter, Tom Jackson. All of them. What is this neck trend all about? I checked with Baba Renfrow of Distante Clothing, a high-end menswear store in Center City. Of course, the trend had its beginnings a few years ago in the Hip-hop world, but trickled into sports on the neck of Deion Sanders of the NFL Network. Said Renfrow: We can thank the popularity of dress shirts with wide-spread collars. "Tiny knots just don't look right with them," Not sure how to get that knot perfectly big? Check in with Renfrow at Distante. They'll show you how to tie it right. What do you think?