Beyonce Knowles is on the cover of the February issue of GQ Magazine and is on the the magazine's top 100 most sexiest women of the 21st century list. No big surprise, right? Some people think the photo is too risque. Some folks love it. What do you think?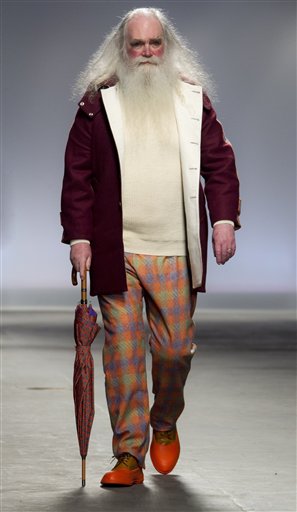 Menswear continues to get more and more bizarre. Men in skirts. Men in masks. Men in lipstick. Now designers are trying to tell us the mountain man look is hot. Isn't that the antithesis of runways?
What do you think about this look from British label, Hentsch Man? It was part of the runway presentation Monday for the pre-fall menswear look at London Fashion Week. I like the plaid. I like the orange shoes. I like the warm coat. Presentation was just odd.
Nonetheless, Menswear is the genre to look at for as the fall 2013 shows commence.
It appears the Tory Burch vs. Chris Burch showdown has been handled.
Tory Burch announced Tuesday evening an agreement had been reached to settle all pending legal claims between the former fashion power couple.
In November of last year, Chris Burch, the man behind C. Wonder, sued his ex-wife, claiming her company tampered with his relationship with suppliers. He also claimed the Tory Burch brand tried to stop him from selling his stake in the wildly successful Tory Burch brand he helped found in 2003. The couple divorced in 2006. Today the Tory Burch brand is worth about $800 million.
In addition to spilling the beans that he is Kim Kardashian's baby daddy, Kanye West dared to wear a crystal-encrusted Maison Martin Margiela Haute Couture mask at his concert this past weekend in Atlantic City's Revel Nightclub. We get the skirt. But this look? Eh, not so much. Likey? No Likey?
Elizabeth Wellington

, Fashion Columnist

Kim Kardashian unveiled long layers and bangs today at LAX. And in the last few months we are witnessing, yet another, return of the bang. But as 2013 closes the bang has gone from hipster to glam girl.

What do you think about the bang? Will this be your new holiday season look?
High fashion may not want to admit it.
And the luxury world continues to thumb its nose up at the idea. But the Made In America movement is gaining ground in the apparel world - especially this holiday season.
I've been writing about this issue all year. But the industry really started to take notice when Women's Wear Daily released a survey based on NPD Group research that found 82 percent of American consumers are starting to pay attention where things are made. It also found 76 percent of shoppers say made in America is extremely or somewhat important.
F-U-$-K!
Don't you think by now Urban Outfitters knows what it is doing?
Whew, that felt good to get off my chest.
Talk about the trend toward gender ambiguous fashion.
Kanye West didn't say anything outrageous at Wednesday night's star-studded 12-12-12 concert at Madison Square Garden. But his outfit was, well, interesting.
West rocked - get this - a $225 Pyrex Religion hoodie (drug reference, maybe?) a black leather kilt (whatever, that was a skirt) and he layered - yes layered - it over skinny black leather jeggings. (The new term out there is meggings man+jeggings, smh.) I'm thinking his sneaks are some form white on white Air-Jeezys. It's so Alexander Wang meets Rick Owens meets Betsey Johnson.
Poll: Kanye in a kilt: Hot or horrible?

(301 votes)