You don't have to wait until next year to rock the fall trends on this week's New York Fashion Week runway.
Pick up some of these top trends happening now on the designer runways and you can have next fall's futuristic vibe now.
This week's fall 2013 runways at Lincoln Center are full of booties and knee-high socks. There are a bevy of slits and cleavage bursting keyholes. And there is way too much black. How many larger than life gowns does a woman need?
But we've got something for the every day woman.
Check out this dress by DVF. Her collection Sunday was chocked full of sheer, floral magic. There were pantsuits and pencil skirts in hot pink and red.
The world got a preview of designer Thom Browne's fall 2013 women's runway show when first lady Michelle Obama wore his amazing coat during the inauguration. People raved. "How can I get that coat?" My girlfriend asked me.
The print was much more wearable on the first lady.
Much, much more.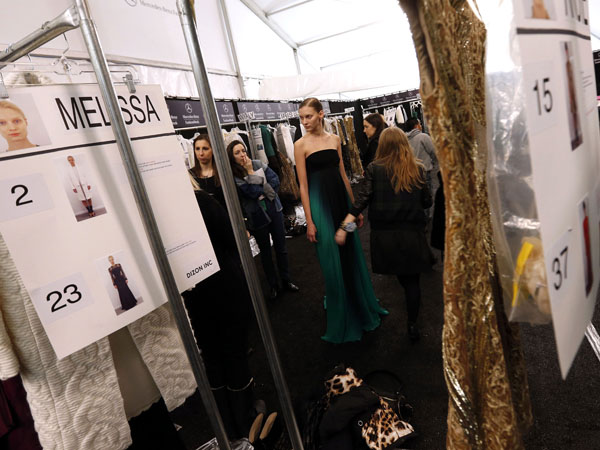 Sunbeams bounce off fashion insider's floral tights and, metallic dresses and shiny clutches as they walk through the tents at Lincoln Center. It's quiet. But then again, it is Sunday morning. We are waiting for the Tracy Reese show to start.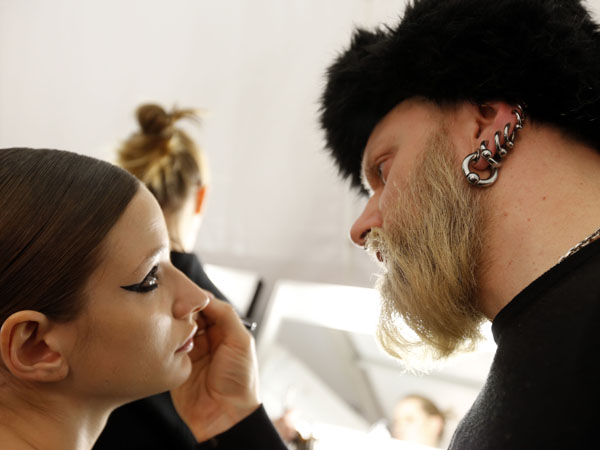 From the looks of it, Beyonce is in full sexy/mommy mode.
I'm sure you've seen the 31-year-old singer's Superbowl leather and lace onesie by New York-based designer, Rubin Singer. It was sharp. Singer is a favorite of starlets who gravitate toward the sleek and the daring, but he's relatively unknown to the rest of us. He must have had a very busy January as he also designed fellow Destiny's Child Kelly Rowland and Michelle Williams' outfits, plus the dozens of on-stage dancers.
Beyonce's sizzling one-piece was a mixed metaphor at its fashion best: part sexy, part demure. It featured a deep-V - but not a bit of cleavage was visible. The slight peplum detailing was fashioned from lace - you can't get more lady like than that. But it was black lace, scandalous! She wore flesh-colored fishnet stockings with booties - not pumps, but booties. The fingerless gloves added a homeless-chic vibe. And the knee-high socks were Catholic school naughty. It was all so perfectly good girl meets bad girl. (I hope the costume designers on the set of HBO's True Blood took good notes.)
It's hard to snag a picture of Philadelphia's first lady, Lisa Nutter. At special events she's usually decked out in a dazzling piece by Nicole Miller; her amazing locks piled high on her head. She weaves in and out of crowds like a stylish woman who has no interest in being seen.
But we worked our in-the-know fashion magic this weekend.
At Saturday night's Academy Ball, she looked delightful in a navy blue, one-shouldered column gown by Philadelphia designer, Melissa D'Agostino, We think the dress was a lovely choice - the cut and the color worked well. D'Agostino is one of six designers-in-residence working hard at launching fashion careers at the Philadelphia Fashion Incubator at Macy's. The city hopes the incubator will be a part of a vibrant fashion hub east of Broad Street that will one day be brimming with showrooms, manufacturing facilities and specialty stores. As the program's first year winds down, we'll be checking in with the Incubator for an update.
Who says bangs can't be versatile? Definitely not our first lady.
Michelle Obama, who is batting a fashion 1000 this week with her style choices, pinned back her bob Tuesday morning. The updo was a nice compliment to the winter white Naeem Kahn coat and matching dress she wore to the Presidential Inaugural Prayer Service at the Washington National Cathedral. Once again, she played with proportion again - note the three-quarter length sleeves. Lastly, we know how the first lady feels about pantyhose, but she had on a pair of flesh-toned hose with cream pumps. So we know how cold it must be in DC. Another winner. Still, it makes me wonder if Allentown native Thom Browne's edgy navy blue coat beat out Naeem Kahn's appropriate, cream suit for Inauguration Day.
Only FLOTUS knows for sure.
First Lady Michelle Obama wore a custom, ruby red Jason Wu chiffon and velvet gown Monday night to the inaugural ball.
Her dress was fierce. The halter top was a great choice to show off Obama's sculpted arms and back. The waistline was in the perfect place while the color choice was radiant. Alicia Keys had it right - "Obama's on fire."
"I can't believe it. It's crazy," Wu told The New York Times Monday night. "To have done it once was already the experience of my life. To have a second time is tremendous."