Mercedes Benz New York City Fashion Week may be subdued this year, but the clothes are absolutely stunning. It feels like designers have finally found their stride, creating a look special for the millennium. No more borrowing from decades past. The spring 2013 promises to be a slimming one with easy wear clothing that are flowing and modern. Palettes are a rainbow of saturated sherberts - turquoise, limes and tangerines - and crispy neutrals - black, tans and whites. Lace embellishments lived on the same pieces as leather ones (yes, for summer.) Color blocking remains important. Hemlines have dropped - there is a continuation of the high-low trend. And - thank you, Mrs. Obama - it's all about shoulders, shoulders, shoulders. Here is a recap of some of my faves for the last four days.
Tracy Reese
Coming off the Michelle Obama raspberry red, periwinkle blue showstopper, you can imagine that Tracy Reese's Spring 2013 collection was a hot ticket. The Tracy Reese girl has a bad girl edge, but the glasses - that was her featured accessory - reminds you of her intelligence. Her mussy hair means she's easy going, but, the blend of leather and lace shows soft edge. Reese showed a mix of long and short. Usually Reese has a chandalier in the middle of the runway, but this year she showed a montage of international club scenes. Great show!
Diane von Furstenberg.
This show was easily my favorite. I was happily mesmerized by the glass kisses that hung from the ceiling - courtesy of Google glass sculpture. DVF was awash with pretty lime greens, pinks, blues and oranges. Von Furstenberg is working edgier color blocking - both Mondrian style and basic pairing of monochromatics - into her collection and pieces featured funky wearable details like deep scoop necks and metallic panels. I wanted to order, order, order.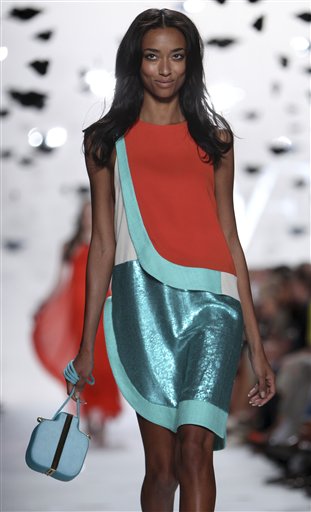 Jason Wu

Jason Wu did rocker chic. It was nice, but I'm not sure this is his forte. While we liked the lace detailing, I'm not sure if the leather bustiers and short skirts were right for Wu. It's not that we don't want the designer to evolve, but in season that was so light, airy and fresh, Wu's gauzy tulles and satiny midnight blue color scheme was maudlin and not so spring like.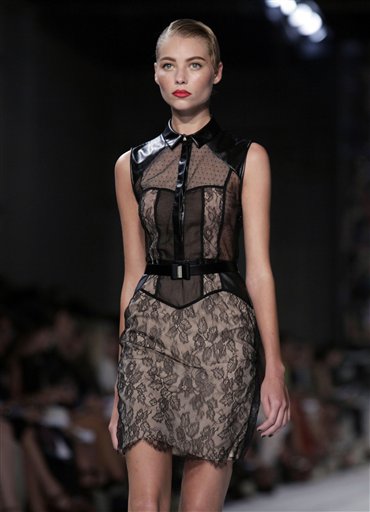 Victoria Beckham
Victoria Beckham's runway featured a men's wear sensibility - right down to the fedoras. But was smattered with peekaboo lace detailing. So cute. Her jumpsuits featured belts and ruched legs. Blood red orange gave her pieces a bit of zing. We absolutely loved the open-toed toed booties. Some of the pieces, like a orange mini skirt suit could be playful when paired with a white blouse or autumnal when layered over black. But it was a white - part modest shirtwaist complete with pointy collar - with lacy insets that made me do a double take. We are talking new school marvelous.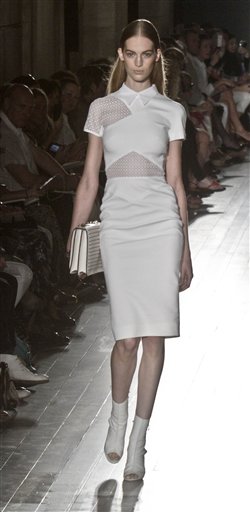 BCBG Max Azria
Max Azria swtiched it up for his BCBG collection. Like Jason Wu, the designer went with a darker color palette. He let oranges, grays and pewters add twinkle to his grouping. But he -literally - tied his collection together with wide ribbons that created a color block effect. Interesting and very artsy, but I'm not sure how wearable this collection will be. I'm guessing not so much. We did, however, like the below envelope clutch, which we are predicting will be a big trend continuing from fall into next spring.
Nicole Miller
Nicole Miller did menswear, sheath silhouettes - some with a bit of flounce - and concentrated on shorter hemlines - although she did mix some high and low in there. SHe kept her palette on the strong dark and neutral side too, and like Max Azria did for his BCBG line, she incorporated some ribbons in her pieces for color block effect. But instead of looking like bandages, Nicole Miller's ribbon detailing added a quiet femininity to an otherwise edgy and somewhat boyish collection. (The acid wash jeans were an odd, but surprisingly delightful detailing.) Street wear is still juicing up the runways.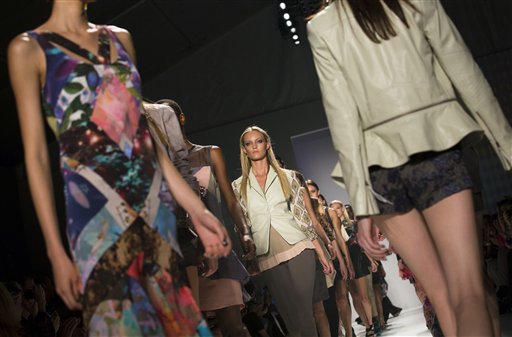 Chado Ralph Rucci
Ralph Rucci's level of awesomeness was totally unparalled this season. The South Philly-bred designer is known for his highly conceptual and intricately constructed classic separates. But Rucci drank from the same watermelon punch as the other punch as his couturier contemporaries and this season his yellows were deliciously lemony, his greens were rich olives and his pinks, were well, shocking, and that's a major turn around for a designer that deals mostly in drabs. We loved Rucci's use of color blocking to fill in his cutouts. But this lemon yellow dress, was in my opinion, the collection's showstopper. Philly totally represented on this runway.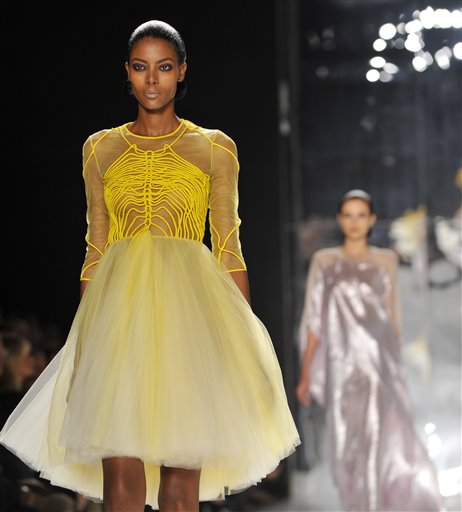 More photos, below: