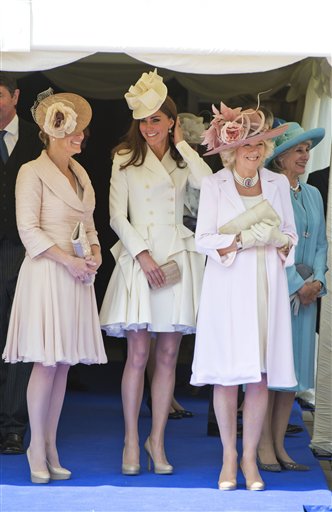 ... and with her extensive Alexander McQueen wardrobe, that's not a surprise.
British publications this week are reporting Prince Charles has spent 35,000 pounds or $54,692 on Middleton's wardrobe since January.
That is big money.
However, The Daily Mail On-line delved deeper to discover that in the last year, the Duchess spent 105,000 pounds, that's $164,078 on her ensemble. The website provided a line item chart of her stunning sartorial choices including Jenny Packham gowns, Manolo Blahnik's and Diane von Furstenberg coats.
Oh what a fashion life!
Columnist Liz Jones wrote Middleton's wardrobe was well worth it - even in times of economic depression. After all a lot of women in Britain are employed by the retail industry and great fashion can mean great jobs. And in her role as the future Queen of England, fashion is far from frivolous.
Good points.
Whatever you think about the princely sum, you can't deny that Middleton's style choices have been exquisite. What do you think?