New York Fashion Week's third Lincoln Center is much more low-key than it ever was at the Bryant Park Tents.
This season security is tight. Celebrities are chic. And the fashions, are pretty, in a simple, jewel-toned heavily layered and color-blocked way. Red will remain a key shade for fall. But cobalt blue and orange - as in Pantone's Tangerine Tango - will be a rocking hue. Leggings in velvet
Now on to the shows: I started my day at Rebecca Taylor who focused on layered, stream-lined silhouettes in blacks and grey. Elbow-length fingerless gloves gave the feminine pieces a little edge.
And then I ran in to Philly's own Jimmy Contreras and Matt Vlahos working in visits to clients and hopping from show to show.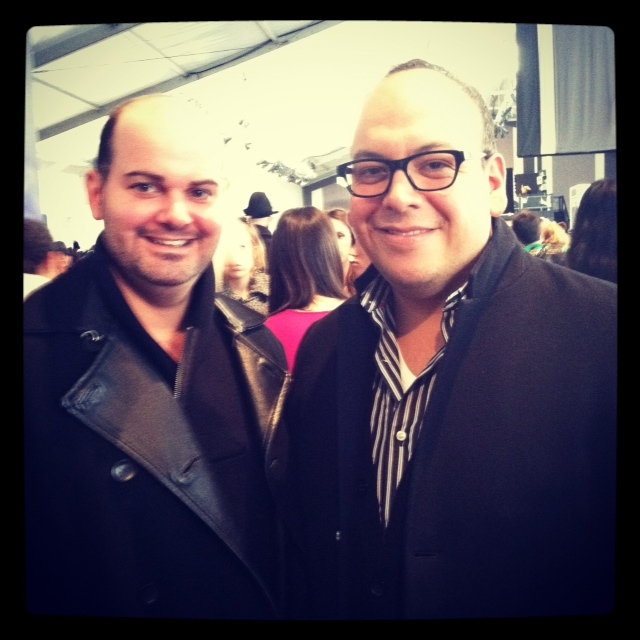 Rebecca Minkoff was next. Theophilous London performed live music for this show. A very nice touch. But the funky-baseline performance didn't take away from the show, which was quite beautiful. More of skinny silhouette. More deep-shaded neutrals. But the pop of color was more than funky, it was phenomenal. Looks like skinny red pants will be with us through next winter. Yey.
After the show we ran into Karen Giberson of the Accessories Council - She's so cute. We all liked the show. What to do next? I decided to wait around for the Nicole Miller show, but in the interim it was a Philly Fashion Phest at Fashion Week. I ran into Philadelphia Daily News photographer, Big Rube, former Project Runway winner, Jay McCarroll -he's coming out with a line of socks, you know. And Philly bloggers Quentin Washington and Curran J. of Kings Rule Together.
Kisses. Kisses.
I ended the night with the Nicole Miller show, whose graphic prints on sleek silhouettes made for a sultry, yet sassy girl show. More velvet leggings, more bold colors, more long-sleeved top with allusion details.
Best show of the day.