Can Crocs Ever Really Be Stylish?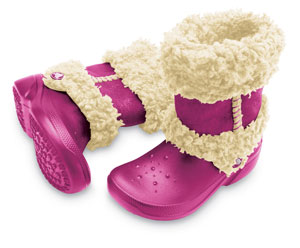 Before Mirror Image goes on vacation, we pose this question: What do you think of these wintry, fur-lined Crocs? The company, known for its comfy summer shoe, released six new winter styles. We think these shoes could be warmer alternatives to the easy-to-wear flip-flop that won't freeze our newly manicured toes off. The rainbow colors, comfort factor and the price - they are just $50 - are enough of a selling point for me. Interested? You can find them locally at Modell's and Benjamin Lovell Shoes. You can also buy them at the Crocs website. Do you like them? Can Crocs ever be truly be fashionable? We'll be back next Tuesday.
Can Crocs Ever Really Be Stylish?