Archive: August, 2008
Ok. So, what do we think about the style of John McCain's vice presidential running mate, Sarah Palin? This was a shock, right? What do we think about her square rimless glasses? What do we think about her beehive? How about her black suit? What do we think about the fact she is a beauty queen runner up. But doesn't she remind you of a past time? Doesn't her style say non-progressive? Does she really compare to Hillary? She's a pretty woman, but she's in need of a style makeover. Just wanted to open up the floor to Philadelphia stylistas? I know you have an opinion. I'm overwhelmed. Just tell me what you think.
The Democrats were really feeling their party's shade of blue Wednesday night. But instead of a clear azure, we saw softer shades ranging from sky blue to turquoise. Michelle Obama wore a sea blue sleeveless frock with flowers along the neckline. While Hillary Clinton opted for a more sky blue suit with really nice pearls. (Another nice choice, Hillary.) Jill Biden sparkled in an ocean blue knit dress while her husband Joe, predictably wore a sky blue tie as did Bill Clinton. Nancy Pelosi, in her tailored satiny lavender jacket, kept her stunning ensemble in the blue family too.

Also, read this story in today's Inquirer about how you can get Michelle Obama's look, locally. Readers, thanks for the interest and the story idea!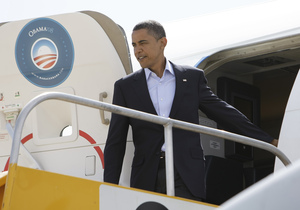 Barack Obama will accept the Democratic nomination for President and deliver his history making speech in a custom made $1,500 Hart Schaffner Marx suit. The suit is dark navy wool. And according to a Washington Post snippet, its 40-inches long with a 33-inch waist. We called Chicago-based designer Maria Pinto to get a bead on what Michelle Obama will be wearing tonight - Pinto designed Obama's purple sheath as well as the teal dress she wore Monday night - but spokeswoman Laura Verdugo didn't know. Verdugo did say that Obama had quite a few Maria Pinto dresses and every time she wears one the they are happy about it. I bet! In other news, we heard Oprah will take the podium tonight rocking oversized sunglasses that say, "Obama." Nice touch!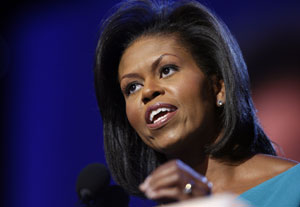 That's according to her stylist at Frederic Fekkai. Word on the street is that Johnny Wright of Frederic Fekkai in Melrose, California is responsible for her silky, perfect coif that women just can't stop talking about. Basically Michelle is all about natural hair and doesn't like chemicals in it AT ALL. (I can't stop grinning about this.) I figured as much. Look at her daughters' hair. So, Wright simply blows it out. Michelle met Wright when she was shooting the Ebony cover and he has been her personal stylist ever since. How does he do it? What does he use? Inquiring minds want to know. I WILL get to the bottom of this. Stay tuned.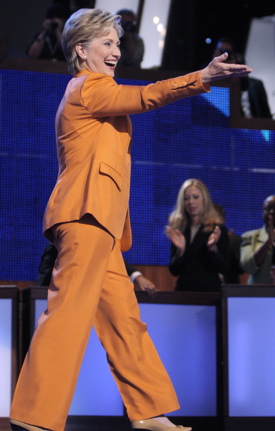 Ask my family and they'll tell you I'm a fan of orange. That must be why I think that Hilary looked fantabulous in her beautiful, bright suit last night. She made a bold, confident fashion statement. We all know it's not easy to wear orange, still in her suit - which is being described as harvest orange - cut a really nice silhouette. I'd criticized her for looking dumpy in the past because those solid, iridescent suits made her look dumpy. But last night her look was crisp in the simply cut ensemble that reminded me of a sunset at dusk. (And I don't think it's because she's a new head coach at Oregon State...) What do you think? Do you like Hillary in orange, or like a friend of mine, did you lament over her resemblance to a pumpkin?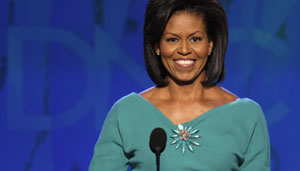 It's no surprise that Michelle Obama's turquoise, v-necked, double faced cashmere sheath dress was designed by her Chicago-based designer Maria Pinto. What was surprising was the brooch was just something she had in her jewelry box. What taste in accessories! According to Laura Schwartz, a former adviser to the wife of former Democratic presidential candidate Sen. John Kerry of Massachusetts, the pendant was reminiscent of Barack's rising sun campaign logo. And, Schwartz said, the pendant was placed over Michelle's heart, so it might have symbolized that her speech was coming straight from her heart. Makes me wonder what will be the inspiration for Hillary Clinton's suit tonight. Did you like Michelle Obama's look?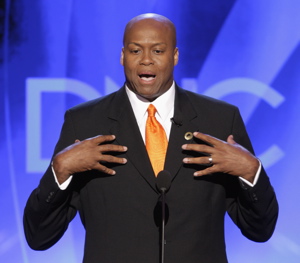 The Sunkist orange tie Michelle Obama's brother Craig Robinson wore during last night's opening festivities at the Democratic National Convention was pretty striking. What do you think? In a sea of really boring clothes, Robinson's orange tie and contrasting black suit revealed a cool personality. It popped. This brother takes chances! Yes, he is a college sports coach. But this tie signifies, I'm not a politician. I must say pastel ties are boring and predictable and I probably won't be able to keep up with all the red and blue ties I'll see this week and next week during the Republican National Convention. So, this hot, Crayola orange tie was worth mentioning. Guys, do you ever stray from the predictable blue checks? Would you wear an orange tie?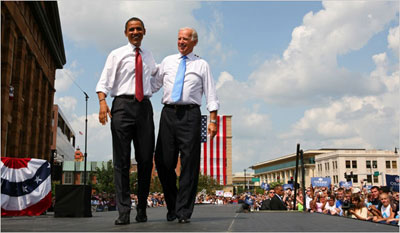 This just in. Last Friday, the day before Delaware Senator Joe Biden would be revealed as Barack Obama's running mate, he went shopping at Thomas Pink store in King of Prussia. His purchase: a stark white shirt by Black Label and a sky blue tie by Liquorice Plain. Here is in a pic with Obama. But when I look at it, I can't help but think is this a Presidential looking group to you? Will Biden be enough to quell people's fears about the capability of the Illinois Senator? Was this red/blue tie combo planned or an unfortunate fashion coincidence?