Archive: June, 2009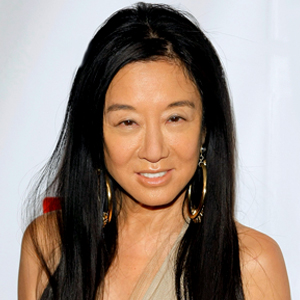 I'm a little late on this, but the fashionista in me got excited and needed to share.
Word on the street is that Vera Wang will be the next Dancing with the Stars Contestant. ABC is not talking, but the new season will start September 23 with a three hour extravaganza.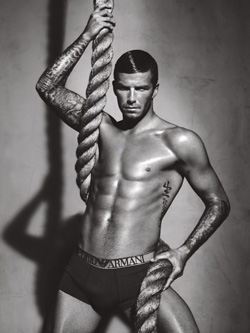 Here is a bit of yummy fashion news:
Giorgio Armani announced today that his friend and international sporting icon David Beckham was his new spokesman and unveiled the worldwide exclusive of the new Emporio Armani Underwear Fall / Winter 2009-10 campaign at Selfridges Oxford Street in London.

Look at that man in his skivvies! Delicious.
This ad might have Calvin Klein beat. I'm a big fan of boxer briefs (All men should wear them.) The hair may not work, but the tattoos do. Tarzan, Lord of the Jungle in England? Ok. I'll buy it. Ladies, what do you think? And, I'm not even a David Beckham fan.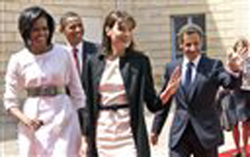 On the heels of the news that fashionable French first lady Carla Bruni-Sarkozy promised PETA that she no longer wears real fur, Michelle Obama has now announced that she, too, is officially fur-free. The duo, who have met twice in recent months, are widely regarded as two of the most fashion-conscious first ladies in history and have set the fashion world abuzz with their clothing choices.

PETA had expressed concerns to Bruni-Sarkozy about photos that showed her wearing what appeared to be fur and wrote to the former supermodel asking her to donate the coats to PETA to give to the homeless. But Bruni-Sarkozy—who wore fur during her modeling heyday—assured the animal rights group that if the photos were recent, the fur was fake.

"I do not wear, buy, or own fur," replied Bruni-Sarkozy in a letter to PETA Senior Vice President Dan Mathews. "Every designer who kindly lends me clothes for public appearances can tell you that I do not accept … fur pieces, even when they're only a small part of the outfit."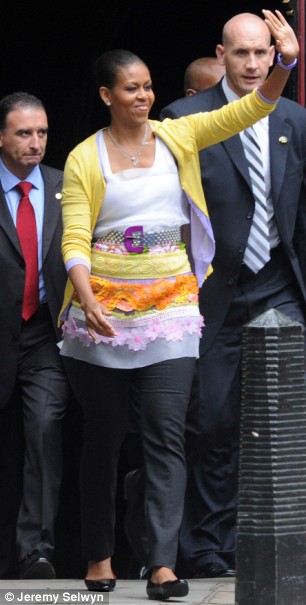 So, Mirror Image readers: What do we think about THIS Michelle Obama outfit when the first lady was sightseeing late Monday in London. I'm not really feeling the tiered tunic, but I can see how it can be pretty. And what do we think of the double cardigan look? What's your take? Waiting to see if I can find out who designed it... Any ideas?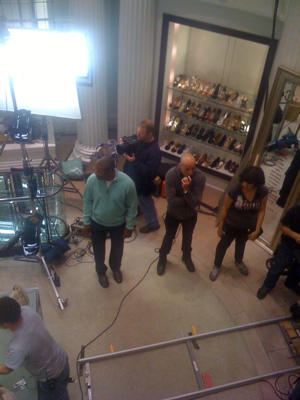 Hours after armed men burst in to Boyds and stole $300,000 in jewelry from Govberg, the show went on and a film crew turned the Philadelphia-based high end department store into Bergdorf Goodman. The Best and The Brightest staring Neil Patrick Harris (who wasn't in town yet) and Bonnie Summerville (who we watched walk up to a bag and gasp at the sticker shock about half a dozen times) is being filmed in Philadelphia. Boyds didn't just double as the luxury department store, it was also a high end cheese shop. From the mezzanine, the circles of cheese DiBrunos provided looked delectable. With Philadelphia trying to become a major player in providing clothing and space for films, Boyds is trying to make a name for itself. The boutique was responsible for most of Jamie Foxx's wardobe when he filmed Law Abiding Citizen in January. We'll stay tuned to see what other movies will be a part of Boyds future. Do you think Philly has a shot at being the next movie capital of the world?
It looks like Secretary of State Hillary Clinton is taking a page out of Michelle Obama tailored page during this recent trip to Central America. Clinton hasn't done anything too fashionably shocking - like wear a dress. But her pantsuit choices - fire engine red, cobalt blue and this morning's cerulean sky shade - are a much better fit than say the orange doozy she wore late last summer at the end of the Democratic National Convention. And is Ms. Clinton growing her hair out a bit too? Glad to see our new Secretary of State erring on the side of femininity these days. What do you think of Ms. Clinton's suit choices?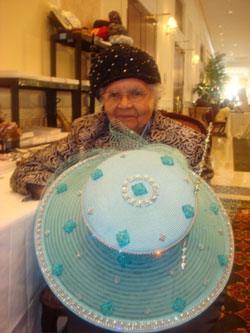 On Sunday, the National Association of Fashion and Accessory Designers presented their annual The Art of Fashion Show at Drexelbrook Caterers. What an event! These women didn't play. About 15 designers showed collections to an audience of more than 500 people that included everything from lingerie that could be worn outside to sexy fishtail dresses to fur coats to church hats.
Speaking of church hats, I met a delightful woman named Vanilla Beane. Beane, 89, is known throughout Washington, D.C. (She has a store in the North West) for her amazing confections. She has designed hats for both of former DC Mayor, Marion Berry's wives, several judge's wives and local plays. The hats sparkle on the hat rack and sizzle on pressed heads. In fact, she is designing a hat - all she knows right now is that it's lavender - for Civil Rights icon, Dorothy Height. Height, 97, will wear the hat to the National Council of Negro Women's annual Uncommon Height Award on Thursday. This year Oprah is the recipient. Will the hat look like the one pictured here? Not sure, Beane said. "Ms. Height likes hats that are closer to the head but she likes sparkle." We know it's going to be beautiful. Does anybody out there own a Vanilla Beane confection? Did anyone go to the NAFAD show? What did you think?