Archive: April, 2011
That cowel-necked tubular cream dress that maid of honor, Pippa Middleton wore to her sister's wedding was absolutely stunning. What a dress. The dress, according to The Sun is a heavy, ivory based crepe with a cowl front and the same button detail and lace trims as the bride's. We here this dress will be available too. Maybe I'll get a knock-off at Banana Republic. Do you all love this dress, or what?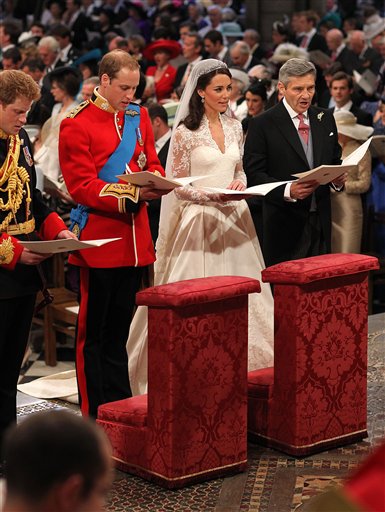 A Description of Kate's Dress from the Royal Press Release

The lace appliqué for the bodice and skirt was hand-made by the Royal School of Needlework, based at Hampton Court Palace. The lace design was hand-engineered (appliquéd) using the Carrickmacross lace-making technique, which originated in Ireland in the 1820s. Individual flowers have been hand-cut from lace and hand-engineered onto ivory silk tulle to create a unique and organic design, which incorporates the rose, thistle, daffodil and shamrock.
Hand-cut English lace and French Chantilly lace has been used throughout the bodice and skirt, and has been used for the underskirt trim. With laces coming from different sources, much care was taken to ensure that each flower was the same colour. The whole process was overseen and put together by hand by Ms Burton and her team.
What a lovely choice, Princess Kate. Do we like this choice from the House of McQueen by Sarah Burton. Princess Kate evokes an image of an ancient bride. Her hair is down. Her waist is so well defined. That lace overlay is absolutely precious. Her silhouette is so classic and tasteful. I'm in love with this dress. In love! So, do we think that long sleeves are back in style? Personally, I think Princess Kate has successfully altered the image of the modern bride. Moving the look forward while basking in a such a staid, classic look.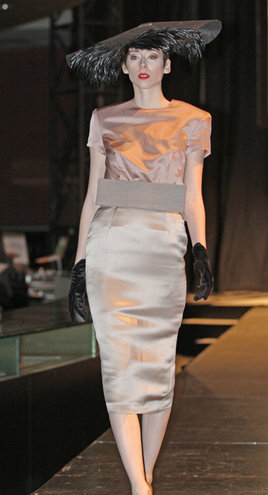 Nine local designers lit up the stage Friday night at the Philadelphia International Festival of the Arts Fashion Show creating a great mix of ready-to-wear and couture designs. Some were suitable for spring - like Carmelita Martell's Carmelita Couture's collection of flowing maxi dresses. Others like former Project Runway contestant, Kristin Haskins Simms collection of dark day dresses were perfect for fall.
Sarah Van Aken took the most wearable prize for her spring SAVA collection of easy-to-wear day dresses. Katie Ermilio got high marks with her pastel tailored pieces, many of which will available today at a trunk show at Boyds Philadelphia. Both Bela Shehu and Priscilla Costa garments focused on the details. Shehu's monochromatic, yet sleek grouping of dresses and cloaks featured amazing tucks and drapes while the Brazilian-born Costa wowed us with shifts and A-line pieces with multi-colored floral trims, a Brazilian technique called fuxico.
Jaames Nelson, who once had a collection in Nordstrom during the 1990s had been off the scene for at least five years, but his chic leather hadn't showed a collection in at least five years, but his chic leather grouping was worth the wait. Janice Martin's gowns twinkled down the runway - Dreamy.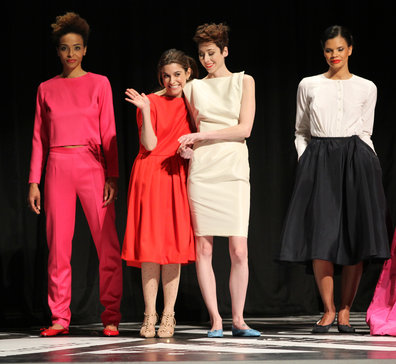 Locally-bred fashion designer Katie Ermilio is making it happen.
After two years or so of hard work, Ermilio, who showed her Fall 2011 collection, as part of the PIFA Fashion show last week, is available in stores. That's a big deal because the point of a fashion show is to sell clothes. Ermilio's well tailored, grouping off soft lines has been picked up at a few boutiques in Texas and Moscow as well as on on line retailer Shopbop.
Today ends a four-day long trunk show at Boyds Philadelphia on Chestnut Street in Center City. Ermilio is keeping her fingers crossed that her collection will be available there soon as well as at least one New York City store. Still, she's excited: "Being a new designer is tough and the fact that people are willing to take a chance on me, that's great," she said. Look for a few of Ermilio's designs in the May issue of Marie Claire, too. Mirror Image wishes Ermilio luck.

Whether or not we think Kate Middleton is an icon, or not home girl is definitely taking her princess status to new levels as it is rumored the soon-to-be royal brunette will have not just one gown, but three for her wedding. That's the word on the Brit's block. At least now.
No one is sure who the designer will be, but the two top contenders are: Sarah Burton of the House of McQueen and Bruce Oldfield. I was reading earlier the seamstresses have been coming in very early these days at the House of McQueen. Hmmm... Okay, I'll take that as a sign.
Anyway, a friend and I were speculating that makes perfectly posh sense for Middleton to have at least two dresses - one with a big train for the grandiosity needed to walk down the aisle of Westminster Abbey and one that's slinky and sexy for the after party. This is the perfect way to solve any potential style clashes. Still, I stand by my prediction and I hope Middleton chooses Stella McCartney. She's a phenomenal designer and her dad, former Beatle, Paul McCartney, is a knight.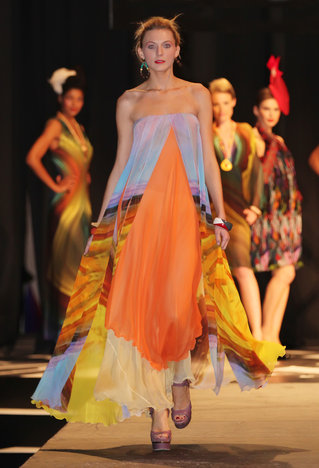 The Philadelphia International Festival of the Arts - PIFA - hosted a dynamite fashion show Friday night featuring the work of local designers on Friday. This dress by Carmelita Martel - of Old City's Carmelita Couture - is marvelous, isn't it? Martel, who is known for her sexy leather ensembles - switched it up to strapless, floor-grazing striped prints like this one, for the show. So pretty. Pleated. Sumptuous. Flowing. Beautiful. For more on the PIFA Fashion show, check out Style & Soul on Wednesday and the Mirror Image blog this week. And while you are logged on the to our Facebook page, don't forget to "like" us.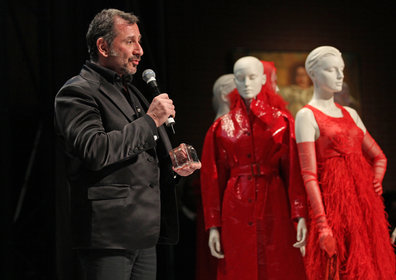 As part of Friday night's PIFA Fashion Show Festivities, designer Ralph Rucci was awarded PIFA's Visionary Award for Fashion, and who is more deserving? Rucci is pictured here next to the flaming red dresses that were a part of his New York Fashion Week Fall 2011 collection. As usual, Rucci, who was born in Philadelphia and is the first American designer to be invited to Paris' couture fashion shows, was completely gracious thanking fashion and Philadelphia for his success. Kudos goes to the designer for spending most of his day on Friday working with students at area universities.
Rucci's clothing goes beyond the ladies who lunch sect because a single Ralph Rucci item can cost tens of thousands of dollars. He designs for women who are recession proof. Thus, he's a household name among the rich and famous. The rest of us can enjoy Rucci's impeccable use of sumptuous fabrics, bold colors and beautiful lines that make his clothing, especially his day dresses, delectable pieces of art.