Archive: April, 2009
Isaac Mizrahi is a funny guy. Nice. Charming. Sense of humor. Loves fashion. Not afraid to turn a tote bag into a hat.
The curly-headed designer was in town Thursday for Daisy Days, the annual high fashion fundraiser for Children's Hospital of Philadelphia. More than 640 ladies soaked in all that Mizrahi. He is the creative director for Liz Clairborne, but he is best known as the pioneer for democratizing fashion with his Target line that brought high end labels to the masses kicking off the chic can be cheap trend.
Mizahi's latest fashion advice? This year it's not about spending a lot of money, it's about choosing pieces that surprise. The best way to do that, Mizrahi said is with color and comfort. We like that idea. But we still aren't sure about the hats. For a more complete report, check out today's Philadelphia Inquirer.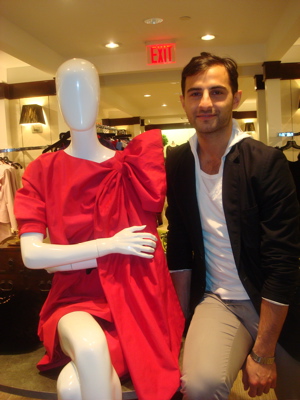 High-end fashion designers have been making Philly their stomping ground of late. The latest to host a trunk show this past weekend was Iranian-born Nima Taherzadeh, who is simply known as Nima in fashion circles. The designer, who was trained by Philadelphia-born Ralph Rucci brought his Fall 2009 collection with him. And let me tell you, it was really nice. My favorite: a perfectly impractical, sleeveless, chocolate brown mink shift. Loved it. Loved it. Loved it. The collection, which was full of punchy colors - fuchsia, lime greens - and neutrals was tailored to a T. Locally, it's available exclusively at Boyds, courtesy of women's wear buyer Sean General. The following is small, but dedicated. On Friday afternoon, I was lucky enough to have cocktails with Nima. The 26-year-old is humble and friendly. We sat in La Castagna on Chestnut Street and he showed me his runway debut in Japan on his iBook. Belted dresses and frocks with amazing bows sizzled down the runway. Nima, who was voted one of Women's Wear Daily's Top 5 Designers To Watch, has is eye on dressing First Lady Michelle Obama, now. I think he has a pretty good chance; his use of belts, bow details and his signature handkerchief hemline silhouette makes his pieces a good match for her. We'll keep our eyes on fashion developments. Take a look and tell me what you think of the line: Tomorrow: Isaac Mizrahi at Daisy Days.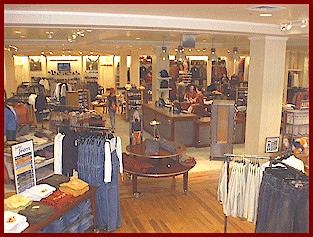 Yesterday, New York Times reporter Eric Wilson wrote an article about teen spending It appears that shopping is down at the teen trifecta mall haunts: Abercrombie & Fitch, Hollister and Ruehl. But shopping is brisker at American Eagle, Aeropostale, Old Navy and Macys. The reason - the economy, of course. It also seems that labels aren't as important as fashion. So does that mean a red shirt from Old Navy is as hot as one from Abercrombie, or hotter since budget chic is now a necessity? With the opening of new malls and luxury brands coming to Philadelphia, does the trend hold true here? What are the teen shopping hot spots in Philly? Or, when you were a teen, where did you like to shop? (Gap was the label of choice back in the 1990s)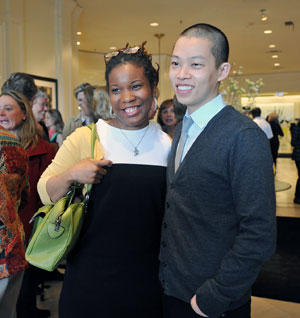 Michelle Obama's one-shouldered peculiar, yet memorable, Inaugural ball gown designer, Jason Wu is in town today at Saks Fifth Avenue in Bala Cynwyd. We got a chance to chat in the Chandelier Room (formally the Designer Salon) before the luncheon. Surrounding us were six mannequins dressed in Wu's colorful, belted Spring 2009 collection of spring dresses. (A fashion show followed featuring Wu's Fall 2009 grouping.) While Wu sipped hot green tea, we talked about luxury, "It's on the comeback." Michelle Obama "I still design for her, but we haven't met yet," and stardom, "It's amazing - - the Inauguration and the cover of Vogue - Could a young designer ask for anything more?" Wu's Fall 2009 collection will be in the store through Friday, April 24. The clothes were quite nice: belted dresses and skirts with midi-calf lengths and A-line silhouettes. Do you like Jason Wu's style? See Friday's Philadelphia Inquirer or Philly.com for the rest of the Wu story.
There is a miracle bra out there. I'm not talking about one that lifts full boobs up so high they stand at attention. I'm not talking about one that eliminates bullet breasts. I'm talking about a bra that makes something out of nothing. I'm talking about a bra that helps barely there mounds look rounded out - with cleavage. I'm talking about the Little Bra.
I've tried one and they really work. This Saturday, April 25, Mona Lisa Jackson will host a trunk show showcasing the Little Bra at her lingerie boutique, Coeur. Coeur is located at 132 South 17th Street. Call (215) 972-0373. The show starts at 11 and will end at 6. Jackson is known for helping the big girls get bras that that work for them. Her store carries cups with sizes up to H. She decided she needed to do something for her little customers - Itty Bitty bras come in sizes from A to B. (Thanks, Mona) Jackson will also feature the sexy, Italian lingerie line to the stars, Cosabella. So as summer approaches, come on down. You know you want to look full in your white, V-neck T.
Check out a clip of the Philadelphia Inquirer, (ok me) on The Ten Show! this morning. Also, check out the latest issue of I Magazine. This month we feature a q & a with Boyds Women's Buyer Sean General and blue bathing suits. Spring fashions are in full effect! Now if it will only stay warm for good!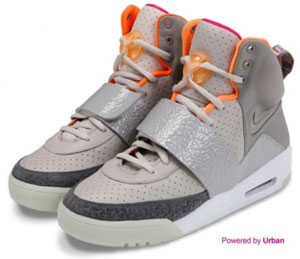 Nonetheless, Kanye and Nike have collaborated to make the Air Yeezy sneaker. (Young Jeezy, C-Breezy, (Chris Brown) Weezy (Lil Wayne) ) I can't take all these eezy's, it must be the new urban Pig Latin, but whatever. The men's-only shoe will be available Saturday starting at 10 a.m. at the Villa (formally Sneaker Villa) at 52nd and Market Street. Here is the catch: these kicks are $300! We know Kanye has lost his mind, but has Nike lost its mind too?
I have so many problems with this.
Let's start with aesthetics: From a fashion standpoint, these kicks are just weird. We know that Kanye hasn't been wrapped too tight lately. And I know the West derived Battlestar Galactica look is hot with the frohawk, the oversized glasses and the fitted version of the Miami Vice blazer, but these sneakers are just not hot. The forefoot support strap is simply a blast from velcro sneakers past. Orange is a good color and the pink lining for men is definitely forward, but The Y's along the base of the shoe, which I'm assuming stands for Yeezy, is overkill. Why are these sneaks worth $300? Louboutins, yes? Yeezys not so much. (And I'm a Kanye fan) Next month Nike will release a black on black color way and in June they will introduce a beige version. Maybe those will justify the price tag.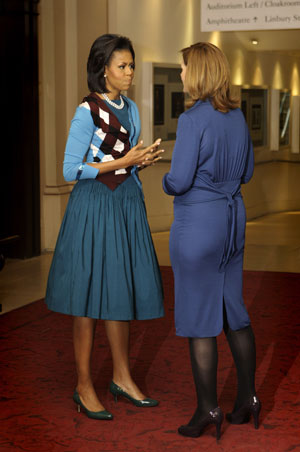 until today's outfit she wore to the Royal Opera in London. It's not that we don't like the rich blue Jason Wu frock, or the Junya Watanabe cardigan (Watanabe is the Japanese designer for cutting edge line, Comme des Garcons.) or the Jimmy Choo pumps. We just don't like it all together! I'm all about accentuating the hips, but this look makes for an unnecessarily wide silhouette. Not flattering at all. Speaking of not flattering, British Prime Minister's wife, Sarah Brown did not work her royal blue knit in the least. It's not about being appropriate, it's about what fits and this did NOT fit.
We will say our favorite outfit of this trip is the J.Crew ensemble. The crystal-studded cardigan and mint green pencil skirt is incredibly cute. We love shimmer during the day. What do you think of Mrs. O's European ensembles? Oh, and people have been asking what do I think about Mrs. Obama's repetition of accessories: My answer: That's what makes her a woman after our own heart. Look for me today on NBC-10 sometime between 4:30 and 5 p.m. talking more about the first lady's fashion choices.