Archive: March, 2011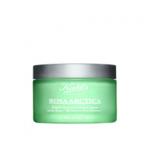 So a month after New York Fashion week, I'm going through my gift bags and I come across this heavenly product.
Rosa Arctica, a facial cream from Kiehl's Since 1851.
My face was so scaly after this cold winter and this cream, albeit $60 is cool, soothing and thick. The answer to my winter blues. Did I hear there was a Noreaster in the forecast? Dang, I digress.
About two weeks ago, I gave a talk at The Watermark at Logan Square in Center City to a vivacious group of senior citizens who wanted to be fabulous over 70.
The woman in this picture is the lovely, 80-year-old, Thelma Miller, who lives in King of Prussia.
Here is our picture together. Mrs. Miller looks fabulous, doesn't she?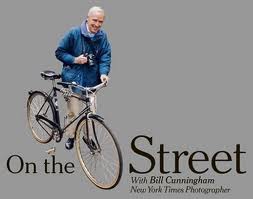 On Saturday I was a guest speaker at a Talk Cinema preview of a documentary centered around New York Times fashion photographer, Bill Cunningham. The movie was called Bill Cunningham New York and it was directed by Richard Press. It's a must see.
Not only was the movie flush with fashion's heavy hitters, including Vogue queen, Anna Wintour; New York society fashionista, Iris Apfel; designer, Michael Kors, and dandy ole New York Fashion Week fixture, but nobody really knows what-he-really-does-Patrick-McDonald.
For those of you who don't treat The New York Times Style Section like the sacred scroll it is, Bill Cunningham is famous for his On The Street column, a culmination of photos of New Yorkers wearing the latest styles. Cunningham is at least 80 years old and he's done the photo column for decades. He also is responsible for the Times photographs of society folks.
Kristin Haskins has got fashion talent.
The former Project Runway contestant debuted her Fall/Winter Strangefruit Collection Thursday night to an intimate "in" crowd at the Lowe's Hotel Solstice Room
The collection was great. Haskins, a former graphic artist who got her start designing T-shirts, has a soft touch when it comes to design. The cottons are plush, but there was enough detailing in the dark dress and trouser ensembles the pieces - my favorite a black, gray and white color-blocked long-sleeved dress with an asymmetrical hem - looked uber professional.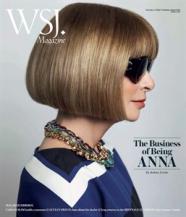 The Wall Street Journal plans to tell us in the April issue of their WSJ Mag. The issue is due to hit newsstands on March 26, and the cover - a smart pic of Ms. Wintour's profile - was shot by fashion photog, and friend-of-Wintour, Mario Testino.
With the onset of the spring fashion season in retail, the magazine couldn't come at a better time. After all, fashion is on the brain. (Well at least mine, I bought some spiffy spring clothes this weekend and our Spring Fashion Issue will be out tomorrow.) Not to mention, I had no idea that New York Knick, Amar'e Stoudemire rolled with Wintour's inner circle along with the usual suspects like designers Marc Jacobs and Oscar de la Renta.
The article also hints that Bernard Arnault who reigns supreme at LVMH - that's Louis Vuitton, Moet, Hennessy brands - for the unfashioned of us, may be consulting with Wintour about who will replace Christian Dior's dethroned designer, John Galliano, at the luxury fashion house's helm.
By now we've all heard about Chris Brown's ballistic behavior on Tyesday morning's Good Morning America while he was promoting his new album, F.A.M.E short for for Fans, Are, My Everything (Yeah, Okay, Whatever.) Personally, I'm just glad Brown acted a fool once the camera's weren't rolling, because to go nutso while being interviewed by the esteemed Robin Roberts. Yeah. Yeah. Robin did take it a bit too far when she kept insistting Brown chat her up about his relationship, or lack thereof with Rihanna. But baby, it's never appropriate to throw a chair through a window. Never. Ever.
However, my bigger issue with Chris is an aesthetic one: What's up with the blond hair, man? Yikes, And why all the tattoos? Those are awful. He looks violent. Is he auditioning for a role as a skin head? What happened to my sweet, handsome C-Breezy? Does his look scream anger management? Unstable fashions? Clearly. What do you all think?
The Council of Fashion Design of America is to fashion what the The Academy is to movies.
So it's a big thing when the CFDA names Lady Gaga Fashion Icon of the Year. Although I find her fashions unnerving, - remember the meat suit? I applaud the CFDA! It proves that the organization - that can be somewhat behind the curve, is getting up with the times. Marc Jacobs will receive the Geoffrey Beene Lifetime Achievement Award. (Click the link above for the complete list of nominees.)
But that won't stop me from noting that Media-based Karen Giberson, president of the New York-based Accessories Council bestowed this honor on Lady Gaga two years ago. Now if that's not a shout-out to Philadelphians knowing what time it is, I don't know what is.
So I finally logged on to Tyra Bank's Type F fashion website that launched this week. Of course the F - stands for Fierce.
I was intrigued by Banks' claim that her website personalizes fashion for you. I registered and immediately started answering questions. My eyes are almond and yes, I worry about dandruff. Instant tips. I'll try them this weekend. Cool. Hope I remember to log on next week to see what the tips will be.
Type F is easy to navigate and it feels like a magazine much more than most fashion websitesw. Banks' personal blog is inspiring and actually, I'm looking forward to checking out her upcoming novel, Modelland. One disappointment: There is a tagline that touts "Fashion is not just demographic, it's geographic" that shows styles form major metropolitan cities including New York, Los Angeles and Portland, Ore. Philly is not on the list. :(